Amidst fears that the Tianenmen Square massacre could be repeated as protests in Hong Kong continue into their tenth week, a newly-released video shows China's paramilitary forces amassing dozens of military vehicles in the neighbouring city of Shenzhen.

In a video obtained and released by Chinese state-owned media website Global Times, dozens of military trucks and over a dozen Armoured Personnel Carriers (APCs) can be seen assembling in Shenzhen — less than 30km from Hong Kong — for military 'exercises'.
The Global Times reported that the People's Armed Police (PAP) "have been assembling in Shenzhen, a city bordering Hong Kong, in advance of apparent large-scale exercises" based on the video. They added that the APC's main guns appeared to have been removed and that the vehicles have been assembling over the weekend.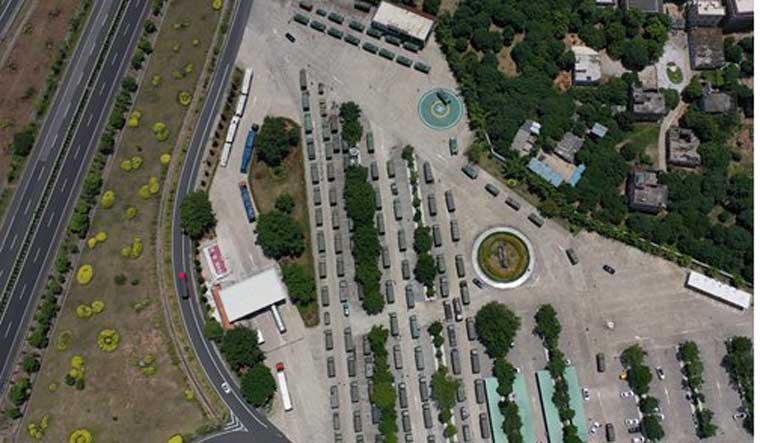 The PAP are China's paramilitary police, coming under the Central Military Commission chaired by President Xi Jinping. They are usually deployed in riot situations or during significant civil unrest, as was the case during the 2017 Xinjiang unrest, which saw 10,000 PAP forces deployed along with air patrols to clamp down on Uyghur protesters. According to an article published by the International Institute for Strategic Studies (IISS), the PAP have been heavily modernised over the years with the single goal of maintaining internal security.
The video of the military vehicles was edited with dramatic music and is similar to the propaganda video released earlier as a warning by a garrison of the People's Liberation Army (PLA) in Hong Kong.
A video posted by a Shenzhen resident on Twitter showed large numbers of trucks lined up on the streets.
The video comes as Beijing warned on Monday that the anti-government protesters were showing 'signs of terrorism', urging the city's forces to crack down on the rioters and on violent crime with an 'iron fist'.
The South China Morning Post reported a statement by the spokesperson of the Hong Kong and Macau Affairs Office, Yang Guang, who said, "In recent days, Hong Kong's radical protesters have repeatedly attacked police with highly dangerous tools, which constitute serious violent crimes and have started to show signs of terrorism. This type of violent criminal activity must be resolutely combated according to the law, with no hesitation or mercy."
The Chinese central government's liaison office Hong Kong also termed the protestor's actions as 'terrorist acts', saying in a statement that "Nowhere in the world would tolerate these heinous and extreme atrocities. If we allow these types of terrorist activities to continue, then Hong Kong will slide into a bottomless abyss."
A follow-up statement by the Hong Kong police, however, took a calmer note, saying that mass protests and terrorism were different and that the United Nations definition of terrorism should be followed in determining what was to be considered a terror attack.
On Monday, outbound flights from Hong Kong were cancelled as protestors occupied the main terminal of the Hong Kong International Airport for the fourth consecutive day.