Wash. Rinse. Repeat.
Team India will look to follow this process as it gears up to face England in the second Test starting on Saturday in Chennai. Not long back, India had lost the first Test of the series in Australia. The team took lessons from the loss, and made a successful comeback to beat Australia in their own backyard.
Now, for the second time in two months, India are looking at a situation akin to the previous series and will have to follow a similar process to ensure it doesn't fall back too far behind in the ongoing four-match Test series against England.
Vice-captain Ajinkya Rahane knows best how to ensure that players recover from the setback and erase the mistakes made in the first Test. Speaking ahead of the second match in Chennai about the process of recovering from the loss and focusing ahead, Rahane said, "Regrouping means addressing concerns, but no over-thinking. At times when you lose, you tend to delve deep into reasons and that brings in negativity. It's not your fault but you start blaming yourself. What happened in the last Test, we need to accept it—England dominated the Test, won most of the sessions and we respect that. We need to move on and our endeavour should be how we can do well in all departments of the game."
Even as the focus for India is to move on from the first Test debacle, Rahane took comfort from familiarity with conditions even though England looked better prepared for the same. Asked what the pitch looked like for the second Test, he said it appeared drastically different from the one in the first match.
"It looks completely different. I am sure it will turn from day one, but again as I said before the first Test match, you have to wait and see how it plays in the first session and take it from there. We have to forget what happened in the first Test. We know these conditions really well and we have to put our best foot forward tomorrow and yeah that's it."
His own form post the century in Melbourne has been a bit of a concern, but Rahane brushed aside his lack of scores since then as also the view that he is a better batsman in away conditions than at home. His scores since the Melbourne Test have been as follows : 27*, 22, 4, 37, 24, 1 & 0.
"See, you are playing at home after two years. The last home series was against South Africa. If you take that out, you will find something over there. It's all about the team and not the individual and my focus is on how I can contribute to the team. If you take out the last 10-15 Test matches, you will see some runs over there. I don't need to think about what's happening on the outside and contribute to my team."
His Mumbai teammate Rohit Sharma, who is yet to play a long, defining innings himself, has also been under the scanner for his string of low scores despite getting the start. Rahane, while backing Rohit, said, "Rohit is an important member of our team. It's not about scoring 100 or 150, but in Australia, he batted well and made those important contributions, 2-4 innings don't make anyone a bad player. And Rohit is a player who has in the past won us matches. You know when he gets set, he can win you matches. You have to have faith in that particular player."
Asked about the reluctance of Indian batsmen to play the sweep shot which England skipper Joe Root and other key batsmen used effectively in the first Test, Rahane indicated that the English bowlers bowled a line and length which didn't allow Indian batsmen to play the sweep as effectively.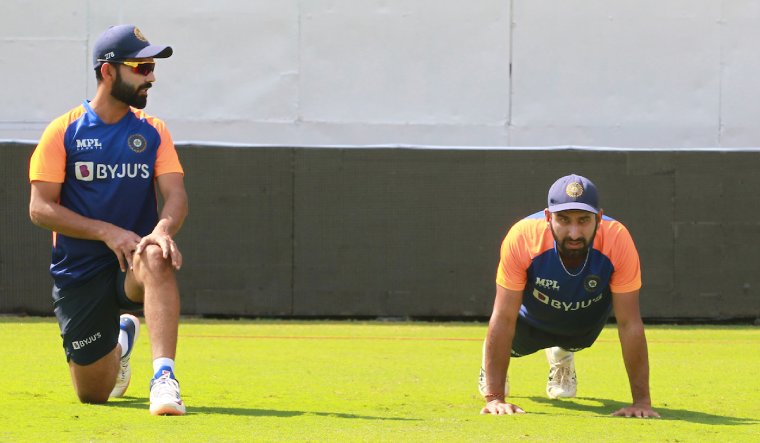 "[It] depends on what line and length they bowl and accordingly we play those shots. England came up with some plans on reverse sweep and it's not necessary that we play the same shots. It's about how they bowl and actually adjust to line and length."
Rahane also defended the Indian spinners who, barring Ashwin, were not as incisive as compared to their English counterparts. The wicket on the first two days of the match barely supported spin and pace both, he said.
"If you see the first two days, there was nothing for our spinners and fast bowlers and considering we bowled 190 overs and they scored 578 runs, I thought we really bowled well. There was nothing on that wicket. If you see the second innings, all our spinners, (especially) Ashwin bowled really well. We are not too concerned about how our spinners are bowling and I am sure we will come out with a plan," he said.

The vice-captain did not reveal the Indian Playing XI or the changes that the team is planning to make, even as England, high on confidence after the first Test win, decided to go for four changes, resting pace spearhead James Anderson, Jos Buttler and Dom Bess. Jofra Archer was announced as unavailable for the second Test due to an elbow injury. Both Anderson and Archer are expected to be available for the third Test in Ahmedabad.
For India, changes are expected in the spin department, with left-arm spinner Axar Patel declared fit and available for the second Test. It remains to be seen whether skipper Virat Kohli will continue to bench spinner Kuldeep Yadav or give him a chance again after a nearly two-year hiatus.