Several passengers on a Jet Airways flight from Mumbai to Jaipur on Thursday suffered nasal and ear bleeding after cabin pressure inside the aircraft dropped, a senior official said. The Boeing 737 aircraft returned to Mumbai safely.
"During climb, the crew forgot to select bleed switch due to which cabin pressurisation could not be maintained. As a result, oxygen masks got deployed," the official at aviation regulator DGCA said. In an initial statement, Jet Airways said it "regretted" the incident. According to some reports, the crew have been taken off duty pending inquiry.
"Following the air-turn back of Jet Airways' flight 9W 697 of 20th September, 2018, 144 of the 166 guests of the original flight traveled to Jaipur via an alternative flight of the airline, while 17 of them wished to travel at another point in time," said the airline.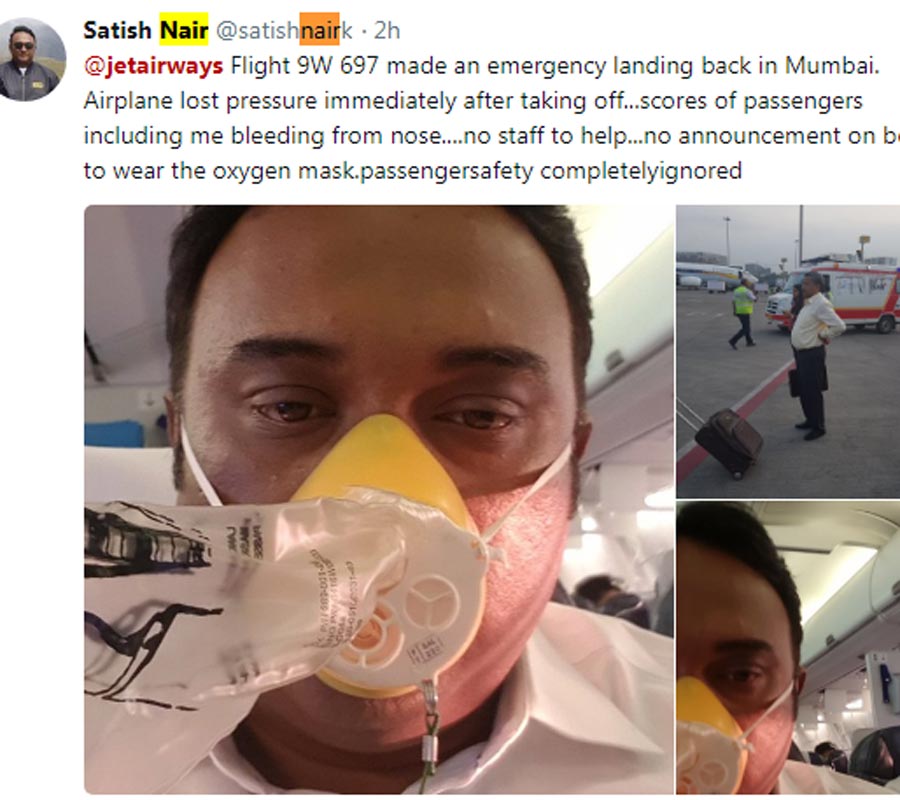 A Jet Airways spokesperson said five guests who were referred to a hospital for additional medical check-up accompanied by the Jet Airways' Care team have been released, post medical examination. The airline will continue to offer necessary medical care and attention to the guests concerned as required, he said.
The spokesperson also said that the airline is extending full cooperation to the DGCA for the ongoing investigation of the event. 
Some of the people who claimed to be on board Jet Airways flight 9W 697 took to Twitter to describe their experience, with many being critical of Jet Airways for not providing information and assistance after the flight landed.
One Twitter user, Darshak Hathi, claimed to be on the Jet Airways flight and uploaded a video of the oxygen masks being deployed. He added the aircraft, which took off by 5.50am, returned in 45 minutes. Another passenger, Satish Nair, claimed after the cabin pressure dropped, there were "no staff" to help and no instructions given when the oxygen masks deployed. Nair wrote passengers' safety was "completely ignored".
Another Twitter user,Melissa Tixeira, posted a video of the purported aircraft after it landed. The video shows an airline employee asking that video recording not be done.
(With PTI inputs)