For Malayalam director Shrikumar Menon, his film Odiyan, starring Mohanlal, symbolises many firsts. With Odiyan, Menon, popular for helming advertisements for some leading brands, makes his debut as a feature film director. Odiyan is also setting new trends in the film marketing sphere in Mollywood, Menon tells THE WEEK.
"It is not everyday a Malayalam film gets fan release shows in countries across the world; the first of its kind in Poland and Japan." Set for a December 14 worldwide release, the highly-anticipated film will be released in over 3,000 screens—another first for a Malayalam film. 
The film revolves around the centuries-old myth of the Odiyan clan, popular in northern Kerala. It is believed Odiyans were shape-shifters who had the power to transform into the shape of animals in split seconds, and scare people to death literally. The kings of darkness, Odiyans, moved around at night. When, however, electricity brightened the nights in the remote hamlets, it is said to have driven Odiyans to 'extinction'. In a non-linear narrative, Odiyan, which spans over a period of 50 years in the pre and post-electricity era, follows the life and times of the last Odiyan—Manikyan—essayed by Mohanlal. The high-budget film also features Manju Warrier and Prakash Raj in key roles. Shot extensively in Palakkad district of Kerala, Odiyan also captures the mood of Varanasi in scenes that feature the aged Mohanlal.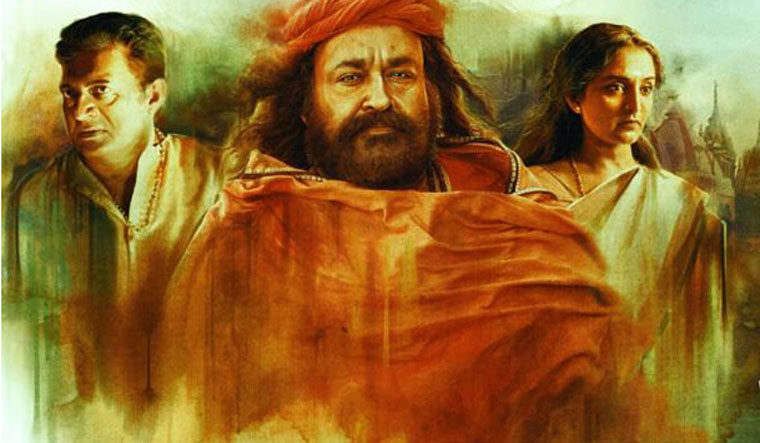 It is Odiyan's roots in these local myths that made Menon and his team promote their protagonist as India's 'desi superhero'. The idea of branding comes naturally to Menon who spent most of his career in the advertising industry. From merchandising, to launching life-sized Odiyan statues in cities across the state, to conducting social media contests for fans where they carved Odiyan into objects as small as a piece of chalk, releasing a prelude children's comic book on Odiyan tales, launching a mobile app and game, to attempting three Guinness Book records—it has been an eventful ride for the team.
"We have seen such promotions and merchandise sales for Marvel films, or maybe a Rajinikanth film here in the South. But Mollywood has not tapped into that potential, and we hope to be the trendsetter," he says. "With same day release in other languages like Tamil and Telugu, this will be first crossover cinema for Malayalam."
Menon is clearly a fan of Mohanlal, and is in awe of the actor's ability to completely transform into the character. The first scene they shot was at the ghats of Varanasi, he recalls his first day behind the camera. Describing it, the 'fanboy' filmmaker says: "It was a scene in which Mohanlal emerges from the Ganges, turns around and looks straight into the camera. The transformation was otherwordly. When he looked into the camera, I bowed and folded my hands." It was as if a spirit had taken over the veteran actor, he says—one that stayed along throughout the film's journey. "This is probably the most challenging role of his career, both physically and emotionally," he says. Mohanlal's weight loss and immense physical makeover to portray the younger Manikyan had garnered widespread attention. 
With a blend of mystical elements, diverse emotions, layered characters and Peter Hein-choreographed action sequences, Odiyan cannot be labelled black or white, Menon says. It is grey; there is no conventional good versus bad—it is a raw portrayal of humans as they are. "It is an emotional drama."
Scripted by National Award winner K. Hari Krishnan, Odiyan features background score by Sam C.S and songs by M. Jayachandran. The VFX of the film was handled by Bollywood actor Ajay Devgn's NY VFXWAALA.