Can one company reinvent a market, reshape an industry and change the world  from scratch? FURA Gems is doing just that. Founder Dev Shetty takes pride in having built the first truly pioneering, nimble, creative and ethical enterprise to cover the entire spectrum of colour gemstones. Here's the story so far.
In 2007, an unassuming young chartered accountant began to reshape his world. He had already won admiration for an against-the-odds turnaround of two manufacturing subsidiaries of an Indian conglomerate in the United Kingdom. Ready for more, Shetty moved into London and private equity. Serendipitously, that's when his experience in remaking manufacturers led him to a small, loss-making part of the PE group's portfolio: a colour gemstones company.
This was no ordinary job. His task was double: bring this miner to profitability while, at the same time, scaling up its business. Intervening at just the right points of the operation, he helped it break even within 15 months. While doing so, he didn't fail to notice how the then-$2 billion colour gemstone sector was severely fragmented and unorganised, to the extent of 99 per cent.
In 2017, after a decade as chief operating officer and board member at Gemfields, Shetty decided it was time to move up. He took the courageous step of starting, from scratch, a mining company. He named it FURA Gems. "FURA Gems is ambitious about the global future of colour gemstones," he says.
 What has been extraordinary about Fura's journey is that today, it is one of the largest organized colour gemstone–mining companies in the world.  When FURA began, it had one employee: Shetty. Now based in the United Arab Emirates, FURA has more than 1,200 employees.
For such a young mining company, FURA Gems has unprecedented and astounding achievements to its credit. "We are the first and the only mining company in the world to explore and mine all three colour gemstone categories," he says. Its three mining subsidiaries, in Colombia, Mozambique and Australia, produce emeralds, rubies and sapphires, respectively.
What's more, as Shetty says, "we set a record for the fastest turnaround of a mine from exploration to production." He offers a modest caveat: "FURA Gems always picked discovered mines with abundant scalable resources across countries. This has helped us to save significantly on time allotted for exploration, in comparison with other miners, some of whom have taken over a decade in mine exploration."
In 2021, FURA will produce 5.5 million carats of Australian sapphires, 6 million carats of Mozambican rubies and 300,000 carats of Colombian emeralds. Production plans for 2022 include 10 million carats of Australian sapphires, 8 million carats of Mozambican rubies and 400,000 carats of Colombian emeralds.
Stabilising supply is just one of the key roles that FURA will play. As a pioneer, Shetty is acutely conscious of his company's duty towards the colour gemstone industry as a whole. "With category diversification," he says, "comes great market responsibility."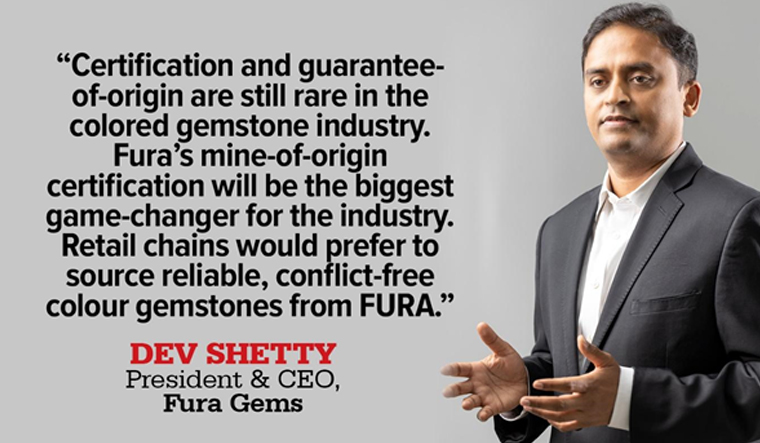 Winning market cred
Realising this early, FURA Gems has been working on bringing its mines and products into compliance with the standards of the Responsible Jewellery Council, based in London. Shetty expects this to be achieved by the end of 2022
"The market in coloured gemstones, he points out, still operates without much product credibility. Certification and guarantee-of-origin are still rare," he informs. This doesn't go down well with millennial buyers, who expect any gem they buy to be clean, honestly procured and to have caused no harm. 
"Our standpoint and core responsibility stem from this fact," says Shetty. "We want to ensure complete chain of custody. Our mine-of-origin certification is designed to be worthy of consumer trust. We know that retail chains would prefer to source reliable, conflict-free colour gemstones from FURA." he says, adding that trade transparency will be the biggest game-changer for the industry.
Creating the consumer
His company recently unveiled the FURA Marketing Council (FMC), the first time that one platform has worked to promote colour gemstone–led fashion. Through the FMC, in 2021 alone, FURA Gems will apply a $2 million marketing budget to the task of shaping a unified growth plan for rubies, emeralds and sapphires, from rough to retail.
"Our biggest challenge is that the retail and consumer awareness of and knowledge about colour gemstones is still very low," says Shetty. The aim is to boost knowledge of the category and its aspirational value. "The momentum of change that the FMC sets off will ripple down to the end-consumer, and increase the market share of colour gemstone jewellery."
Together is ahead
Though its approach is global and industry-wide, FURA Gems is well aware that small and unorganised players will continue to play a role in the sector. "More than ever, the colour gemstone industry needs to be seen as a clean trade," he says. After all, Shetty points out, getting colour gemstones to grow to a $6 billion market in a decade is only possible if more players organise themselves, and new players join in.
Mining the "big three" in colour gemstones is a challenge — one that FURA is winning every day, with its clear process, cutting-edge technology, dedicated team and overarching vision.  Put together, Shetty says, "Our provenance guarantee, robust supply and novel grading mechanism will ensure better price realization for gemstones at every level of transaction along the pipeline."
"Colour gemstones command a huge margin for retailers and manufacturers," Shetty says, "but no industry leader has worked on promoting this category as a whole," until now. Shetty wants his company to be the driving force in an industry that, so far, has lacked a unifying vision. The changes already are transformative. Expect gem lovers, too, to sit up and take note of this new opportunity for multi-hued joy.