Not so long ago, India's economy was among the fastest-growing in the world. That changed in the span of a single year as GDP growth went from 8.2 per cent in the April-June quarter of 2018 to 4.5 per cent in the July-September quarter of 2019.
A look back at the year reveals a slew of economy-related woes: Sluggish private sector investments, slowing consumer demand, plunging auto sales, and slowdowns in both real estate and construction.

The auto slowdown hit both automakers and auto component manufacturers as sales dropped across the industry. Between April and November of 2019, passenger vehicle sales were down by 18 per cent, two-wheeler sales dropped by 16 per cent and commercial vehicle sales plunged by 22 per cent, according to the Society of Indian Automotive Manufacturers (SIAM).

Fast-moving consumer goods (FMCG) sales also declined; Hindustan Unilever, the country's largest consumer goods maker saw its volume growth halve to 5 per cent in the September quarter, versus 10 per cent a year ago. Parle-G, the country's largest biscuit maker, saw sales drop so sharply due to a slowdown of rural consumption, that up to 10,000 jobs were estimated to have been at threat. 

Leading indicators suggest that things are unlikely to pick up the pace again any time soon. The output of eight core sectors of India's economy contracted for the fourth straight month in November, shrinking by 1.5 per cent (the previous month, it had gone down by 5.8 per cent). India's industrial production dropped three months in a row, shrinking by 3.8 per cent in October.

"A significant portion of our current slowdown is owing to domestic factors, unlike in 2008 when the slowdown was largely imported via the financing channels. The two things that stand out are a persistent stagnation in income growth and the continuous impairment of lenders' balance sheets," said Suyash Choudhary, head of fixed income at IDFC Mutual Fund.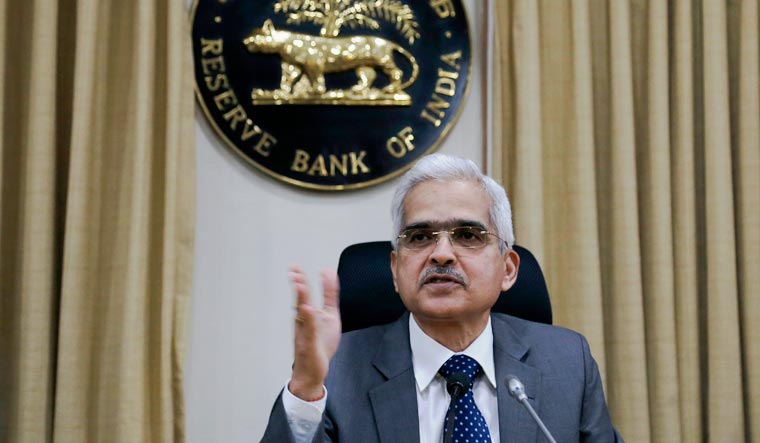 The Reserve Bank of India, in a bid to give the economy a lift, cut the benchmark Repo Rate by 135 basis points over February to October. However, a spike in retail inflation threw a spanner in the works. The inflation measured on the consumer price index (CPI) accelerated to 5.54 per cent in November, well above the central bank's target of 4 per cent, forcing the RBI to keep interest rates on hold in December, even as the overwhelming majority had expected a rate cut.

It has, in turn, focused on measures that will lead to faster transmission of earlier rate cuts.

Previously, it was expected that the economy would turn around in the second half of the year ending March 2020. However, post the slump in the second quarter, several agencies slashed India's GDP growth further, and only expect a slow recovery.

RBI expects the GDP to grow at 5 per cent this year, versus the 6.1 per cent it had predicted earlier; The Asian Development Bank lowered their forecast to 5.1 per cent while Fitch lowered its forecast to 4.6 per cent.

"The slowdown in growth was a result of a combination of factors such as lower consumption demand and investment activity, contraction in manufacturing activities, decline in growth in exports etc..." said CARE Ratings.

In the past few months, the Narendra Modi government announced several measures to rescue the economy. It has slashed corporate tax rates and announced a slew of measures to lend a helping hand to the ailing non-banking financial services sector. A Rs 25,000 crore fund to revive stalled real estate projects was also announced.

On Tuesday, as 2019 drew to a close, Finance Minister Nirmala Sitharaman unveiled Rs 102 lakh crore worth of infrastructure projects to give the economy a push.

Even as the government has looked to address supply-side bottlenecks, economists have also said that the focus will have to be on reviving consumer demand.

All eyes will now be on the Budget Sitharaman will present on February 1. The wider expectation is that there will be some sort of income tax relief for individuals.

"The government should consider revising upwards the direct income tax slabs for individuals. The highest tax rate of 30 per cent should be applicable only for incomes above Rs 20 lakh. At the same time, the investment limits under Section 80C and 80D and deduction for interest paid on housing loan under Section 24 etc. be enhanced," Federation of Indian Chambers of Commerce and Industry (FICCI) said in its pre-budget memorandum.

A revival in consumption is key given that it will lead to higher utilisation of manufacturing capacities and in turn companies will slowly but surely start investing again.
However, given the already reduced corporate tax and lower GST (Goods and Services Tax) collections on the one hand and target to keep fiscal deficit in check, the room Sitharaman will have is extremely limited.
"The government is again facing a trade-off between stimulating the economy and reducing the deficit in the medium term. The FY20 deficit target had already been exceeded by end-October due to a weak revenue intake, and a deceleration of nominal quarterly growth suggests further revenue pressure for the rest of the financial year," said ratings agency Fitch.

As such, the rate cuts by RBI as well as the measures already taken by the government will take some time to positively impact the economy, say experts.

Japan's Nomura Securities is expecting India's GDP growth to fall further to 4.3 per cent in the October-December quarter, followed by a "long bottoming out" with growth "not rising above 6 per cent" until the fourth quarter of 2020.

Fitch expects growth to slow to 4.6 per cent in the current financial year, followed by a gradual recovery.