Aparna Mulberry may not be a Malayali by birth, but this half-American, half-Chilean girl can speak better Malayalam than most Keralites. When she was three years old, her parents moved to spiritual leader Amritanandamayi's ashram in Kollam.
"My parents were searching for a bigger purpose, not a 9-5 job. They wanted their lives to be purposeful. And both of them, separately, found their way to India where they met for the first time. The rest is history," Aparna says.
Though, initially she was in Vivekananda Public School, which was not an English medium school, she soon shifted to Amrita Vidyalayam, where she did her primary and higher secondary schooling. "Although it was an English medium school, all my friends spoke in Malayalam. I used to be teased initially, but they taught me the language through conversations, fighting and teasing. In school, I took up Sanskrit so I give full credit to my friends for my efficiency in spoken Malayalam," Aparna says.
What about her name? "Amma (Amritanandamayi) gave me the name," she says. "I was named 'Saiisha' by my parents but at the age of six or seven, I went up to Amma and asked her for a name. At the time, she told me to go and come back later, but I was persistent and I kept going behind her. Finally, she gave me this name; it has a very deep spiritual meaning."
Aparna believes that language can break many barriers and that she would not have had the same set of friends had she not learned Malayalam. "I love Kerala. The welcoming nature of people and their warmth. Even if they don't know you well, they would say, 'Come home for chai!'; I think even the rowdiest Malayali is sweet. Kerala is all about community and family; this is what makes it feel like home," she says.
According to Aparna, the big turning point in her life was when the tsunami hit the state in 2004. "I was around 15 years old and the ashram where we stayed was near the ocean. We did not even take our sandals when we vacated. I remember climbing up a multi-storeyed building as the water levels went up; it was up to my waist. We went from one building to another, one boat at a time," she recalls.
"There was a rope tied across the building and we were all involved in helping the people cross to a safer place. The next two months, our lives revolved around chopping vegetables, cleaning and other relief work. We did not even have proper toothbrushes and we slept on a mat."
A couple of months after the disaster hit, Aparna moved to the US to be with her father for a while. "I had a culture shock," she says. "The next three years in the US were super difficult and got me the closest to depression. I was trying hard to fit into the American lifestyle. I thought, at the time, that I would have to forget my Indian connection to fit in. Even high school was so different. Very brutal, to say the least; it is all that they show in the movies."
Thanks to her father, Aparna came out of her difficult phase and embraced her true self—an American girl who is a Malayali at heart. "My father told me to let my Indian roots shine. He emphasized on how I should never push my true identity, culture and language away. That made all the difference and it changed my life. I always tell people to keep one's true tradition close to the heart," she says.
Currently living in France with her wife Amrita Sri, who is a cardiologist there, Aparna is into digital marketing and teaching English to students in China. "Amrita Sri is from Spain; I met her during one of the service activities of Amma (Amritanandamayi)," she says. Interestingly, both of them have similar stories. "Amma gave her the name as well but her name before this one is also Indian—Deva. Her brothers also have Indian names—Krishna and Ananda. Like my parents, even her parents were into service and spirituality-oriented activities. Her father is into transcendental meditation," Aparna says.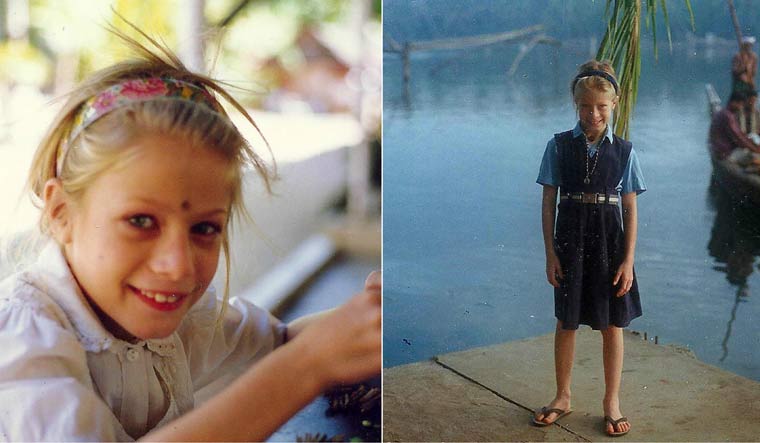 Her Instagram page
'Inverted Coconut' sounds like a pretty quirky name for a page. But Aparna says there is another meaning to it. "Most non-resident Malayalis say that they feel like a coconut—brown outside and white inside. But I felt the exact opposite. Hence, the name for the handle. It is a platform where I interact with all my Malayali friends across the world," she says.
Aparna is also quick to say that it also helps her practise speaking the language. "It was in February 2020 that I started the page. One day, I just randomly woke at four in the morning. The pandemic was just starting. During that time, I was also planning a trip to Kerala but it did not happen. And the page just happened and little did I expect it to grow the way it did," she says.
With over 72,000 followers, @invertedcoconut is a hit on Instagram. She also used the platform to come out and reveal her true rainbow colours. In a recent post on her Instagram page, she wrote about how it took years for her to be open about her marriage. In the description of her post with her wife, Aparna wrote, "Though I have been an open and proud member of the LGBTQA+ community for over 12 years in the West, I was always worried how my fellow Malayalis would accept me. I hope this does not change anything for you or how you see me…I am still the same warm friendly girl who will always love your country and language." And surely, nothing has changed. Her friends and fans are equally supportive of her choices.
"Kerala is warm and giving, unlike the US where it is almost the exact opposite. In the West, people are more selfish; individual goals are more important than community goals. But there is a lot of freedom here. Freedom of expression, freedom to love who you want and freedom to make your choices," she says. "I am surprised by the response, love and support I got from my Malayali friends across the globe." And maybe that is what Malayalis do—give and, then, give again some more.