Among the many things that will not be the same in the post-COVID-19 world are the spaces we live, work, socialise, shop, study and seek healthcare in.
Many visible additions and modifications are already in place. For example, sanitisation tunnels at the entrances of buildings which see large footfall, physically marked distances for standing and sitting; minimal human presence in production processes etc. But more long-term and permanent changes will have to be made, including the use of building and interior design materials which are bacteria/virus resistant.
Manu Goel, architect and director at The Novarch, a Delhi-based firm which specialises in hospitality and healthcare among other sectors, says, "The world will never be the same again. This may actually add a greater degree of hygiene measures in Indian social spaces. Social protocols dictate the way buildings and urban spaces are designed."
Architect, author and urban planner Vipul B. Varshney, director of the Lucknow-based Sthapati Associates, says that while work from home is here to stay in some form, there will still be a need to provide those cultural bonds that inspire and motivate employees in a physical workspace. "The workplace will become an ecosystem that is a network of virtual and physical spaces. The new purpose of the office will be to provide inspiring destinations that strengthen the cultural connections, learning, and bonding with customers and colleagues," she says.
Varshney says that this new definition for the office will cause a re-look at the kind of spaces that are currently most in demand for rentals. "Many companies pay high rents for offices in prime city centre locations and are under long lease commitments. Shifting to a more resilient short lease arrangement and occupying only a small workplace will be a model most firms will explore where offices could be used for essential collaboration time, with the majority of employees working from home." While such a shift will lead to short term instability, it will address planning issues which have simmered over time; for instance, the need for a greater mix to urban land use in areas that are not centrally located.
For schools, Varshney foresees "hybrid learning models", with students spending half the school day at home to reduce class size, and perhaps eliminating lunch period altogether.
In the long term, though, such measures are likely to negatively impact students as they will be deprived of the joys that sharing tiffin boxes and personal contact bring.
Goel says that private health care providers will not shirk from investments which ensure greater hygiene given that spending on private spending on health care is more than four times more than what is spent in the public sector. "Private medical players are aware of this preference of the masses as the public alternative is much worse, with interminable waits in dirty surroundings with hordes of other patients. Many medicines and tests are not available in the public sector, so patients have to go to private shops and laboratories. This market dynamic will drive the private healthcare sector to make all possible attempts to retain its stronghold and invest in systems to attract the end customer," she says.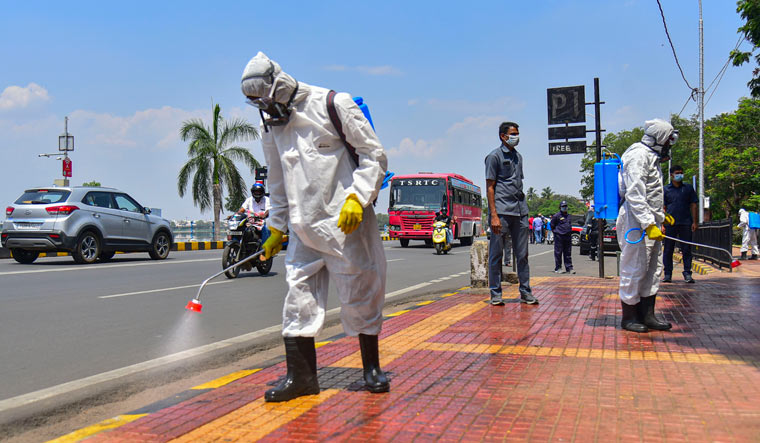 Goel's prescription for short term changes in the health sector include sanitization and buffer zones, masks and other protective material vending machines and telemedicine. Mid-term changes will require renovations of existing facilities to include contactless equipment, lift buttons, door handles, toilet fittings; and antibacterial nano coatings. In the long term, hospitals will have designs that include specialized departments for infectious diseases, management of indoor air quality and waste.
In rural settings which see large congregations during specific days such as the Village Health and Nutrition Day (VHND), Goel says, "Measures will have to be low budget and temporary. The most important will be social distancing enablement through design. For example, well-demarcated queuing solutions, like partitions with visibility panels."
Varshney's list of changes in urban spaces include leveraging of automation and voice activation for touchless interaction, use of sensors to screen visitors, heating ventilation and air conditioning solutions such as the use of ultraviolet C light within these systems to kill microorganisms in the airstream, biometrics and temperature-monitoring devices, installation of smart window shades activated by sun-tracking technology and lighting systems that use sensory detection to adjust brightness in accordance with the time of day.
Goel says that the three most marked changes in office spaces would be the creation of buffer zones and thresholds with screening within the existing space; work-desk rearrangements with a revised people flow management and more touchless equipment like door handles, taps, dispensers etc in common areas such as washrooms.
Many of the required technologies such as coatings that prevent bacteria from multiplying and that are self-disinfecting are already available in the market and will see a rise in use.
One element of concern, however, could be the enhanced use of disposable elements within building spaces. Goel says, "Disposable mediums may see an increase, but they will bear a life cycle cost and may have severe negative environmental impacts in the long term."
Varshney says that only new methods of designing spaces will not be an end as fundamental behavioural changes in employers, employees, property managers, and clients will be needed such that they recognise the long-term benefits of wellness. "The future workplace can be a convergence of nature, design, and martial law," she says.
In a normal, long distance vision of the future such changes would have come naturally. The pandemic, however, has brought that future closer.