Sanjyot Keer was 12 when he attempted his first dish—Pav Bhaji. It was the beginning of a culinary love story. "I wanted to recreate the pav bhaji that the street food vendors sold; that was my first inspiration," says the Indian chef whose Instagram page, Your Food Lab, has over a million followers.
Keer was the food producer for MasterChef India Season 4 and was also featured in the Forbes list of India's Tycoons of Tomorrow 2018. He is not only famous for the way he adds his own twist to Indian food but also for the simplicity with which he explains the process; his content is admired by both young and old. And during the lockdown, when many who never stepped into the kitchen turned into home chefs, his short cooking videos were a lifesaver for many.
Surrounded by a family of chefs who helped his love for cooking grow, Keer comes alive every time he is around anything that resonates with food. Maybe, this is what one calls true love. The chef tells THE WEEK the tales he weaved in his favourite place in the world—you guessed it right—the kitchen.
What made you pursue cooking?
I belong to a foodie family. That is how I became interested in a variety of cuisines and its cooking process. Street food has always fascinated me and even today, I enjoy it.
I remember my mother cooking delicious recipes and serving it to guests and family. They used to have a smile on their faces every time they ate her food. I always thought my mother had a superpower to make people happy, and I wanted that superpower. That is where it all began.
From Masterchef India to Your Food Lab—Tell us about the journey, the road blocks and the success.
Master Chef India came into my life at a very early stage in my career. I was offered a job as a food producer for the MasterChef India, a year after I graduated. It was a once-in-a-lifetime opportunity. I had the opportunity to work with some of the best chefs in the industry, including chef Vikas Khanna, chef Ranveer Brar and chef Kunal Kapoor, which was an insightful experience. Following that, I received a slew of offers to work behind the scenes on a variety of shows, but I kept thinking—'what should I do for myself?' I did not want to start a cafe or a restaurant too soon, but wanted to continue my studies. However, there was a lot of financial strain at the time and I did not want to put more pressure on my family to fund my education. I joined my father's business at the time but also decided to start a blog or a YouTube channel. That is how Your Food Lab was conceived.
When I started I did not own high quality equipment for shooting so I did it with my phone and an old DSLR camera. We then started renting out cameras and shot content like that for almost a year. Before uploading my first video, I had about a hundred videos ready in my library; my first video was posted on Your Food Lab on Facebook on April 25, 2016. In only one week, my third video went viral, receiving close to two million views. I recall the video reaching 1.7 million views in three or four days, and indeed, it was a fantastic feeling at the time.
The story of your Instagram success.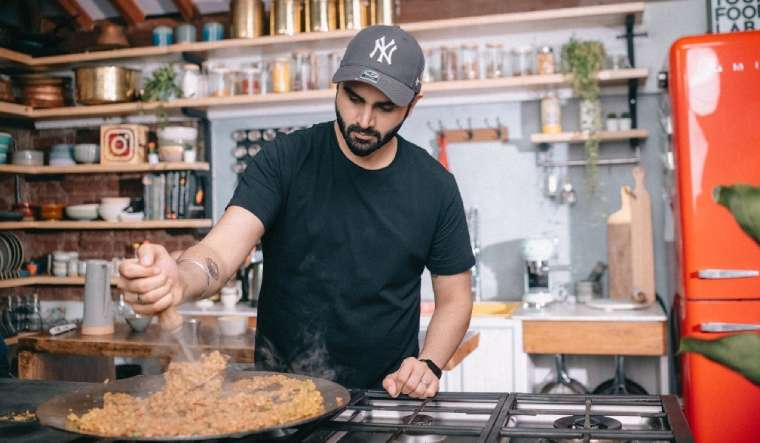 Started off with Facebook since I didn't have a lot of people working with me at the time. It was just me and one of my team members, Akshay, who were actively creating content. I was just paying attention to one platform at the time, but after a few years, I realised that I needed to be on several platforms. We then began doing Instagram posts in late 2019, but it wasn't until early 2020 that we started regularly posting content to Instagram. Within a few months, we had crossed a million Instagram followers, and the growth has been phenomenal. We have about 1.6 million followers and an incredible organic reach. We are seeing it grow every day.
While most people say it is essential to retain the authenticity of desi food, many chefs are advocating the idea of Westernising it. What are your thoughts?
I began my channel by cooking a lot of fusion cuisine, which is my specialty. That is the kind of cuisine I admire. Furthermore, as a chef, I believe that we 'desify' a lot of foreign cuisines as Indian chefs and Indian food customers, not just westernising of Indian food.
Take the example of pizza; large pizza chains now offer butter chicken pizza, chicken tikka pizza recipes, and several similar items. You also have risotto or pasta being 'desified'. So, I think it is fine and, sometimes, the way to go. I am not sure I want to do that though because Indians have a really desi palate, which we should be proud of.
What is your go-to dish?
It is difficult to choose just one dish, but my pick is pav bhaji as it is the first recipe that I cooked as a child. However, there are a range of recipes that I enjoy cooking at any time of day. I enjoy cooking a lot of oriental cuisine at home. And Indian street food such as chole pattice or frankie, pav bhaji or butter chicken.
One of your signature dishes.
There are many, but one early recipe I did was a pullout pav recipe in which I simply took a pav, cut some incisions in it, and filled it with some cheesy filling like cheese chilli garlic and supreme paneer filling, and baked it. It is the simplest way to turn something that is readily available in the market into something very fancy. I really enjoy making butter chicken bombs, which are minced chicken balls filled with makhni sauce and it is deep fried until crispy and golden brown. When you bite into it, you will notice a velvety makhni sauce flowing out. And it is fantastic!
A hack that you learned in your home kitchen, which you use even now.
Whenever I make something, I like to freshly grind green chilies, ginger, and garlic together to use as my ginger garlic chilli paste, and I usually do so with a mortar and pestle because that is how my grandmother did it back in the days.
I also liked to grind my spices only on days when I wanted to cook something specific, such as my garam masala or spice mix should be fresh. This brings a lot of spice to the dish and it brings out an incredible taste and aroma of those spices, as well as to your dish.
Do you watch your calories? How do you stay fit whilst running Your Food Lab?
I don't count calories or calculate what I consume, but there is the fear that if you eat something heavy in the morning, you will want to eat something light in the evening, or if you eat something really cheesy, you avoid cheese for a week. I used to keep in shape a lot when I worked out, but the pandemic has meant a little less working out and a lot of shooting pressure, as well as a lot of good food cooked at home. And, yes, I gained some weight in 2020, but have recently resumed working out. If you want to eat well, you must balance it out by working out and burning calories. Even if you are unable to go to a gym, a regular run or jog will benefit you. You must exercise in order to eat good food.
One thing you would like to tell aspiring chefs.
If you want to be a good chef, try cooking a lot of good food with whatever you have available in your home kitchen. At a beginner stage, be open to trying new flavours, learn about more ingredients and techniques. You will benefit in the long run from a lot of practical experiments. I did not know a lot of cooking techniques when I first started, but the journey of making food videos as well as cooking a lot of food at home has taught me a lot. And I am still learning. Always be willing to learn new things; it will greatly benefit you. And if you want to be extremely good, start working on it right now, rather than worrying about how I might have made this or how I could think about this specific recipe. If you have a recipe idea, make it today, plate it, and serve it to your family as if it were a restaurant meal. The journey would be long. Also, tough. But it will pay off in a very good way in the long run. So, begin your journey today, take action, rather than just talking about it.