Fringing the iconic Lake Ontario in Eastern Canada, Toronto is perched on a water body that bestows upon it plentiful natural resources and a healthy lifestyle credo. Canada's largest metropolis is a potpourri of cultures, tongues, cuisine and urban contrasts that greet visitors with elan and a friendly character. Under an hour's drive from the world famous Niagara Falls and the salubrious Niagara-On-The-Lake region, this city is the gateway to the province of Ontario and the many alluring locales around that make it the centre focus of tourism, trade and enterprise. We braced ourselves for a wholesome and engaging experience in this hotbed of the spirited Indian diaspora that have carved a commanding niche for themselves.
Unique attractions, endearing identity
Our Citysightseeing Toronto Hop On Hop Off coach was waiting for us at the busy Dundas Square as we took to the top for uninterrupted views of the city's attractions. Our cameras whirred ceaselessly as we captured frames of the diversely delightful landmarks we passed and alighted to experience.
The royal Ontario museum
Perched on the northern edge of the University of Toronto campus, the Royal Ontario Museum (ROM) is an unforgettable visit. The ROM is home to more than six million fascinating artifacts and rare objects. It proudly boasts of being Canada's largest repository of world cultures and natural history. We discovered that the museum packed with a bewildering array of relics Medieval Roman sculptures, Far Eastern and sacred Chinese art creations. The highlight was a fascinating exhibit of the earliest indigenous Nation peoples of Canada, their First Peoples.
Little ones visiting the ROM have their hands full, literally! Activities galore abound for them as the kids gallery offers children come up close to touching a snake skin, shark jaws and more. To add excitement, the ROM's CIBC Discovery Gallery is a kiddy riot where they can don colourful costumes for a pantomime!
Casa Loma
This edifice was the unusual inhabitant to the landmarks list! It was Sir Henry Pellatt, a former soldier who had been fascinated with the idea of having his own castle overlooking Toronto city. So he lived up to his fancy and created his enormous 98-room Casa Loma in the 1900s. The cost? More than $3.5 million to complete! The one-and-only live castle in North Toronto was an emperor's lavish lair complete with towers, secret passageways to boot, horse stables, a hyper large wine cellar, a well-calibrated 5-acre garden, coloured with cheery fountains and evocative sculptures and even bright floral blooms.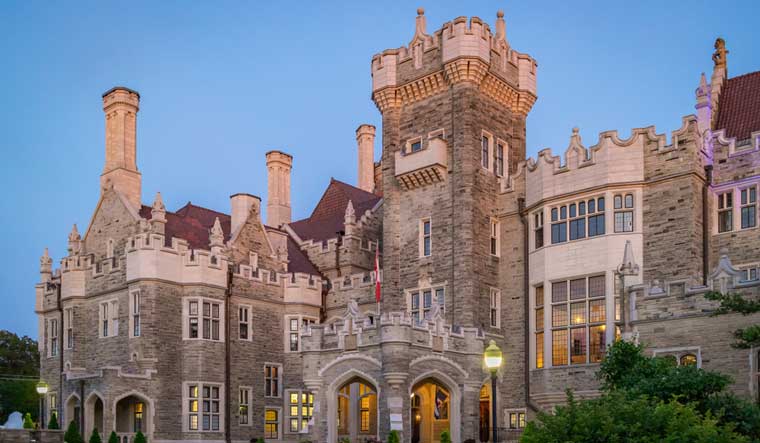 It is a psychedelic paradise of sorts, certainly that we smiled our walk through with wide-eyed awe. This was one attraction in Toronto we would have never missed. Our cruising Hop On Hop off coach glided through the city streets with ease as we waited eagerly to visit the next feature.
Art gallery of Ontario
The snazzy, avant garde architecture leaves you riveted in admiration with it's cutting edge design and 21st Century appeal. This celebrated Art haven is one of the largest museums in North America and attracts countless art aficionados the year round. The collections scale way beyond 95,000 exhibits from around the globe, including European masterpieces to modern, experimental and contemporary art.
The vast collection of Canadian Art including works by the Group of Seven is the highlight that we spent a good deal of time exploring. Adjoining the AGO is the striking Ontario College of Art and Design University, standing high above the street on colourful stilts that resemble pencils. The polka dotted façade is an eye catcher and draws admiration from even city dwellers for its unmissable presence.
Hockey Hall of Fame
For crazed and fanatical hockey buffs who swear by the game, the Hockey Hall of Fame in downtown Toronto is a Mecca. Every information about all-time hockey greats, the celebrated players, heroes, the teams, and the games come alive in a fabulous documentation of visual imagery. One can also see the Stanley Cup and a collection of significant memorabilia and collectibles storied there.
City hall and Nathan Philip square
Nathan Philip Square is sprawling, huge and is graced by a fantastic bronze sculpture—The Archer by Henry Moore. It is home to the popular landmark —the new City Hall. Brilliant Finnish designer and architect Viljo Revell created two arc-shaped high-rise towers, 20 and 27 stories high respectively.
The lively square in front of City Hall is a man-made pond, a much frequented winter skating rink with the famed 'Toronto' glow sign is resplendent. This is a great photo opportunity for city citizens and visitors alike.
Graffiti alley
Running parallel to, and between Queens Street West and Richmond Street West from Spadina Avenue to Portland Street, this fascinating street is a free-for-all-artists of the city.
From socially relevant graffiti to critical opinions in color to eccentric visual embroidery and maverick expressions that span entire wall ranges, this place magnetizes camera and selfie crazy tourists who pose along painted doorways in animated mirth.
Yorkville and colonial neighbourhood charms
We slowed down in this lively precinct to catch a glimpse rows of colonial bungalows and villas, town row houses and establishments all hailing from a bygone era of genteel living. Rust, red, peach, ivory, white and light blue-coloured residences and facades evoked nostalgia and smiles, as the tree-lined boulevard had a more relaxed and easy going feel.
Eaton centre
This massive, iconic landmark just across Dundas Square is at the north end of the Central Business District. There is a subway station which makes it all the more attractive. Ultra-modern and trendy chic rule this vibrant shopping complex extending over several blocks and floors. The sometimes confusing layout packs in department stores, specialty shops, boutiques, restaurants, cafeterias, and snack bars.
The entertainment district
Another one of Toronto's many splendored spaces! A fitting reply to New York's Broadway, the Entertainment District is the place to jam and gel every evening onwards.
So you have major theater productions and presentations, the latest musicals, concerts, and scores of other lively performances to choose from. A fantastic spread of gourmet dining options abound where one can mingle, mix and share vocabulary. Remember, it is along King Street where you'll find the action!
St. Lawrence market
Part of the nostalgic historic Old Town area of Toronto, this 17th century market has witnessed scores of changes and upheavals. Besides being a cheery, busy and bustling marketplace of many sorts, it is also the city's social hub and City Hall. From assorted goods and wares which line up systematically as we strolled, to gourmet meats and cold cuts to cheeses and loads of gastronomic greats, we found handcrafted jewelry boutiques and other merchandise too. A fruit vendor informed us that cooking classes were also offered at the Market Kitchen and regular exhibitions on the city's art, culture and history in the lively Market Gallery within the precincts.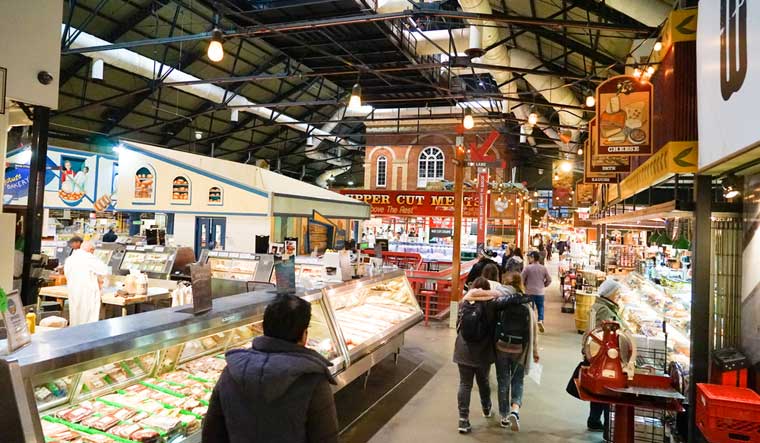 The St. Lawrence Market is proudly rated as one of the best food markets in the world. We were frankly impressed by the endless miles of delectable fare at most reasonable prices! Come Saturday and crowds jostle for walking space to catch the hoary action of spirited vendors. Have an appetite? Be sure to make your way through the maze for yummy piping hot, fresh treats. We were recommended a peameal bacon sandwich at the Carousel Bakery which is the signature dish in Toronto – Canadian back bacon stuffed in a Kaiser roll…a must gorge delight!
CN Tower
This stunning edifice earmarks the iconic identity of Toronto's dazzling and eye catching harbor front skyline. It stands towering at 1815-feet the peak of which offers breathtaking panoramas of the sprawling city. The CN Tower (Canadian National) facilitates seamless transmissions for communications.
After a long wait, express elevators zoomed us to the top in less than a minute from where four observation areas open up for exploration. The dramatic Glass Floor room, the LookOut Level, the spectacular revolving 360 The Restaurant and the SkyPod, easily one of the highest observation points on the planet.
We 'attempted' the EdgeWalk that dared us on the world's highest hands-free external walk on any monument!. Of course, our harness secured our walk on the 5-feet-wide ledge as we stared wide eyed at the vertical depth 116 stories below us.
Rogers centre
You just cannot miss this impressive dome-shaped landmark right adjacent to the CN Tower, it's a sports arena par excellence. It's the habitat of the famed Toronto Blue Jays. The outstanding architectural design features a massive retractable roof sliding back to open in fair weather.
The distillery district
Dating back to the early 1800s, this heritage neighbourhood was home to Canada's largest distilling company - the Gooderham and Worts Distillery. Now a pedestrians-only neighborhood jostling with industrial and Victorian edifices on cobbled streets, it is home to boutiques, art galleries, performing art venues, trendy shops, lively cafes and restaurants, even a brewery. We took a brief stroll through the area that radiated a genteel and laid back charm we quite liked.
We grabbed a craft beer pint and spent stare-away time watching folks abandoning their urban fundas and relaxing around. One can spend a whole day here, exploring every nook and cranny.
Kensington market
Get into the pleasant din at the Kensington Market. A former Jewish settlement, this neighbourhood has busy streets coloured with shops, cafes, restaurants and stores selling a variety of goods from across the world. This permanent address for variety offers a traditional market touch to your visit in the last Sunday of each month.. Totally pedestrian on this day, you'll enjoy the antics and free expressions of live street buskers as shoppers stop by with smiles on their faces and ice cream cones in hand.
This art-and-style-and-gourmet neighborhood packs in variety for all and sundry, radiating the crazy with the outlandish in character. A must-experience on your Toronto visit.
Toronto islands theme parks
When you are in need of a break from the hustle and bustle of Canada's biggest city, hop a ferry to the Toronto Islands half an hour away. The fabulous city skyline views are worth every frame as Toronto shimmers with pride right into the starry night! These scenic islands and islets are a relieving touch of verdant green acres as compared to the city's skyscraper-speckled mainland. The three islands, Centre, Ward's and Algonquin, are conveniently connected and accessible.
There are relaxing picnic spots, quaint and pretty beach fronts, sporting outlets and the Centreville Amusement Park.
For little people there is a fascinating petting zoo. The islands of Ward and Algonquin are more easy going with old cottages and English gardens. The Toronto islands, all in Lake Ontario are mercifully no-car-zones, so folks can take it real easy on a leisurely walk, biking and even enjoying a grassy family's day out. When it is snowy winter its time for cross-country skiing, ice skating and icy thrills here.
We promised ourselves we'd be back.