Beer lovers in Bengaluru now have a real reason to celebrate. The city will soon be home to India's largest microbrewery. Byg Brewski Brewing Co, spread across 68,000 square feet, is nothing short of paradise. It is dotted with five pubs offering 16 types of fresh craft beer, a live kitchen, and a club house.
''We have a massive facility here, which can generate 1.6 lakh litres of beer every month,'' says Pravesh Pandey, director of Operations at Byg Brewski. ''In fact, it is Asia's largest brew pub,'' he adds.
For those who fancy brewing their own beer, Byg Brewski has a sheltered space meant for private brewing. ''If you want to throw a party, you can come to our microbrewery and create your own beer. It will be your own recipe. You can come back after three weeks and taste it,'' says Pandey.
Craft beer brewed in microbreweries is a lot fresher and tastier than the regular beer we normally drink, which contains preservatives to extend shelf life.
Byg Brewski, located at Hennur, offers wide open spaces which allow one to roam freely. Space is critical in terms of imparting an experience to an individual, says Pandey . ''We all come from tight spaces in life. The flats are getting smaller. Gone are the days when people used to have big offices. There are no cubicles these days. Taking all these into account, we wanted to create something which was more like a resort,'' says Pandey.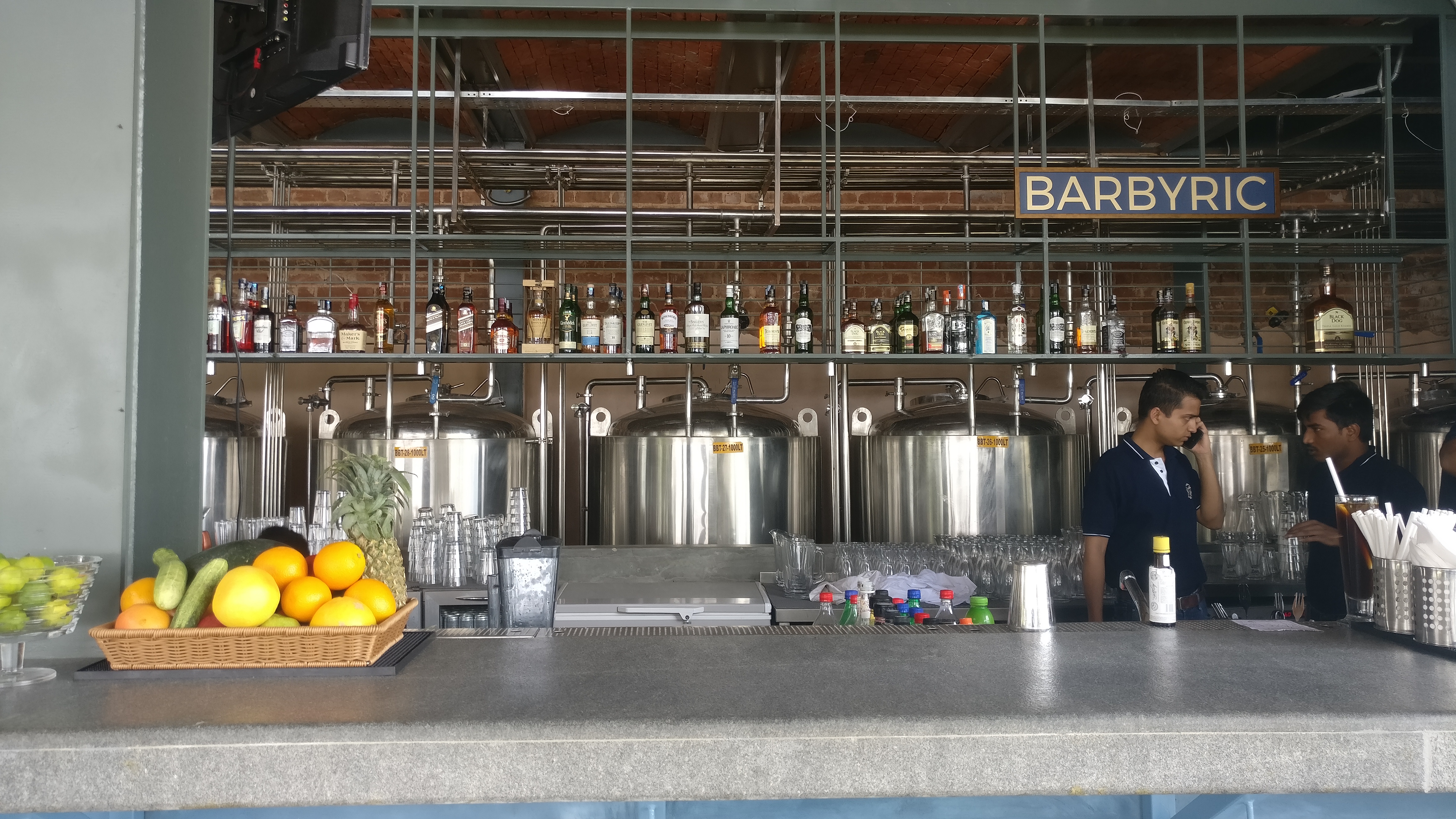 The brew pub is a haven for those looking to get out of Bengaluru city for a few hours. The water bodies and greenery in the property can be the perfect remedy for people who stare at blue screens all day long.
However, the 'road trip' to Hennur can be a bit nerve-wracking during peak hours. For those who wish to calm their frayed nerves, I would recommend a refreshing gimlet crafted out of gin and kaffir lime leaves and peels. ''We keep the leaves soaked overnight,'' says Karthik Kumar, head of Beverages at Byg Brewski, who seems to know instinctively whether a customer wants company or likes to be left alone.
Clear ice can enhance your drinking experience and add to its visual appeal. Byg Brewski has a unit that creates ice. ''You don't know about the quality of ice in bars and pubs. A lot of these places use outsourced ice. A broken or cloudy ice could spoil the drink,'' says Pandey, who is a huge fan of cocktails. ''At Byg Brewski, we have a room to harvest our own ice. Our muti-flavoured ice makes the last sip of the drink as enjoyable as the first one,'' he smiles.
The microbrewery is set to open in August. Until then, one can make do with cocktails. ''A lot of people avoid cocktails thinking they are too sweet. Our cocktails are super healthy and delicious. We use homegrown herbs and flowers and cut down on sugar,'' says Kumar. ''We have revamped some of the classic cocktails and given them a modern twist,'' he adds.
Byg Brewski has a lot to offer for the experimental foodie. Do not miss out on the Josper grilled lamb and mallard. Josper grill is the Spanish art of grilling using charcoal, a rarity in the Indian restaurant scene. ''Josper grill allows you to cook meat faster in almost half the time and still retain its juiciness. The temperatures for meats can go up to 500 degree Celsius,'' says chef Ravi Singh.
The Wakame Sea Weed salad, which is offered at Byg Brewski, can up your meal's health quotient. The Japanese salad is considered to be one of the healthiest foods in the world.
I skip the main course as the desserts look too tempting. The mud cake and caramel cheese cake are just perfect.
The brew pub has roped in some of the brightest talents in the industry including Martin Bernard, an award winning brewer who is practically a scientist when it comes to making beers. The kitchen is headed by Sabyasachi Goarai, fondly called Saby, known for his culinary experiments.
As I take a walk around the pub, an amphitheatre catches my attention. ''This will be a platform for artists from across the world to showcase their talent. Performing arts will take the centrestage here, '' says Pandey. ''It is beyond those DJ nights and live bands happening in pubs in Bengaluru. If somebody is driving all the way here, they should get something of a scale that they have never seen in the city,'' he adds.
Byg Brewski has a one of a kind yeast lab too. Yeasts change their moods for no apparent reason, jokes Pandey. The same yeast sometimes reacts in a different way, giving a different beer.
For those who think bigger is better, Byg Brewski offers the ultimate pubbing experience.