Pokémon fans all around the world are agog with the suggestion of a new title-duo. The latest addition will be the new title in the core series which will release for the Nintento Switch.
After much speculation, Nintendo confirmed during its 2017 E3 live stream that a core Pokémon game would be coming to Nintendo Switch. The potential game will be the 17th release in the series and will be the very first in the core series that can be played on the big screen―meaning a major graphical overhaul.
Heavy speculation surrounds the series' upcoming Switch version, which is yet to be officially revealed. And fans are scrounging for and breaking down hints, leaks, tweets and any other seemingly compelling evidence to find out what it is.
The internet believes that the Pokémon's Switch debut will be a dual release titled 'Pokémon Let's Go!' based on "hints" and other tidbits of information.
While both games are said to return players to the Kanto region, characters Red and Blue are set to be the rivals for the new protagonist that players will control. Pokémon will follow their trainers around the world, and the new PokéRide function from Pokémon Sun and Moon will allegedly be returning as well.
Video game industry insider Emily Rogers recently said that the Pokémon RPG for the Nintendo Switch will be revealed by the end of this month. She added the plans for two versions of the game, similar to how most core titles of the franchise are rolled out.
These being the first pair from the Pokémon franchise to hit the trending console, the hype and excitement levels are soaring. Single screen on the Nintendo Switch, as opposed to DS and 3DS, Game Freak would have to drastically rethink its UI approach, making the new title drastically new.
A new merchandise collection co-starring Pikachu and Eevee did hit the Japanese Pokémon Center on May 19, which seems like more than a random choice. A photo that featured Pikachu and Eevee was posted on Poké Times Twitter.
Adding spice to the conversation, producer Junichi Masuda's tweet from the Game Freak account last week showed an image of Pikachu and Eevee, which was enough for fans to speculate the release of Let's Go!
There is a chance that two Switch games may be made available this fall― Pokémon Let's Go! Pikachu edition and Pokémon Let's Go! Eevee edition. This is gathered from a clue dropped by 4chan.
The potential logo art lends further credence to the alleged leak.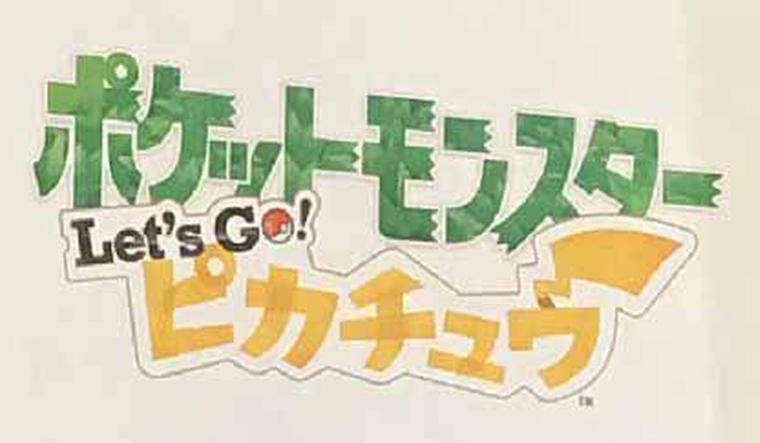 Another rumour regarding the upcoming Pokémon games for the Nintendo Switch is that they will be some kind of integration to the mobile game, Pokémon GO. This sounds plausible from what Masuda told Game Informer in 2016.
"We want to have a kind of way to connect the two, or have a way for people who enjoyed one to enjoy some of their progress in the other," Masuda said.
It is said that the new Pokémon titles will feature a capture system similar to Pokémon GO, along with an accessory that will establish a direct link between the two games.
The Nintendo Switch's motion-control capable Joy-Cons gives us some hope that motion gestures will be implemented. With Pokémon-specific Z moves introduced, it could even mean that players have to move their Joy-Cons in the right pattern to start up their Pokémon's special powers.
These are, hopefully early reveals of official announcements to come. E3 2018 is happening this June, and as The Pokémon Company is not known to unveils any of its new projects on this occasion, it may be time for a Pokémon title on Switch.
Make sure you are ready for it!