On the list of many inspiring women who illuminated R. Ravi Kannan's life path, stands the wife of a patient from Tripura. Her husband needed medicines worth Rs5,000, and she requested the doctors to go ahead with the treatment while she arranged the money. When she returned to the Cachar Cancer Hospital and Research Centre (CCHRC) in Silchar with the cash, the doctors told her that he would have to stay on for a few more days for additional treatment. She started crying, begging for his discharge. Kannan, the director of the centre in Assam, tried to understand the reason behind her resistance and discovered that she had pledged her son to a landlord in the village to raise money.
The memory gives Kannan goosebumps. It became a turning point in how the centre approached patients. "We had quoted a cost that she could not afford. Since then we have become extra sensitive and ask patients where the money will come from. We tell them not to pledge their fixed assets. I am sure we continue to make mistakes that cause distress to our patients," says Kannan.
The renowned surgical oncologist is a recipient of the 65th Ramon Magsaysay Awards. The citation describes him as a 'Hero for Holistic Healthcare, Providing hope and healing in cancer care'.
This is just one more award in a long list of recognitions including the Padma Shri, but the doctor says he received them just as the 'face' of a large team that works with him to provide cancer care. "I will be an idiot to think that all this was achieved just by me," he says.
Before the CCHRC was set up in 1996 in the Barak valley through public philanthropy, the only option was to travel to Guwahati, 300km away, for treatment. In fact, that was no option as most patients were daily wage earners at tea plantations and agricultural labourers with limited means. And if somehow the means could be met, travel itself was treacherous what with frequent landslides and fierce rains.
Kannan almost did not choose surgery as an option for his masters at the Maulana Azad Medical College in Delhi. He does not though remember a time when he did not want to become a doctor. "I had no other idea since I can recall," he says. His mother, Indumati Rangaswamy, now 83, had wanted to become one herself. Financial limitations held her back. So deep was the imprint that she made on her son's mind that by the time he reached class 12, there was no other idea that he would entertain, not even the example of his much-feted Air Force officer father, R. Rangaswamy. His younger sister, Sukanya, who he describes as 'more independent minded' chose a career in biochemistry.
MBBS done from the Kilpauk Medical College in Chennai, Kannan fretted over his choice of specialisation in his masters. He was sure that it would not be surgery. Fate intervened. In the form of yet another lady.
On one of his father's work trips, Kannan went along to Srinagar, where they were invited for dinner to a wing commander's home. The lady of the house, Uma, a surgeon in the Air Force, was not present for the meal as an emergency at the hospital had popped up. She came in only after the dinner and requested the guests to stay for coffee. She asked Kannan to join her as she made the coffee and update her on his studies.
Kannan paints a strong picture of the memory―how she explained to him what a surgeon's work entailed. That evening she had been delayed by a patient who had chest trauma, an intracranial haematoma (collection of blood in the skull) and an abdominal emergency. "I was mesmerised as she talked about why she chose the order she did in which to tackle all three. I can still see her small gold earrings go swoosh, swoosh as I listened. I was so taken up by the explanation," he says.
Back in Ambala, where his father was then posted, Kannan wrote surgery in all the five columns where different choices had to be listed.
His choice of going to the surgical oncology department was also brought on by instinct. "It was believed that anyone who went to the department would actually not get to perform any surgeries," he recalls. So off he went to that department where he met inspirational teachers who taught him why only a sound physician could make a good surgeon.
"A craftsman who blames his tools is not a good one," one of his teachers said. Another mentor told him that his duties as a doctor would range from performing complicated surgical procedures to providing a bed pan to a patient who wanted to pee. A third told him that if a patient did not have resources for treatment, it was the job of the physician to get those. A textbook of medicine had a story that stayed with him―that of a doctor who let go of a momentous occasion because he received news that one of his patients had passed away. The doctor chose to be with the patient's family instead of delivering a prominent presidential address.
And thus was shaped Kannan's medical philosophy. "A medical practitioner should be entirely focused on the patient to make sure the only interest that matters is that of the patient. All the other interests―that of the physician, the caregiver, the hospital, should be eliminated," he says.
Kannan was leading the surgical oncology department at the Adyar Cancer Institute (often called the nursery of oncologists) in Chennai when Chinmoy Choudhury, director of CCHRC visited. Though the CCHRC had been set up, it had very few doctors, and Choudhury would visit various cancer institutes and hospitals to understand how to better manage the fledgling centre.
Choudhary was persistent that Kannan visit the centre and take charge of it―regularly calling and writing. Kannan's colleagues though were convinced that his wife, Seetha, would be unwilling to give up her job at the United States-India Educational Foundation (USIEF) in Chennai and move to Silchar.
However, when the couple and their daughter, Andolika, visited Silchar, Seetha at once decided that it needed Kannan's skills. The principal of the local Kendriya Vidyalaya turned out to be an old classmate who assured admission to Andolika in class 5. The catch was that the child, who till then had never taken an exam, would have to get through an entrance test. She wept, fearing failure, and wept more, fearing the loss of friends.
Back home, both his mother and mother-in-law opposed the idea. His father, who was suffering from respiratory failure, and his father-in-law, who had prostate cancer, supported and enabled the move.
In 2007 that move was made. Both sets of parents also followed.
Andolika, after a few days of despair at not understanding a word of what her Hindi/Bangla- or Assamese-speaking classmates were saying, struck up some great friendships. Many of which she continues to nurture as she completes her surgical residency.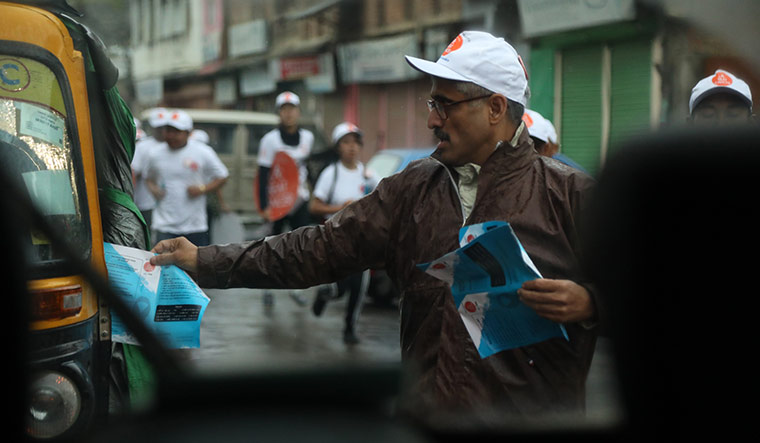 Seetha started volunteering at the centre. Till a kitchen was set up, food would go from the couple's home for caregivers. Once again, the women around him had empowered Kannan.
The biggest challenge that the centre faced was a very low compliance rate. Only about 28 per cent of the patients completed treatment. Today, that number stands between 70-75 per cent. "It is not a good figure. We should be able to treat at least 90 per cent patients," says Kannan.
The CCHRC's vision is to ensure that 'no individual develops a cancer that can be prevented, that no patient is denied appropriate cancer treatment for want of resources, that no patient dies in agony and indignity, and that no family suffers treatment-induced poverty and grief'. About 75 per cent of the patients at CCHRC are treated free or at subsidised charges.
"Health care is an infinite story," says Kannan. "We cannot really be sure of what will happen next. But each one of us has to be a party to it in our lives and transmit these values to the next generation".
In scripting CCHRC's bit in that story, many experiments were made. Health camps were organised in the initial years, till it was realised that it was an undue pressure to expect daily wagers to free up a whole day for the camp. Then accredited social health activists (ASHAs) were trained to examine for oral abnormalities while they were doing the government-mandated checkups for hypertension and diabetes. Any abnormalities detected would further be examined by a trained nurse or doctor.
ASHAs also went to houses to do examinations. Mobile clinics were also part of the mix. One-person satellite centres were set up as hospitals were too expensive a proposition. Next, training was offered for home-based care to families, and the ensuing onlookers educated about cancer prevention, health seeking behaviour and about government and non-government help available for cancer treatment. A one-time fee of Rs100 was introduced to ensure free repeat procedures if required so that financial burden would not do away the good achieved by the initial treatment.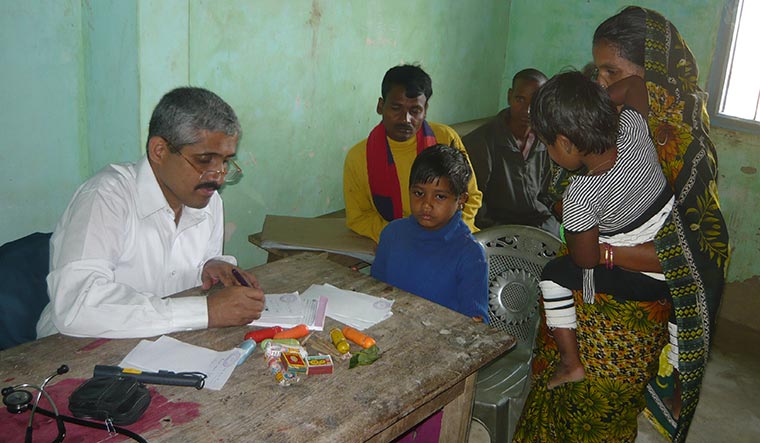 Some experiments did not work at all. For instance, the centre once set up tailoring and paper making units so that caregivers could find employment while their loved ones were being treated. "We quickly realized that most caregivers were unskilled and abandoned the units," says Kannan. The centre then moved to giving them jobs as assistants to the cook, gardener, electrician, and other staff employed at the centre on a salary of Rs300 a day.
Kannan has great faith in the power of the government machinery. "The government has the muscle to achieve what private or not-for-profit players cannot," he says. "We must work together. All people must demand their right to healthcare. It is not charity that a doctor is doing, s/he is being paid for the job".
He speaks of the many hesitations that keep people away from hospitals and treatments. "A hospital with marble floors, paintings and fountains scares off the poor," he says. Another is delayed diagnosis, which is more fatal than the disease itself.
Kannan supports the idea that the young should go out of the country to work and build connections. "But they must return to see the transformative impact of their work," he says. Unlike many who criticise the younger generation of being materialistic, his take is that it is the preceding generation's fault. "Why were we not able to provide role models for them?" he asks.
He also sees great power in the good that people can do when they come together, and puts the onus on medical practitioners to give patients the confidence that they are pro-poor and people-centric.
CCHRC is creating a next generation of medical practitioners who will share its vision. To impart academic skills, it offers a DNB (Diplomate of National Board) in cerebral oncology among other specialties. "It is an ongoing process which cannot happen overnight. But if we keep doing our bit and teaching the next generation to prepare the generation after it, we will keep moving," says Kannan.
As for the mother who imbibed in her son the idea of becoming a doctor, she she is now tech-savvier than the son. His father and father-in-law passed away in 2011.
In the slices of free time that Kannan can steal, he enjoys Carnatic and Hindustani music, reading and travelling.
And there are no regrets. "If I had the opportunity to do it again, I would do it exactly the same way, enabled by the people around me," he says.