Until about nine months ago, Dr Shreesha Maiya from Bengaluru would type into his computer the case history, diagnosis and prescription once the patient consultation was over. It was a dreary task, as most doctors would attest to.
Recently, though, Maiya has been using Ambient, an AI-powered app that compiles, in real time, the conversation between doctor and patient. With this, the patient's electronic medical record, which contains their health history, is ready the moment the consultation is over.
Maiya, a consultant cardiologist and electrophysiologist at Narayana Institute of Cardiac Sciences, said he could now speak more freely and without care for structure. "Earlier, it was a tedious job," he said. "Most often, patients do not remember 70 per cent of the content that was discussed," said Maiya. "It is really good that they can now read it after going home. It looks professional."
Ambient, which comes from Augnito, an innovative voice AI service provider, also claims to reduce burnout in doctors. "The time I spend with the patient has reduced significantly as I do not have to type things out," said Maiya. "Most important, I can continuously keep eye contact with the patient, which is crucial. Earlier, I also needed to look at the computer screen."
Rustom Lawyer, cofounder and CEO of Augnito, said a few hospitals, including Apollo, Fortis, Max, Aster and Narayana Health, are currently using the app, and claimed that it could be a game-changer. When the data is accurate, a lot can be done in clinical research and also in the insurance sector, he added. Augnito is talking to a few state governments; Lawyer said something could materialise in about six months. The national push for digitisation would only help onboard such apps.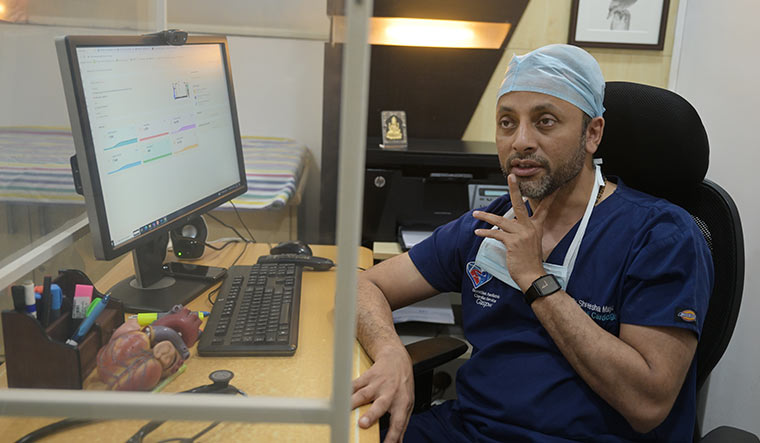 As for how it works, the doctor need only open the app and start talking to the patient―no note-taking required. Ambient catches the doctor's voice even when the patient is being examined and the report comes out at the press of a button. "It is like a copilot doing the job for you," said Lawyer. Voice, he added, is the next level of interface; graphical interface is old.
Ambient currently recognises accented Indian English and 10 Indian languages; the team is working on adding Arabic as Augnito primarily caters to India and the Middle-East.
Dr Binod Kumar from Apollo hospital, Kolkata, who also uses Ambient, said it works best if one uses headphones, but in the same breath added that doctors cannot do that. He was also open to the idea of government hospitals using the app, but added that the benefits you get from technology depend on how you use it.
Ambient is among a bouquet of apps that Augnito has put out over the past several years. These apps cater to more than 50 medical specialities in diagnostic centres, laboratories and out-patient departments.
Augnito is part of Scribetech, the UK's first medical transcription BPO and a leading provider of software and services to the National Health Service. Lawyer, who is also a cofounder and CEO of Scribetech―he started there at 19, ―said a team of around 100, including 40 from the engineering and product team, worked on Ambient.
Though currently used by hospitals, the app can also help those in private practice. "It is a good clinical practice and the history is accurate when the patient goes to some other doctor for some other ailment," said Lawyer.
There are a couple of competitors for Augnito in the US market, but Lawyer claimed that, in India, they are the leader. He also said that their association with the hospitals did not end with providing the app. "We have had good experiences in the past," he said. "We are partners in the customers' success and keep taking feedback from them about how the app is functioning."