It's a bright afternoon. Anil Mishra, 60, is enjoying a cup of tea with his family at their Ghaziabad home when one of them notices a mosquito buzzing. "All Out jala do (light the repellant)," shouts his mother, who is in her 80s. "Batao, din mein bhi machhar dikh rahe hain, itni safaai rakhne ke bawajood (There are mosquitoes even during the day, despite us keeping the house so clean)." She is scared for the children in her joint family—Mishra has had malaria twice, 20 years apart. "In 1993, I had high fever and the situation was grim," he says. "I used to visit the district hospital every week and the doctors kept recommending test after test. It took them two months to find out that I had malaria. Till then, they kept transfusing blood every three to four days because I was so weak that I could not go to the bathroom on my own."
His father, who is reading a newspaper, suddenly gets a bit emotional. "We faced a lot of difficulties, especially for blood transfusion," he says. "While he was admitted, a friend of mine went to the hospital and gave him blood. My son was brave. His zeal for life helped him fight."
When Mishra got it again, in 2013, he was not scared. He had returned home from an official tour and felt feverish; he was weak and also had headache. He took paracetamol for three days, but when there was no change in the temperature, he went to a clinic near his home. Within three days, the doctor diagnosed malaria. "I was sure I would be fine within a week or 10 days," he says. "Even the doctor had said that there was nothing to worry about. I recovered completely in 15 days. Since then, I have been absolutely fine."
Like Mishra, Shreya Sharma (name changed), who lives alone in Bhopal, also had malaria, in 2008. She had to be hospitalised for a week and became anaemic; it took a month for her to recover fully. "Today, I am so cautious about mosquitoes that I shut my doors and windows in the evening itself, and make sure to use a repellant before sleeping, because prevention is better than cure. I don't want to take any risk."
According to Professor P.K. Rajagopalan, former director of the Vector Control Research Centre (VCRC) at the Indian Council of Medical Research, and former World Health Organization expert committee member on malaria, "[The disease] endangers one in every six Indians, and costs the economy $2 billion in lost productivity each year."
There has been progress, though. Since 2014, India has reduced malaria cases by over 80 per cent. However, pockets of the country require increased attention because 90 per cent of the cases are concentrated in states with a significant tribal population. The hotspots are Chhattisgarh, Madhya Pradesh, Jharkhand, Odisha, Karnataka, parts of Rajasthan and Haryana, and West Bengal. As per the National Center for Vector Borne Diseases Control (NCVBDC) website, the country had 1.6 lakh malaria cases and 90 deaths in 2021.
India has set a deadline to eliminate malaria by 2030. It may be easier said than done. "We cannot eliminate malaria in India because of the populations that live alongside water," said Dr Manoj Kumar, who has a PhD in biochemistry. "In places near rivers, the presence of mosquito larva is quite high, and people don't know how to take care of such places because they are not at all aware of it. Perhaps we can eliminate malaria on paper, but not practically."
Dr Rakesh Gupta, who was a member of the five-year national strategic framework for malaria in 2018, agreed that it will not be a cakewalk. He said that malaria involves three components—host (human beings), agent (mosquitoes) and environment—and conceded that the number of hosts is reducing through awareness, medication and testing. "But, what is being done for the agent? How will the vector be eliminated? Where is the testing being done?" he asked.
The National Institute of Malaria Research (NIMR) in Delhi is conducting insecticide-resistant studies every two years and the results are being incorporated in the national programme for malaria elimination. The researchers at NIMR go to the field in different districts to collect the mosquitoes and cultivate them inside the lab. Trials are then conducted to understand the impact of the insecticides.
Among the deep-rooted problems in eliminating the disease, said VCRC director Ashwani Kumar, is poor reporting of cases by the private health care sector and poor capacity for direct interventions against vectors. "There used to be entomologists, insect collectors and field workers manning the 72 entomological zones of the country. Although the number of these zones has increased to 103, there are no trained entomologists in most of them. To eliminate malaria, killing the vector and preventing the formation of mosquito larva is important. If that is not done, malaria will remain prevalent."
Amita Chhebi, executive vice president for advocacy and programmes at Asia Pacific Leaders Malaria Alliance—consisting of 22 governments—said that in 2017, the national programme reported 8.4 lakh cases and 194 deaths, whereas WHO estimated 96 lakh cases and 16,700 deaths in the same year.
There is an incomplete understanding of the actual malaria burden because all cases do not go to hospitals. Moreover, people going to hospital are not fully investigated. A live reporting system through a digital platform is a good option to clear the mess. "There must be guidelines on how to diagnose malaria and to give anti-malarials after diagnosis only," said Sushila Kataria, senior director, internal medicine, Medanta, Gurugram. "The reporting should be seamless to save a clinician's time on reporting cases. A proper followup and surveillance in areas where cases are detected can lead to smooth reporting. Even the labs should be involved to make a central reporting system."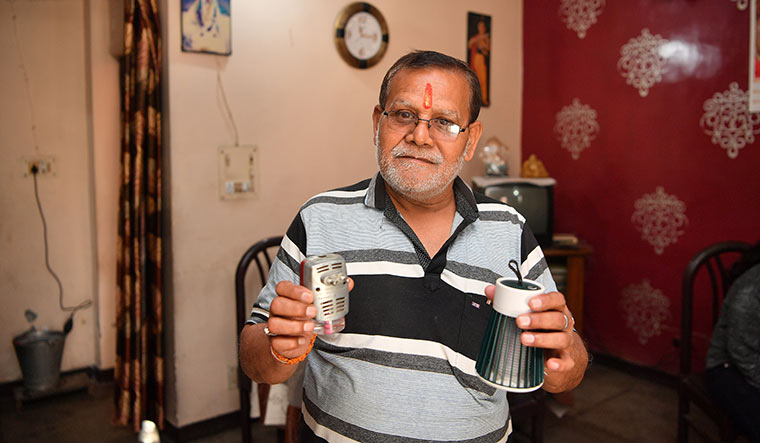 Eliminating the vector is a primary concern for public health experts. "There are maximum number of malaria cases in eastern Uttar Pradesh because there is water-logging in paddy fields, drains remain open and riversides are not clean," said Dr R.C. Gupta, a consultant at a district hospital in Uttar Pradesh and a core member of the polio-elimination programme for five years. "How will a mosquito larva not be found at such places? Who has got a solution for this? Uttar Pradesh is just one example. We have such spots across India."
In India, P vivax and P falciparum are the two prevalent parasites for malaria. Years ago, there used to be nearly two lakh malaria cases a year in India and DDT, before its use was restricted, was sprayed to kill the mosquitoes. "You kill the mosquitoes rigorously and don't give them time to mutate, or you forget about malaria elimination," added R.C. Gupta. "Also, the lab technicians are not skilled enough. There have been several cases when I sent patients for blood tests assuming they have malaria because of the symptoms. But their reports never show them as malaria-positive."
VCRC runs a master's course in public health entomology and organises hands-on training workshops for entomologists and conducts molecular xenomonitoring (testing of mosquitoes to detect the DNA or RNA of a parasite) to strengthen vector surveillance in the country. It also generates disease risk maps using Geographic Information System (GIS) mapping-and-modelling approaches, carries out insecticide susceptibility studies, and evaluates in-house developed vector-control products such as larvicides, insecticides and Long Lasting Insecticidal Nets (LLINs).
"The VCRC field station at Koraput (Odisha) is the only place in India with 13 experimental huts where insecticide residual spray candidates and LLINs are evaluated in real-life situation," said Ashwani Kumar. "Besides, VCRC conducts simulated trials on larvicides/bio-larvicides and evaluates industry-formulated products in different parts of the country to check their efficacy."
A District Malaria Officer (DMO) said that to control mosquito breeding, use of repellents is being promoted through campaigns. In addition, larvicidal sprays are being used in urban areas once a week.
Under the Urban Malaria Scheme, the control of the disease lies primarily in the implementation of urban bylaws (that govern how planned urban development is done in cities) to prevent mosquito breeding. Environmental methods of controlling breeding include source reduction works like filling ditches, pits and low-lying areas; streamlining, de-silting and de-weeding drains; water disposal and sanitation; emptying water containers once a week and observing weekly 'dry day'.
For the past three years, 30-year-old Nitin Sharma has seen filthy water pooling in Delhi's Naraina industrial area. Last year, there were 21 cases of malaria here. "During monsoon, the mosquitoes keep buzzing and I always keep extra repellants in my office and make sure the doors and windows are closed," he said.
Malaria inspectors even hold the power of prosecution if mosquito larva is found at a construction site or around commercial or institutional properties. They kill the larva through fumigation and insecticide sprays, which is a primary step towards preventing malaria cases.
"At first, we give a notice to the defaulters," a malaria inspector told THE WEEK. "If there isn't any improvement, we issue them challans that range from Rs2,000 to Rs1 lakh. For severe violations, we also file a case against them as per section 269 of the Indian Penal Code. We make sure that there is no mosquito breeding anywhere."
China, which the WHO recently declared malaria-free, adopted a 1-3-7 model—case reporting within one day after diagnosis, investigation within three days, and action within seven days—to eliminate the disease.
While India plans to eliminate malaria by 2030, it perhaps requires extensive brainstorming to find ways to stop the mosquito from buzzing. That is the bigger fight.