Rubiya Sainudheen, 26, of Kochi is fighting an uphill battle. An only child, she lost her father, C.H. Sainudheen, to Covid in November 2020. Sainudheen was an entrepreneur who sold lottery tickets wholesale and had property worth 020 crore. He died without leaving a will and had a debt of Rs2 crore.
Rubiya was divorced at the time. She later married a businessman, Shuhaib K.T., and they tried to settle the debt by selling some of Sainudheen's assets. They found an unexpected roadblock. Sainudheen's brother and son contested the sale, citing provisions of the Muslim Personal Law (Shariat) Application Act, 1937.
The act and its provisions are applicable to all cases where a Muslim dies intestate, leaving questions regarding succession and division of property. As per the law, the lone daughter of a father who died intestate is entitled to only half the assets owned by him. The rest is divided among his brothers. But, if the lone child is a son, the property can be passed on to him as a whole. Apparently, Muslim personal law discourages people from leaving a will that benefits only the children.
Rubiya says the law is helping her relatives grab her father's property. According to her, they were of no help when her father was alive and her mother was suffering from kidney disease. After he died, the relatives allegedly tried to maintain control over the assets by preventing her from remarrying.
Shuhaib fully backs Rubiya in her battle. He said assets worth Rs6 crore sans liabilities, which her father had made by hard work, are now in dispute. "My father left home when he was just 18 because of family problems," she said. "He created all this wealth by himself. We approached the mosque committee, but they supported my uncle."
On March 12, Rubiya went public against Muslim inheritance law. She spoke about her experience at an event organised by the newly formed Forum for Muslim Women's Gender Justice (FMWGJ). The event―held at Kozhikode and named 'Uyirppu 2023' (uyirppu means revival in Malayalam)―resolved to reform Muslim inheritance law.
Four days before Uyirppu, a unique revival of vows was held at the office of the sub-registrar at Hosdurg in Kasaragod district. Actor-lawyer Shukoor and his wife, Sheena Shukoor, who heads the department of legal studies at Kannur University, registered their marriage under the Special Marriage Act, 1954. Shukoor had shot to fame last year after he portrayed his alter ego in the hit courtroom drama Nna Than Case Kodu (Sue Me). He posted on Facebook that he was opting for "a second marriage"; the bride, he said, was his own wife of nearly three decades.
Shukoor said he was "remarrying" because his three daughters stood to lose a share of their inheritance to his brothers. By re-registering the marriage under the Special Marriage Act, he wanted to ensure that the Muslim inheritance law did not apply to his family. "Don't you think that our life's earnings should go to our daughters? Under the Muslim Personal Law (Shariat) Application Act, it will not happen," he wrote.
According to Shukoor, the Muslim inheritance law is discriminatory. "The 1937 act does not clearly define the sharia," he wrote. "And, according to the approach taken by our courts based on the book Principles of Mohammadan Law, written by Sir D.H. Mulla in 1906, only two-thirds of the share of our property will go to our daughters after our death. The rest will go to our brothers. The only reason for that is that we have no sons."
In India, marriages can legally happen in two ways: the customary way, or marriage under personal law; and marriage under the Special Marriage Act. When it comes to inheritance, section 21 of the Special Marriage Act stipulates equal share to men and women under the Indian Succession Act, 1925.
"My [customary] marriage in 1994 still has legal standing, but section 15 of the Special Marriage Act offers the provision to reregister the marriage," said Shukoor. "[If a Muslim couple opts for it], the inheritance law applicable in their case will be the Indian Succession Act."
Shukoor and Sheena's decision caused an uproar on social media. A section of Muslim clergy, activists and politicians accused the couple of misleading believers. "Our viewpoint is that gender equality is not practical; what should be done is gender justice," said T.K. Nishad Salafi, general secretary of Wisdom Islamic Youth Organisation, which is part of the conservative Mujahid movement in the state. "Shukoor's thinking is based on certain liberal ideas that are intended to attack the base of Islam and the moral structure of society. These liberal ideas make you think that there is inequality in Muslim personal law. What we really require is gender justice, and the inheritance laws in Islam ensure justice."
The Council for Fatwa and Research at the Darul Huda Islamic University in Malappuram, which is affiliated to the influential Sunni Mahallu Federation, said Shukoor was being self-centred. "It is an irony that a person who claims to be a follower of Islamic laws has remarried under the Special Marriage Act. It is his narrow-minded desire that his siblings should not receive even a fraction of his assets that has compelled him to resort to this action," it said.
Jafar Hudavi of the Council for Fatwa and Research said: "In Islam, you cannot marry a woman who is someone's wife. Shukoor and Sheena are already married, so there is nothing significant about their new marriage. That is how it is from a religious point of view."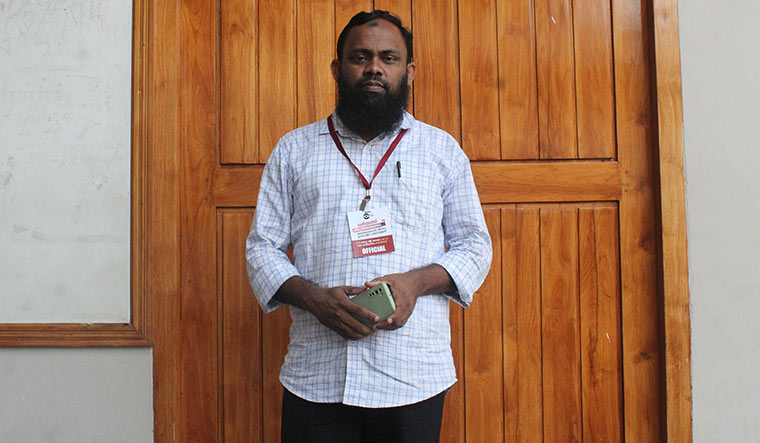 Shukoor, however, believes that the "marriage" served a purpose. "I did not remarry; I just re-registered my 1994 marriage under the Special Marriage Act," he told THE WEEK. "I announced it as a 'second marriage' just to spark a conversation [about the inheritance law]."
Shukoor and Sheena are part of FMWGJ, which organised the Kozhikode event. Khadeeja Mumtaz, vice chairperson of FMWGJ, said what they did was symbolic. At Kozhikode, the organisation passed a resolution saying sections in Muslim personal law be either abolished or updated in accordance with the contemporary social conditions of Muslims in India. "If Muslim personal law is updated and codified comprehensively in accordance with constitutional values, then all arguments regarding [the need for] a uniform civil code would become insignificant," it said.
FMWGJ is the brainchild of V.P. Suhara, 73. A veteran activist, Suhara founded the progressive women's forum NISA in 1997. In 2015, she impleaded herself in a special leave petition filed in the Supreme Court, which said the existing Muslim inheritance law was discriminatory and based on misrepresentations of various Quranic principles.
The petition was earlier filed by the Khuran Sunnath Society, an organisation founded by reformist cleric Chekannur Maulavi. A popular figure, Maulavi disappeared in 1993; it is alleged that he was murdered.
The Khuran Sunnath Society had earlier moved the Kerala High Court saying the current inheritance law was violative of Articles 14 (equality before law), 15 (prohibition of discrimination on grounds of sex), 19 (freedom of expression), 21 (protection of life and personal liberty), and 25 (freedom of conscience and free profession, practice and propagation of religion) of the Constitution. The High Court, however, rejected the petition saying it was up to the legislature to enact a law to resolve the matter.
The Supreme Court recently heard the special leave petition in which the Khuran Sunnath Society and Suhara are parties. The court asked the state government to file an affidavit, and the government consulted a dozen Muslim organisations. Sources said the government had decided to stick to the stance it had taken in the High Court―that it vouched for the validity of the existing law, and that it will not involve itself in any matter related to Muslim personal law.
"We failed to get a proper response from the government," said Suhara, who plans to start a stir if the government submits an affidavit favouring conservatives. "The government says that it can only give the same affidavit filed earlier. Our understanding is that the legal advice that the government received is also to vouch for the continuation of the current system."
This was the crucible in which FMWGJ was born. "I wanted a wider group of likeminded people coming together to raise the issue," said Suhara. "And it led to the formation of the Forum for Muslim Women's Gender Justice. A lot of victims of the inheritance law began contacting us."
Aishumma's was the first case that the FMWGJ highlighted. A Muslim widow at Tanur in Malappuram, Aishumma has three daughters and no son. A part of her late husband's property would go to her brother-in-law. "My husband was a labourer in the Persian Gulf," she told THE WEEK. "With his sweat and blood, he raised our daughters and married them off. He could not complete the construction of our house in his lifetime. After his death in 2019, we took a loan of Rs8 lakh to finish the work."
Over time, Aishumma found herself unable to pay off the growing debt. She decided to sell the property and settle the debt. "But now, my husband's brother is not ready to sign the sale documents," she said. "I am a Class 2 dropout, so I do not understand the complex laws affecting the division of the property. I told him to sell the property himself and give a share to us, but I was asked to wait till certain other property-related matters in his family were resolved. How long do I have to wait? This was the property my husband and I built. Today, I am waiting for their mercy; tomorrow my children would also be in the same situation."
The FMWGJ cites Aishumma's case as proof that the inheritance law needs to be reformed. It points out that, in nuclear families, women are also employed and bear financial responsibilities.
Most clerics, however, are against amending the law. "Muslim personal law is based on the Quran and the Prophet's verses. None other than Allah can change the sharia. So there is no question of changing it to suit the times," said Onampally Muhammad Faizy of Sunni Yuvajana Sangham, an offshoot of the Samastha Kerala Jem-iyyathul Ulama, Kerala's most influential body of Muslim scholars.
Faizy said the law gives Muslim women "financial rights, but not financial responsibilities". "The Islamic concept is that it is not the woman who has to bear financial responsibilities. She gets a share that can be kept by her, and she can do anything with it as long as it adheres to moral values. But it is a man―as brother or husband―who has financial responsibilities. He may have to protect his wife, sister, daughter or granddaughter. Islam sees that the responsibility is more on men," he said.
With a middle ground proving elusive, the CPI(M)-led government finds itself in a tricky situation. The party has been trying to woo the Indian Union Muslim League and other major community organisations in the state into the left fold. Recently, Chief Minister Pinarayi Vijayan even went to the extent of asking why the practice of instant divorce among Muslims was criminalised "when divorces happen in all religions".
Said CPI(M) state secretary M.V. Govindan: "Those from the Muslim community themselves have to bring forward ideas for reforms. The CPI(M) has always stood for democratisation."
According to Suhara, the political atmosphere makes it difficult for the government to take a progressive stance. "The CPI(M) wants to stay in power, so it will not be ready to antagonise religious organisations," she said. "But this a left-front government, so we have some hope. We think the government would hear the growing strength of our voices."