Match point won and victory sealed, Chirag Shetty bent down, touched his head, pulled off his bandana, and threw himself into the arms of his doubles partner Satwiksairaj Rankireddy. Then, he made fists and let out a loud yell.
Weeks of frustration had finally come to an end with their victory in the Indonesia Open. The doubles pair had not just returned to winning ways after a string of early exits, but also won a Super 1000 event―one of the four biggies of the Badminton World Federation world tour. The victory also catapulted the duo to number 3 in the men's doubles world ranking.
The triumph came after early exits in Sudirman Cup, Thailand Open and Singapore Open, where they had struggled to find their mojo. Indonesia helped them rediscover it. "We told ourselves: it can't go any worse than this, now it can only improve," Shetty told THE WEEK. "In sport, the greatest wins come after the greatest losses, and that is what happened there. The way we were playing before, and the way we played in Indonesia―that is one thing that makes Indonesia Open more special than other tournaments."
Making the victory even more special was that they beat Malaysia's world champion pair Aaron Chia and Soh Wooi Yik, against whom the Indians had lost eight times earlier. Shetty and Rankireddy's post-victory jubilation, passionate as it was, did not quite reflect the effort, determination and intent that had gone into clinching the title. The brainstorming sessions with doubles specialist coach Mathias Boe, chief coach Pullela Gopichand and the rest of the coaches had helped a great deal.
"We had our first conversation after the defeat in Thailand," Boe told THE WEEK. "I didn't see any hunger then. You need to put 100 per cent into it to win, so we put all our cards on the table. We tried to change things in Singapore, but we didn't have that luck. Often, luck favours the brave. We cannot be afraid of losing if we are following the plan. We again had a conversation and brought that attitude to Indonesia Open."
The idea, said Rankireddy, was to not wait for the opponents to make mistakes, but to be on the offensive. "The approach was different," he said. "We had lost to them (Chia and Soh) many times earlier. So we decided to take it as it comes, and have fun. They, too, would be under pressure, we felt. It was the final after all."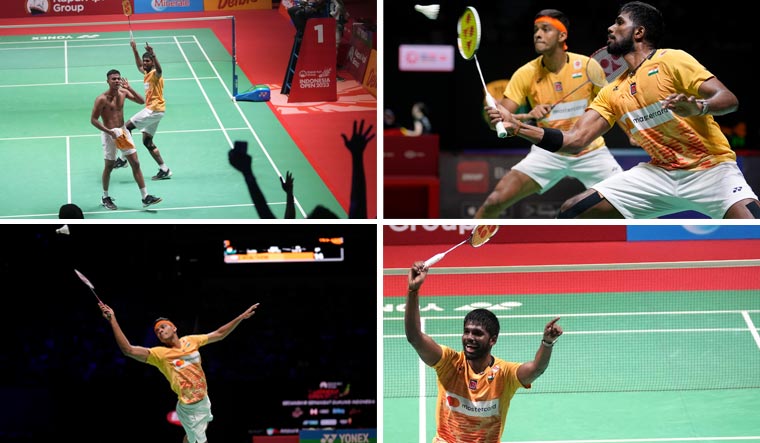 It is the first Super 1000 BWF title for Shetty, 25, and Rankireddy, 22. There are four Super 1000 events―the All England Open, the China Open, the Indonesia Open and the Malaysia Open. The top ten doubles pairs in the BWF world ranking are required to play all Super 1000 tournaments.
Boe said he wanted Shetty and Rankireddy to stay "hungry and humble" as they went into the final. "During daily practice, we talked a lot about putting in 100 per cent. They are very good at handling pressure and expectations," he said.
According to Shetty, the plan was to put pressure on Chia and Soh from the beginning. "In all previous meetings, we had held ourselves back quite a lot," Shetty said. "We were in awe of their pace and didn't charge them, and that was one of the reasons we were not able to beat them. This time, we decided that… we needed to be a lot more proactive and can't be taking the backseat. We put pressure on their serve."
Rankireddy said the quarterfinal match against world number 1 and home stars Fajar Alfian and Muhammad Rian Ardianto was the most difficult match of the tournament. "We were up against world number 1 Indonesians. We knew the crowd would be with them. The semifinal was very tough, but we were prepared for it as we knew the Koreans would play the long game. The final was more of a mental game," he said.
The pair now has bigger plans. "Winning this title definitely helps," said Shetty. "But we are chasing much bigger things―like the World Championships, the Asian Games, the All England Open and, ultimately, the Olympics."
Their unprecedented success has triggered changes in the way Indian badminton is being nurtured at junior and senior levels. "There is a lot of talent in the country and we want to make sure that it does not go untapped," said Sanjay Mishra, honorary secretary general, Badminton Association of India (BAI). "We have now created a junior cohort in three categories, and these groups get pruned every three months. Competition has become better and fierce. Our objective is to provide state-of-the-art junior academies and bring more initial-level international tournaments to India. We have already created a strong tournament structure in the country and our players will benefit from this."
Indeed, BAI has been sending more teams and giving exposure to younger players. Mishra said the qualifying process to be part of senior and junior teams in India has been tightened. "We now have regular trials where participation of top players is mandatory, and there is a very healthy competition to pick the best for every tournament," he said. "For every category―singles as well as doubles and mixed doubles―there is a proper, systematic training structure for players to optimise. And as you see, results are showing."
For Shetty and Rankireddy, there is no time to rest. With the Asian Games still three months away, their focus will be on consistency. "Before [the Games], three-four tournaments are lined up―in Korea and Japan, and the World Championships and the China Open. Right now, we are focusing on these events till we eventually win a medal for the country at the Asian Games," said Shetty.
Rankireddy, too, wants to take the contests one at a time. "The Asian Games is not a one-week tournament," he said. "It is a long tournament, and it won't be easy."