HAVING WON EVERYTHING, multiple times, the Australians are now hunting for their fourth World Cup. If they win, it will tie them with Pakistan with the most crowns. The start to their campaign in Odisha, however, has been mixed. Though they thumped France 8-0, they were held to a 3-3 draw by Argentina.
But the champion team knows how to up the ante when it matters. Despite not having played tournament hockey since July, the team has combined well and looked fearsome. Coach Colin Batch, himself a former hockey star, realises that it will not be a cakewalk. In an exclusive interview with THE WEEK, Batch talks about his team's preparations and his expectations from this edition of the tournament. Excerpts:
Q\ What has been the key to Australia's dominance in the past three decades?
A\ (Deep sigh) Well, it is difficult to answer that question. By and large, we have always been well-prepared... and we have good depth in our playing group. Good players need everything, including good coaches. I think we have a good balance now, and this group is experienced. The other part is good funding, and we are fortunate to have the Australian Institute of Sport.
Q\ How much does the shootout loss to Belgium in the Tokyo Olympics final still hurt?
A\ We cannot change the past. Belgium is very good at shootouts. We spent time analysing what we went through and we feel we have improved since. We had lost in a shootout to the Netherlands in the 2018 World Cup semifinals. It is at the back of our minds, but it is not a driving factor towards any sort of performance here.
Q\ What does a team need to win this edition of the World Cup?
A\ I think, initially, consistency. A lot of teams can generate opportunities, but it is about putting the ball in the back of the net. You want to score, of course, but you need to defend well, too. It is that consistent performance over 60 minutes that [you need] game to game. We are not looking too far ahead. A good start is very important, otherwise you are playing catchup.
Q\ How has the buildup to this tournament been for your team?
A\ It has been different to our normal preparation. [Before] Tokyo, we did not get to play many teams, but we were together as a group. We trained every day.
Leading up to this [edition], some players stayed back and played in Europe after the Commonwealth Games. While they were playing at a good level, they were not staying with us. The series against India (Australia won 4-1) was important to get the group together. For the first time in four months, we had the group training together. We are confident we can perform well even though the preparation has not been ideal.
Q\ Does the team feel the pressure of winning for a record fourth time?
A\ There is no pressure. It is the same as any other team. The Netherlands have a great record, Belgium won the last one, Germany has a great record, England definitely want to win it. There is a whole range of teams that wants to win it for the first time. We are no different. We want to win it this time, but we are not thinking of winning it for the fourth time, per se.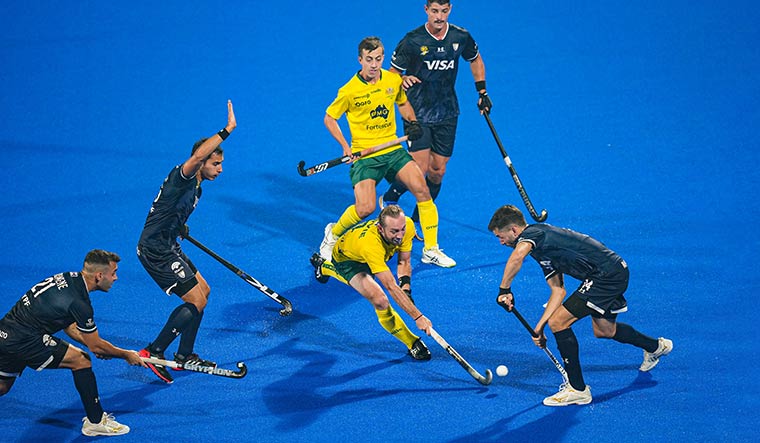 Q\ Do you foresee more goals this time? What style of play will teams prefer?
A\ There will be some high-scoring matches. The pitch lends itself to attacking hockey. The penalty corners will be important, of course. I think you will see tighter matches quarterfinals onwards. Everyone likes to score early, but it may not be till the 4th quarter that matches open up and goals are scored.
Q\ How do you rate the Indian team?
A\ They have very good players and coaches. In Australia, they tried different players, trying to obviously find the best group of 18 for this World Cup. We cannot take [too much away] from those matches. [We would rather] worry about our own performance.
Q\ Australia is good at creating and exploiting spaces. Do you think teams will continue to find it tough to defend against your team?
A\ Definitely. That is the name of the game at the moment. If teams do decide to fall away and flood the back-half of the ground even deeper, it is important to find space in that area and have some patience with the ball. The timing of leading and connecting is so important.
Q\ What is your prediction for this World Cup?
A\ India will be pretty hard to beat in India. The European teams are very strong. Argentina may have been a bit flat in the past couple of years, but we cannot underestimate them. They have new coaching staff and players. It is hard to say who is the favourite―six or seven teams can win.