Carlos Brathwaite, remember the name!"
This declaration from Ian Bishop during commentary was perhaps the most unforgettable line from the 2016 ICC T20 World Cup. Chasing 156 against England in the final, the West Indies needed 19 runs off the last over. Brathwaite smashed four consecutive sixes off Ben Stokes's bowling to lead his team to its second title; it is the only team to have done so.
Five years after from that iconic moment at Eden Gardens in Kolkata, much has changed in T20s. Brathwaite is not part of the West Indies side that will compete at the ongoing World Cup in the UAE. Neither is an injured Ben Stokes. As far as their teams are concerned, the latter will be missed more.
The format itself has evolved in the past five years. Batsmen have become 'batters' and the shot-making is now different: the paddle sweep, reverse sweep and the scoop are old; Rishabh Pant's reverse flick off a pacer or the ramp shot against the seamer's bouncer are some of the newer, more daring shots. As for bowlers, slower balls at the death or the carrom ball for a spinner are passé; the mystery spinner, instead, is a plus to any team. While wrist spin is still in, the finger spinners, too, have made a comeback this World Cup—the prime example being Ravichandran Ashwin, who will play T20Is for India after four years.
The game changers are not only the good-old finishers at number six or the established top-order batsmen or the biggest six hitters. The past few years has seen the rise of the super specialist. Roston Chase of the West Indies, Aussie Marcus Stoinis, England's Dawid Malan and South Africa's Tabraiz Shamsi are some of the specialists who have honed their skills in various T20 leagues around the world.
Josh Inglis, the 26-year-old wicket-keeper batter from Australia, has been a surprise pick. He is yet to make his international debut for Australia in any format, but got the call after a prolific season in the Vitality Blast for Leicestershire; he already had the reputation of being a busy player in the Big Bash League. England's Liam Livingstone also comes in with the reputation of being an impact player. A fine run of form in 2021 led to his return to the national T20 setup after four years. He then scored England's fastest T20I hundred, against Pakistan this year.
As the tournament begins, THE WEEK takes a look at some of the players who can anchor an innings, strike the ball hard, innovate both with bat and ball, and, most importantly, win matches for their team.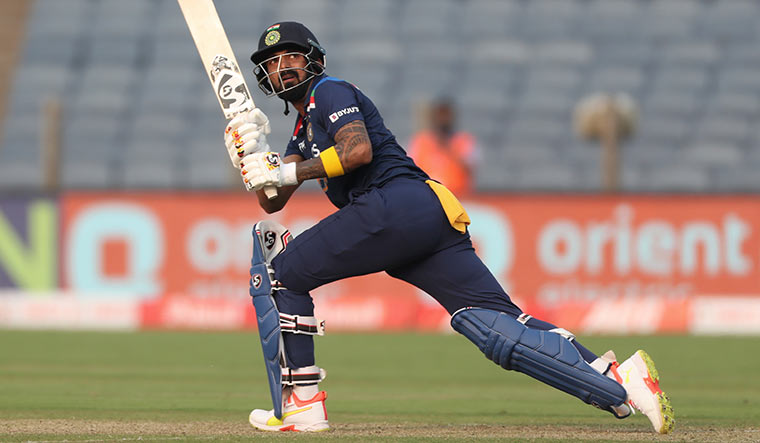 K.L. Rahul


India
"King Legend" Rahul—as some fans on Twitter have dubbed him—has been in sublime form of late. Though he lost the Orange Cap in the IPL in the last match, he made his runs (626) in fewer games, and at a better average than the eventual winner—Ruturaj Gaikwad (635). And that was when he had the task of carrying his franchise's batting effort in several games. There are many who feel that the added responsibility of being Punjab Kings' captain smothered his attacking game, and that he would be free to unleash in the company of Rohit Sharma while opening for India. He did that in the warm-up match against England on October 18. Opening with Ishan Kishan, the 29-year-old scored 51 off just 24 balls, setting up a confidence-boosting win for his team.
"I think K.L. Rahul, coming off a great IPL, is the pillar that the guys can build around," former Australian quick Brett Lee told Fox Sports recently. "It takes the pressure off [Virat] Kohli if Rahul is scoring runs."
The elegant right hander can score in all areas, is innovative, and has one of the most beautiful lofted drives in the game. What makes him extra useful is that he can bat in several positions and can also keep wickets (he does that for the Kings). If the team management allows him to cut loose from ball one, expect fireworks.
Batting average (T20Is)
39.92
7th best of all time
(minimum 20 innings)
2018-2020 (T20Is)
Batting average
41.69
Batting strike rate
145.11
Glenn Maxwell
Australia
The explosive batter goes into the World Cup in superb form. He scored 513 runs in 15 matches, including six half centuries, for Royal Challengers Bangalore in this year's IPL. More importantly, he was better in the second leg of the tournament, scoring at an average of 41.43. The World Cup preparation could not have been better.
In a format where the Australians have never won the highest prize—this is their seventh attempt, this time under captain Aaron Finch—Maxwell's performance will be crucial. The right-handed batter has credited Virat Kohli and AB De Villiers for the surge in his form. "I was a sponge to Virat and AB, just watching the way they go about things," he said.
Though seen as the linchpin of the Aussie batting for the tournament, the 33-year-old has played down the importance of his role. "If I continue the process I have followed in the IPL, I know I'm going to have success," he said ahead of the warm-up game against India on October 20. "It is a nice position to be in mentally, that I have come off a good run of form. I am not over-thinking the stuff in-game."
The slow and low pitches of Sharjah and Dubai—usually regarded difficult to bat on for fluent scorers like Maxwell—did not affect him much. Known for his unconventional stroke-play, he used switch hits and reverse hits against both pace and spin in the IPL. "In T20s, I have found a nice little rhythm batting at number four [for RCB]," he said during the IPL. "It is something I probably had for Australia over a long period of time as well, which is probably why I have success over there."
Also a handy off-spinner and one of the best fielders in the Aussie side, Maxwell is a complete package when things go right.
Batting strike rate (T20Is)
158.92
All-time best
(among players of full members; minimum 250 balls faced)
One of two players, with Chris Gayle, to score two 100s in 50 balls
or fewer
Liam Livingstone
England
This July, Liam Livingstone hit England's fastest 50, off 17 balls, and converted it into England's fastest 100, off 42 balls, against Pakistan at Trent Bridge.
The following month, the 28-year-old became the MVP of The Hundred, a new, shorter format the England and Wales Cricket Board introduced to woo younger fans. In nine innings, the right-hand bat scored 348 runs at a strike rate of 178.46. He also hit 27 sixes.
His power hitting notoriety—especially in a team packed with the breed—earned him a spot on a Sky Sports Masterclass with former England batter Kevin Pietersen in August. In that video, after hitting a monstrous six, he says: "We talk about being able to hit big sixes, it's an entertainment thing, it's great fun. But it's also a great thing to have [as a batter] because you can back yourself to clear an 80m boundary with a long on rather than being able to clear a 30-yard circle for a one-bounce four."
Though he did not have a great outing with the Rajasthan Royals this year, leaving the bubble out of exhaustion, he made 30 off 20 balls in the warm-up match against India on October 18, signalling a return to form.
Also a useful spinner, Livingstone gave away only 10 runs in two overs and felled Indian captain Virat Kohli. He later injured his finger taking a catch, and might miss England's first game in the tournament. England fans would hope it's only one. Fingers crossed.
2021 (T20Is)
Batting average
47.50
Batting strike rate
182.69
Lockie Ferguson
New Zealand
Though the UAE will offer slow, sluggish wickets, Lockie Ferguson, 30, has shown that tearaway pace—regularly hitting 150kmph—can still rattle stumps and plans. He will be teaming up with veterans Tim Southee and Trent Boult, armed with his knowledge of the conditions and a lethal bouncer.
He had a good IPL season for runners-up Kolkata Knight Riders; he took 13 wickets in eight matches. In one of the matches, he got the ball to skid and ripped through Rajasthan Royals' middle order. "Lockie is arguably one of the best T20 players in the world," said KKR chief mentor David Hussey. "He regularly executes his balls and tonight (versus Rajasthan Royals) his first two overs changed the tempo and momentum of the game." In the 13 T20Is he has played so far, Ferguson has taken 24 wickets at an economy rate of 6.86.
His team has done well in recent ICC tournaments, having made the final in the 2019 ODI World Cup and having won the inaugural Test Championship this June. If the dream run has to continue, Ferguson might have to run riot.
Bowling average (T20Is)
13.16
Bowling strike rate (T20Is)
11.50
Average and strike rate are both among the best in the world
Tabraiz Shamsi
South Africa
Shane Warne and Muttiah Muralitharan had been called magicians for what they did with the ball. Tabraiz Shamsi plies the same trade, but is an actual magician to boot. He wanted to be an illusionist growing up, and one of his most famous celebrations sees him pulling out a hanky from his pocket and turning it into a mini sword.
Antics aside, he is currently ranked number one in the ICC T20I bowlers' rankings. He has taken 28 wickets in 17 matches this year; this is the second most in a calendar year. He could go past Aussie Andrew Tye's 31 in 19 matches (in 2018) during this World Cup.
"When it comes to the best spinner at the World Cup, it's hard to look past Tabraiz Shamsi," former West Indies leg-spinner Samuel Badree wrote for the ICC. "Left-arm wrist spinners are rare in international cricket—he is very consistent, can turn the ball both ways and has tremendous control. He has the ability to bowl in different phases of the game, too, which is important."
While several experts have written off the South African team—especially as management left out Faf du Plessis and brought in as captain Temba Bavuma, who is seen as a Test specialist—the pitches in the UAE should help 31-year-old Shamsi shine.
Fellow leggie Rashid Khan told The Cricket Monthly that "it should be a spinners' World Cup". Shamsi would certainly hope so; the Protean batters, perhaps not as much.
Wickets (all T20s)
187 (162 innings)
2021 (T20Is)
Bowling average 12.85
Wickets
28
World's leading wicket taker this year
Roston Chase


West Indies
That Kieron Pollard and company are a major force in T20 cricket is a given. The only team to have won the World Cup two times (2012 and 2016), its players are in high demand in leagues around the world. Among the many power hitters, though, stands Roston Lamar Chase, the anchor.
"The type of cricket he plays fits right into our balance," Pollard said during the captains' interaction before the start of the World Cup. "We need a guy who can manoeuvre the ball, hit the occasional boundaries, and keep the run rate going. That is an area we keep working on, and we thought he was the right fit at this time. He has not played much white-ball cricket, and teams may not have that much data [on him]. We look forward to reaping rewards of his form from the CPL (Caribbean Premier League)."
The tall 29-year-old from Barbados has shed his image of a Test specialist in the past two years. He has now become St. Lucia Kings' most impactful player of in the CPL. It helps that he can chip in with his off spin, too.
Coach Andy Flower said of him: "A quality all-rounder and a very clever off-spinner, he fields well and can marshal the innings in the middle [overs]."
Chase himself describes his role as akin to that of Marlon Samuels's in previous editions. "It is an easy role for me," he said. "With the power hitters we have in this team, my role should be just to really give them the strike and let them do their thing. If the ball is in my area, I will put it away."
Batting average (all T20s)
44
Bowling average (all T20s)
23.94
T20I debut will be at the World Cup
Rashid Khan


Afghanistan
Let us cut to the chase. If Afghanistan are to do well in the tournament, Rashid Khan needs to turn up. Coming out of the Indian Premier League, Khan had pocketed 18 wickets at a miserly economy rate of 6.69. The 23-year-old has already taken 392 T20 wickets, and is number five on the all-time T20I wickets list, with 95 scalps.
In a 2019 Fox Cricket video with Shane Warne, Khan said his pace set him apart from the other leg spinners. Unlike the Warne saunter, Khan almost charges in like a medium pacer. Like his idol, Shahid Afridi, Khan bowls fast, with an average speed in the early 90s (kmph). Warne bowled between 78-82kmph.
In the same video, Khan said he foxed batters with five different grips on the ball, as opposed to Warne's two, and that that helped him adjust, regardless of the nature of the pitch. The pitches in the UAE are not expected to be too pacy, especially in Sharjah.
Tactically, opponents will look to play out his four overs without taking risks; maybe getting 18 to 20 runs without letting him taste blood. And, given the rest of the Afghanistan bowling—most of whom do not play against the best in the world, across continents—it would not be such a bad idea.
Also, in the context of the strife back home, with the Taliban taking over his homeland and the future of Afghan cricket in limbo, Khan would hope that his spells of magic would brighten up a few faces in Kabul.
Wickets (all T20s)
392 (282 innings)
Bowling average (T20Is)
12.63
All-time best
(minimum 500 balls)
Shaheen Shah Afridi
Pakistan
The baby-faced bowler stands at 6.6", and is among the latest in a long line of talented fast bowlers from Pakistan. The team's pace attack is a mix of new and slightly old, with Afridi, 21, bringing fear and excitement to the line-up.
Unlike a Wasim Akram or a Mohammad Amir, he relies on pace more than swing. However, he is still young, and still learning. The left-armer is just three years into his senior international career, and this will be his first T20 World Cup. Though he bowls fast, he also has discipline, and will look to extract bounce from the slow wickets, using his 140+ kmph pace and height. He is also, apart from skipper Babar Azam, the only certainty in the playing eleven in all formats.
Young Afridi is not an overnight find, and has come through the age-group domestic system. A lot, however, will depend on how well Azam makes use of him. Former India opener Gautam Gambhir described him as a "dangerous and raw pace bowler". He goes into the World Cup on the back of a good outing in the National T20 Cup—the domestic T20 competition played after New Zealand and England cancelled their tours to Pakistan. Turning up for Khyber Pakhtunkhwa, Afridi played six matches and took 12 wickets, the third most in the competition.
Wickets (all T20s)
130 (96 innings)
Bowling strike rate (all T20s)
16.40
First cricketer born in the 2000s to represent Pakistan