If one truly needs to assess the wealth of a country, a great idea would be to visit a mall. Department stores are great indicators of a nation's fiscal health. Not only does one have an overview of the premium stores invested in the country, one could also assess how many mall visitors are actually carrying shopping bags, and of which brands.
An understanding of the luxury business is important for any economy. According to Statista, a leading provider of global market and consumer data, the global luxury goods market was worth around €1.14 trillion in 2021. That is a sizeable business. The global luxury goods industry includes cars, private jets, alcohol, fashion, fragrances, watches, jewellery, cosmetics, luggage and handbags. All of these have been on a steady uptick for more than a decade. Luxury goods makers focus excessively on brand, marketing, aesthetics of the product, stores and communication so that the products become status symbols and, thus, coveted.
The economic stability of a country clearly has a bearing on the well-being of the luxury market. The US is the world's leading luxury consumer and China is close at its heels. China is expected to become the world's largest luxury market in 2025.
India is a comparatively new market for the global luxury business. It has been a 'new market' for exactly two decades now, since the opening of the first luxury label―Louis Vuitton―in 2002. In 2009, the Indian luxury industry was estimated at $4.76 billion, and it was expected to touch $14.7 billion in 2015, according to a 2010 report by CII-Kearney. It did not live up to the hype, though. In 2022, it is just about $8.5 billion, according to the market research company Euromonitor International.
India's growth clearly decelerated in the luxury goods sector. Multiple factors led to this slowdown.
The BRICS nations, which were in the spotlight for a while, were particularly affected by the global slowdown. China faced many challenges related to regulatory issues, tariff structure and currency. Brands rushed in droves to open in China but began to shut shop within a few years. The entire global luxury industry felt the pullback. Brazil went into recession, too. Russia saw a commodities slowdown, a drop in currency and eventually a war with Ukraine. South Africa saw stunted growth, and India a muted one.
In 2015, the Indian government made permanent account number (PAN) mandatory for all transactions above Rs2 lakh. This rule, though a well-intentioned one, rang the death knell for the Indian luxury market. India thrived on a cash economy, as opposed to a digital or credit economy as in many western countries. Stories of customers walking into Louis Vuitton or Christian Louboutin stores in the DLF Emporio mall in Delhi and shopping for several lakhs in cash abounded. The cleaning up of a flawed system hurt the luxury business the most.
India's super-rich, while still a minuscule per cent of its population, mostly shops abroad. Its aspirational middle class, the tax-payer, makes purchases with circumspection rather than indulgence. This led to two interesting new growth patterns: The rise of the bridge or premium brands (cheaper than luxury brands; for example, Michael Kors in India), and the spectacular rise of homegrown luxury labels.
The rise of homegrown labels was inevitable. India's luxury market was largely dependent on its gargantuan, unorganised wedding market. A KPMG report in 2017 valued India's wedding industry at $50 billion, second only to the US. Quoting celebrity wedding planner Devika Narain, Atlas of Affluence―a white paper report published by Reliance Brands' online digital magazine Voice of Fashion―says a high net-worth individual (HNWI) spends more than $1 million (about Rs8 crore) on a wedding. Leading bridal designer Gaurav Gupta says HNWIs spend between Rs5 lakh and Rs10 lakh for an outfit.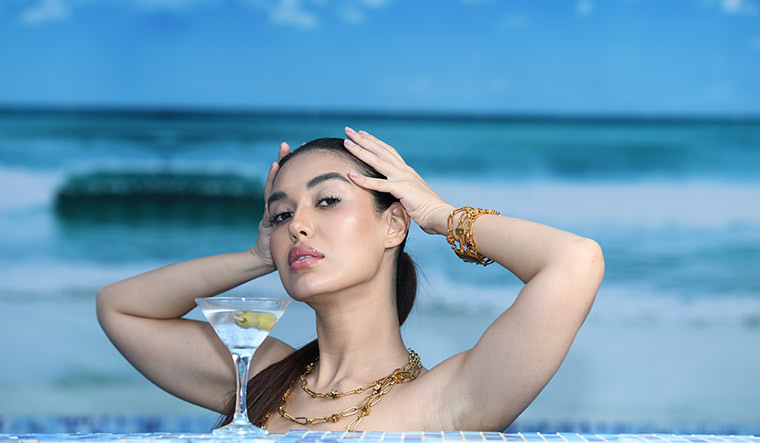 International luxury labels may not have found the success they hoped for in India, but they did help shape India's luxury industry. Indians have always been purveyors of expensive products and great aesthetics. Thanks to its long handcraft and handloom heritage, making things by hand (what the Italians call 'fatto a mano' and the world pays top dollar for) is rather quotidian to Indians. Kolhapuri slippers are handmade and sold from a few hundred rupees to a few thousands across Maharashtra. Like language and cuisine, every state of India has a local textile that is its speciality.
Indian fashion designers are craft entrepreneurs and hugely dependent on artisans to either make fabulous embroideries for them or for rich textiles. The Indian luxury brands, led by fabulous artisan-friendly brands like Good Earth in home, Sabyasachi in fashion, and Jaipur Rugs, have been thriving.
Post pandemic, Reliance Brands and the Aditya Birla Fashion and Retail have invested in designers such as Sabyasachi, Abraham & Thakore, Tarun Tahiliani, Manish Malhotra, Abu Jani-Sandeep Khosla, Ritu Kumar, Rahul Mishra and Anamika Khanna to scale up their businesses.
Businessoffashion.com and Mckinsey's 'State of Fashion 2022' report recognises that, post-Covid, the global fashion industry has faced several challenges but is now finding itself on firmer footing. "Despite ongoing headwinds, there were signs by mid-2021 that things were taking a turn for the better, particularly in markets where vaccination rates were high. In the US, the release of pent-up demand created spikes of so-called "revenge buying", leading to a growth spurt that echoed an earlier phenomenon in China. Return-to-work and occasion styles topped consumer shopping lists.
The pandemic, however, has only served to exacerbate inequalities in performance that have become a persistent theme over recent years. A small handful of leading brands are equalling, and in some cases surpassing, their pre-pandemic performance. This should not, however, be confused with a universal return to form. Large numbers of companies will continue to struggle to create value―and, in some cases, to survive―as the bruises of the crisis linger on. According to the report, China has recovered to 2019 levels of economic activity faster than the rest of the world.
India's luxury market has performed better than most other businesses in the country, owing to the deeper internet penetration, the growth of e-commerce and the rise in entrepreneurship after people lost corporate jobs. Most jewellery makers, for instance, are doing better than the pre-pandemic levels. Much of this had to do with Covid restrictions on travel and crowds, which left more money to be spent on personal jewellery instead.
"Over the past decade, the domestic market has done extremely well on many fronts, including sales, product innovation, sourcing optimisation, and evolving consumer preferences. According to some estimates, the Indian jewellery market is worth close to $80 billion," said Milan Choksi, convener, promotions, marketing and business development at Gem and Jewellery Export Promotion Council. "India is among the leading centres for jewellery design innovation with the rapid adoption of advanced manufacturing equipment and techniques and greater focus on training and upskilling artisans with the establishment of institutes like the Indian Institute of Gems & Jewellery."
In 2021, India ranked sixth among the top gem and jewellery exporting nations. Out of total global exports of $813.66 billion last year, India contributed $38.15 billion. India also ranks first in cut and polished diamond exports, fourth in gold jewellery exports, second in silver jewellery exports, and third in coloured gemstone exports. India is the world's biggest rough diamond importer, and the second-largest gold importer. The jewellery industry accounts for 7 per cent of the country's GDP and employs some 5 million people. GJEPC has set a target of achieving $75 billion in exports in a few years.
International labels like Bulgari have invested hugely in marketing campaigns in India, with the Italian jeweller roping in Priyanka Chopra Jonas for its mangalsutra launch. "India has time and again attracted foreign jewellery brands like Tiffany & Co, Bulgari, Harry Winston and Cartier who maintained a symbolic presence here. Perhaps the unfavourable duty structure prevents many more from doing so," said Choksi.
India's hospitality sector, especially its fabulous palace hotels, have always allured luxury seekers from all over the world. But industry stalwarts say the mainstay of the business is the domestic traveller. "Growth has been substantial. Data shared by the government indicates that tourism has grown twofold, and specifically so due to domestic tourism. The luxury hospitality sector continues to create a strong niche for itself, and is yet to realise its full potential," said Manvendra Singh Shekawat, managing director of MRS Group of Hotels, which runs the charming Narendra Bhawan in Bikaner, Suryagarh in Jaisalmer, and Mary Budden Estate in Binsar.
Shekawat said the policies for tourism are fragmented. "We need more policies that would not only provide the industry players with support but also assurance that the industry would keep growing. A luxurious hotel would be incomplete without connectivity and infrastructure. The experience of a tourist is dependent on various factors right from the process of procuring a visa to reaching their desired destination," he said.
The pandemic has certainly changed the definition of luxury. "In the last year, we saw the emergence of conscious travellers and their evolving needs. Travellers now realise the importance of slow travel, enjoying the luxury of a simpler, more fulfilling way of life. Millennial travellers, who form an important segment, especially look for native experiences when they travel. From exploring the local culture to ticking a thing or two off the bucket list, they want to experience everything but in a unique way. Hotels are now more focused on providing authentic experiences that acquaint customers with a place or culture on a deeper level," said Frans Westraadt, general manager, Six Senses Fort Barwara, the glamorous property launched with actors Katrina Kaif and Vicky Kaushal's wedding last year.
While street food and quick service restaurants thrive in India, the upscale ones rarely do. According to Statista, India's food service market is estimated to be $110 billion by 2025. "Of course, there has been significant growth in the restaurant industry in the last decade. This has been a result of more restaurants opening in the same city but also smaller cities upping their F&B game," said Gauri Devidayal, founder and CEO of Food Matters India, which runs leading fine-dining restaurants in Mumbai such as The Table and Magazine Street Kitchen. "India has a long way to go, but it is definitely making its mark. However, the unease of doing business in India has slowed down the pace for the industry's potential. I don't think the government has fully recognised the contribution that the F&B industry makes to the country's GDP," she said.
Upscale restaurants usually depend on bars to cover their capital expenditure. "If the restaurant has an alcohol licence, it definitely depends on alcohol sales, given the cost of obtaining and renewing an alcohol licence. The government is clearly encouraging homegrown brands over imports, which is reflected in the significantly higher duties for alcohol as compared to any other imported item. The government also reduced the duty free allowance previously available to restaurants (a benefit calculated on the amount of foreign exchange earned during the year through foreign credit card transactions) thereby raising the landed cost of alcohol to restaurants."
For Ipsita Das, managing director of Moet Hennessy India, India's luxury alcohol business is as good as gold. "Premiumisation is one that has obviously led to the growth of the industry. Especially during the pandemic, the fact that we were not much into entertaining and not spending on anything else led to exposing ourselves to premium products and now that we have tasted great quality products, it is unlikely we would change our preferences. We are also seeing a lot of pride being taken in made-in-India products. The idea of a drink not being up to the mark if not imported is changing," she said. "The premium consumer is not just from the top three or four cities but an entirely new segment in non-metros, too."
Despite two years of pandemic-induced standstill, the industry has seen a 4 per cent compound annual growth rate in the past five years. "2022 has been a phenomenal year for the industry, and especially for premium and luxury brands," said Das.
The rise of home interiors and art in the past few years cannot be ignored. Even though stagnated incomes and inflation have taken a toll on middle- and upper middle-class consumers, the pandemic has encouraged people to make their homes more enjoyable. "The luxury home decor space has grown significantly, but more importantly it has widened its scope as more consumers have entered the space. It is no longer a niche market but an aspirational one," said Shilpa Kalanjee, furniture and interiors designer and founder of Fusion Access. "There is also a marked appreciation for homegrown brands. Consumers especially love customising furniture which Indian brands offer."
And there is a marked boom in the art market. "Auctions are performing splendidly," said Anupa Mehta, director of Anupa Mehta Arts and founding editor of the Art India magazine. "The secondary market for moderns has traditionally done well, but the works of younger contemporary artists are on the upswing as well. Most galleries across India are doing well and present at international fairs. We are also seeing buyers from tier II cities. The collectors are younger with more international exposure and look at art as an acceptable asset class."
According to the Knight Frank Wealth Report 2021, Asia topped its five-year UHNWI (ultra high net worth individuals) growth forecast by 39 per cent. Indonesia leads the list at 67 per cent and India at 63 per cent. This should be enough to drive luxury sales higher, even while many of India's top-notch businesses are facing challenges from within.