The fashion week fever is over after an Instagram-heavy week of celebrity showstoppers, jazzy collections and designers clamouring to create 'unique' shows. The mood was set by designer duo Falguni and Shane Peacock, who opened the FDCI India Couture Week with a stunning collection of glittering pastels inspired by the Renaissance. They had a fitting showstopper in actor Kiara Advani, who channelled 'Barbiecore' in a pink lehenga that was touted as one of the best closing looks of the week.
Asked if Barbie pink will be the trend for this year's wedding season, Falguni and Shane say that pink has always been one of the quintessential bridal colours. "Each year, in our couture collection, we experiment with different shades of pink," they say. "And this year, it was all about Barbie pink. While trends may come and go, we believe that pink in bridal wear is here to stay. Whether Barbie pink or any other shade, pink will continue to be a sought-after colour for brides." They think that this wedding season, brides and grooms will likely opt for softer colours like ivory and pastels.
Barbiecore was not the only reason why their opening show was a runaway success. Out and proud gay model Rabanne Victor made a case for inclusivity by walking for them in a champagne gold lehenga. His slender frame and sleek bun hairdo complemented the look. Falguni and Shane say they knew immediately that the gold lehenga was for him to wear. "We knew he would carry it off very well," they say. "In our minds, the lehenga was a perfect match for him, and we were immensely proud to witness his graceful walk on the ramp. He truly pulled it off with confidence and style."
Falguni and Shane are old hands at bringing diversity and inclusivity in their fashion. "A few years ago, we did a shoot in London where we dressed a male model in a couture gown," they say. "Even during the 2020 digital showcase at the India Couture Week, we draped a dupatta on one of our male models dressed in a sherwani. Inclusivity has always been an integral part of our brand's principles."
They make it a point to decouple fashion from gender. For them, fashion is about feeling good in whatever you wear, regardless of gender norms. The luxury couture designer couple has been in the industry for more than two decades now, having begun their design journey in the early 2000s.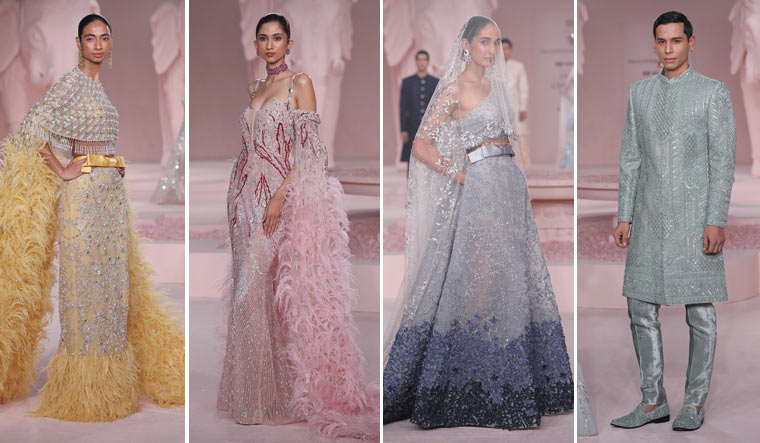 Their 'Renaissance Reverie' collection was an homage to the bygone period of Renaissance and its world of art. They derived inspiration from their love for art and the treasures they saw during their travels. "The collection pays homage to the essence of the Renaissance culture," stated the concept note. "Each ensemble exudes the same kind of majestic grandeur that characterised that remarkable era." According to them, each garment in the collection was a testament to cultural exchange and celebrated the invaluable lessons they had learned from the past. The artisans' intricate embroidery and handcrafted details merged the opulence of the Renaissance with the richness of Indian heritage. The collection was a visual feast, with colours ranging from strawberry yogurt to Portland grey. The harmonious interplay of vibrant accents like sugar coral, primrose yellow, and purple ash gave it a contemporary twist. The richness of Aztec brown and almandine was complemented with soft whites and pastels.
At Cannes 2023, actors Mrunal Thakur and Diana Penty wore their collections. The idea was to celebrate Indian craftsmanship on a global platform. The couple is now working on their upcoming show at the New York Fashion Week, marking their much-awaited comeback (their last Fall/Winter collection was shown at NYFW 2015). Preparations for Cannes 2024 begin soon after.
Their Instagram handle today has got around 2.5 million followers, propelled by their international clientele, bespoke designs, signature styles and recent runway successes. Social media, believe Falguni and Shane, is the biggest catalyst for new designers to establish a wider reach. They credit its immediacy with transforming the fashion landscape. It was very different when they were starting out. "We believe that now, in the age of social media, it is easier for new designers to establish themselves," they say. "When we started out, platforms like Instagram and Facebook did not exist, and we had to rely on fashion journalists to write about us and read it the next morning. Today, with social media, the moment a collection hits the ramp, it is out there for the world to see, review, and even purchase."
In the age of easy visibility and acceptance of new labels, Falguni and Shane stand their ground. "External factors or what other labels are doing do not affect us," they say. "We have always maintained a tunnel vision, channeling our attention and focus on pushing our boundaries, raising the bar for ourselves, and continuously experimenting with our craft."