Actor-singer Shruti Haasan first stepped into a recording studio when she was six years old. It was to sing a few lines of composer Ilayaraja's song, 'Potri Paadadi Penney' for her father Kamal Haasan's magnum opus, Thevar Magan (1992). Then, she clung to her father's hand, butterflies in her stomach. That is when she saw a red heart sticker on the microphone. That heart comforted her and gave her the confidence that she would not make a mess of it all. Since then, she has always associated the recording studio with kindness and love. "It will forever remain an encouraging memory for me," says Haasan, who has just returned to Mumbai after her shoot for The Eye, her international project with Mark Rowley.
Haasan, 37, has come a long way since then. After 14 years in the Indian film industry―she made her acting debut with the Hindi film Luck (2009)―she can proudly flaunt that she is one of the most sought-after stars, especially in the south. An array of accolades―including two Filmfare awards and a Power Corridors Indian Achiever's Award earlier this year―has given her the freedom to choose diverse roles. Whether it was the RAW agent in Waltair Veerayya (2023) or the journalist in Laabam (2021) or the mother in Krack (2021), Haasan has defied typecasting. Her upcoming releases include Prashant Neel's Salaar, opposite Prabhas, and Gopichand Malineni's NBK 107, opposite Nandamuri Balakrishna.
But it is difficult to contain the firebrand actor within India. Her first international project was Treadstone (2019), in which she was simply "trying something new". The action drama, co-starring Jeremy Irvine, Brian J. Smith, Omar Metwally and Tracy Ifeachor, was based on the Jason Bourne universe. In it, Haasan played the role of Nira Patel, a waitress who led a dangerous double life as a trained assassin. In fact, she performed her own stunts in the series, proving her penchant for living life on the edge. Treadstone opened the way for her second international project, The Eye, directed by Daphne Schmon, for which she shot in Athens and Corfu. The psychological thriller is about a widow who returns to a Greek island to spread her dead husband's ashes. Its release date is yet to be announced.
"The Eye is extremely different from Treadstone, in which I just had a guest appearance and was just trying to find my feet," says Haasan. "It is a beautifully emotional film. I truly feel privileged to be part of this project."
Coming from such an illustrious family of actors, it is only natural that Haasan finds cinema to be the most fulfilling thing in her life. But it was not her first love. In fact, she began her career as a singer. "I got into music seriously when I turned 19, when I went to a music school abroad and started writing and making my own music," she recalls. "I always wanted to study as many genres and go as far as I possibly could."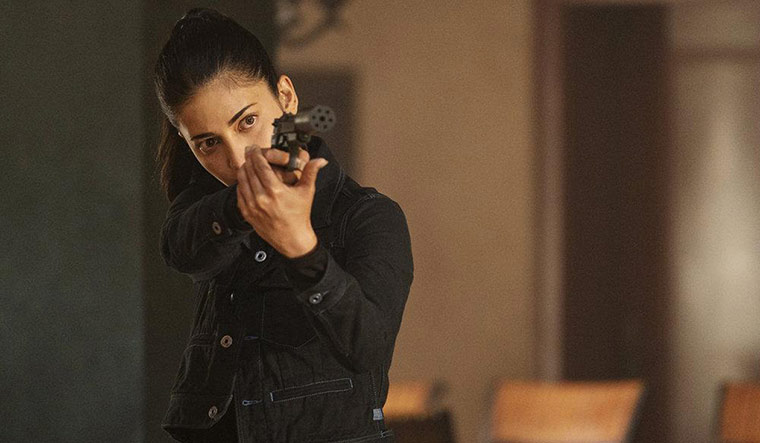 It was her father who introduced her to the world of music, when he gifted her with a CD of The White Album by The Beatles. She remembers listening to it again and again, never tiring of the songs. But it was music by the American rock supergroup AudioSlave that got her hooked to heavy metal. Even after days of hectic shooting, she comes back, sits at her piano and writes music at night. "I did not write music for anybody else," she says. "But it was a cathartic process for me. It gave me such joy and peace that I wanted to share it with others."
In 2022, after the success of her first single 'Edge', Haasan released her next―'She Is A Hero'―penned, composed and sung by her, with rap by MC Altaf. Dark and gritty, there is an undertone of angst in Haasan's voice as she sings, "Oh, couldn't you take her home? Was it to break her heart wide open?" Featuring girls from the NGO Shiksha Seva Foundation, the song―which shines light on the troubles and triumphs of women―is at once tender and hard-hitting. Within a few days it garnered over a million views.
She has also lent her voice for the international audio drama Sandman: Act III. Released exclusively on Audible by DC in 2022, it is the third instalment of The New York Times best-selling, multi-part original audio drama series, adapted from Neil Gaiman's books. "I have been a huge admirer of Gaiman since my teenage," says Haasan. She was also roped in to voice the character of Elsa in the Tamil version of Disney's Frozen II.
Till a decade ago, music always stood first for Haasan. When she started writing songs, she would tell her friends that she would score for films one day, because for her everything was linked to cinema. But today, both music and cinema are like her two bedfellows. "It is like asking a mother to choose between her two children," she says. In fact, music and cinema have intertwined to make her a better performer. While cinema has made her a good story teller, music has helped her express different parts of herself. "Because of cinema, I have understood how to tell stories with integrity as a songwriter," she says. "It has allowed me access to hidden parts of myself as a woman and as a musician."
Aiding her in this process is her love for books, especially autobiographies. But more than that, her ethos has been defined by her father who, she says, is a beguiling combination of fiery and vulnerable. "He is not afraid to be himself and to make decisions that matter to him," she says. "But he also keeps himself vulnerable, and open to performing and writing those stories. I have always found that fascinating and inspiring."