In a walled orchard, 3km off national highway 163, two men squat under a mango tree jutting out over the fence of a plot. A few leaves brush against their cheeks, but the conversation is too intense to be disturbed. "The cost of land per square yard is Rs9,500 now, cheapest in the 5km radius," says Nagaraju, the caretaker of the layout in Surangal village in Telangana's Rangareddy district. "Everyone is saying that if the BRS (Bharat Rashtra Samithi) wins [the state elections due later in the year], the price will double. It is better to invest immediately."
His friend Seshu joins in. "I have seen the movements of some ticket aspirants," he adds. "If the party confirms their ticket, they will go for a quick sale. I would like to buy the land to start my own real-estate venture."
More than red jowar roti and kudumulu (steamed rice balls) with mutton curry, the staple here seems to be politics and real estate.
Surangal is roughly 30 minutes from the IT corridor of Hyderabad. A few years ago, land price here was not more than Rs2,000 a square yard. Today, one would be lucky to get it for four times the price. The owners, however, are holding on; they are waiting for a windfall before they sell. The reason: On May 19, the BRS government scrapped GO (Government Order) 111, which restricted construction in the 10km catchment area of two lakes―Osman Sagar and Himayat Sagar―on the outskirts of Hyderabad, to prevent pollution of the water. This spans 84 villages covering 1.3 lakh acres. As a result, there was no commercial activity in the region. The only appreciation in land price was because of the proximity to Hyderabad, but the land was mostly used for farming. Now, with the order from 1996 scrapped, there is widespread joy in these villages. And the BRS knows this.
Real estate in Hyderabad has anyway been booming for a while, with a square yard now costing between Rs1 lakh and Rs3 lakh. For instance, Shamshabad, in the northwest of Hyderabad, was a dusty village before the international airport came up in 2008. It grew further, attracting international projects such as the upcoming World Trade Centre. Now, a few villages in the area, previously under GO 111, have been freed up for investment. There have been some sales in the area in the past few weeks, apparently to fund election campaigns.
Real estate experts say that the exorbitant price rise and demand is because of investors, customers and builders from across the country entering the fray.
"Hyderabad real estate is a pan-India market now," said C. Shekar Reddy, chairman, Confederation of Indian Industry, Telangana. "Many in the corporate sector and venture capitalists have expanded their business into real estate. The reasons are liberal policies, infrastructure development and creation of smaller districts. Rates have gone up even in the interior areas of the state. As the market is huge, the role of politicians is meagre and may not have a big impact on it."
The market might not need the politician, but the reverse is not true. Apart from Surangal, NH 163 also runs through places like Aziz Nagar village, where heavyweight politicians, actors and industrialists have farmhouses. It costs Rs8 crore for an acre here.
Other stretches along the highway―which has massive banyan trees on both sides―would also attract great investment soon. The greenery, though, would vanish as the road is to be expanded quite a bit.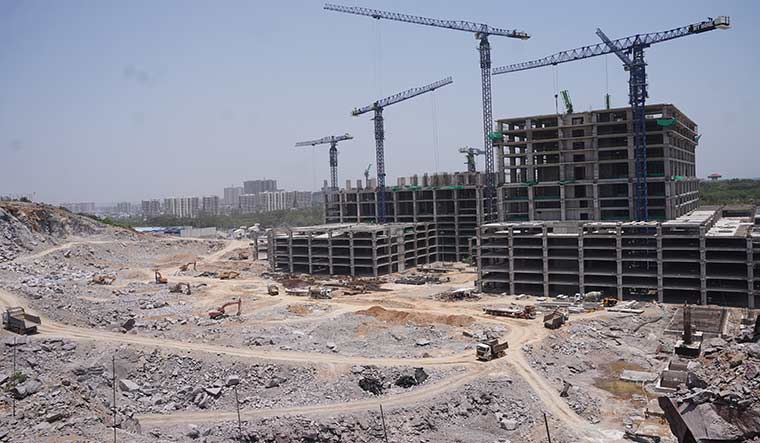 One of these areas is the Chevella-Vikarabad cluster. "A popular, national-level politician has accumulated more than 1,500 acres on this stretch; his benamis are in possession of the property," said a realtor-turned-politician on the condition of anonymity. "Another senior politician lives in a lavish farmhouse-cum-residence on a 50-acre plot. There is also an ex-minister who has a palatial residence in the middle of a huge farm. There are many others on the list from different political parties. For them, commuting for half an hour to Hyderabad is not a big issue."
In Kokapet, just outside the Outer Ring Road that encircles the greater Hyderabad area, development has been rapid. As it is a special economic zone, land here costs around Rs60 crore an acre and its famed, ultra-luxurious villas sell at Rs16 crore a unit. Nearby Gandipet, which was under GO 111, is now expected to grow at the same rate.
In Moinabad town, the closest commercial hub to Surangal, land prices touched Rs4 crore an acre even before GO 111 was withdrawn. "The BRS was on shaky ground in some of the assembly constituencies covering these villages, but the cabinet decision seems to have reversed its image," said a local politician who did not want to be named. "The villagers might vote for the party expecting it to strongly support construction activity."
In nearby Mokila, which was partially under GO 111, a local shepherd welcomes the scrapping of the order. "I am glad my land might get better value," he says. "But it does not mean I will vote for the ruling party. We have to wait and watch what they do next and whether they will implement what they promised. Politicians can never be trusted."
Some distance ahead is Janwada, also under GO 111 and home to some of the most expensive farmhouses that politicians own. It is said that politicians control a huge land bank in the village. Even those from Andhra Pradesh, apparently, have land parcels on the outskirts of Hyderabad that they encash to fund election campaigns.
The BJP and the Congress have alleged that the BRS scrapped the order in a hurry only to win over the voters in these villages, and to benefit its party members and the real estate lobby that owns vast tracts of land here.
Recently, the state cabinet reportedly allotted 11 acres in Kokapet to the BRS at Rs37.53 crore to set up an institute of excellence. These 11 acres would have fetched close to Rs600 crore on the open market.
Sources say a candidate has to spend between Rs30 crore and Rs50 crore for an assembly election, and real estate contributes a major chunk of this expenditure. For instance, in the eastern outskirts of Hyderabad, there are prospering areas like Ghatkesar, Yadadri and Bibinagar. "Local MLAs and their second-rung leaders have already disposed of land in layouts and have cashed out over a period of time," says a local panchayat leader. "They are ready for elections. There is no way any candidate can fight elections without involving themselves in real estate."