When an AIADMK delegation led by former chief minister Edappadi K. Palaniswami called on Union Home Minister Amit Shah in Delhi late last month, political circles were abuzz with speculation that the half-a-century old Dravidian party was about to resolve differences with the BJP and cement an electoral alliance. The AIADMK was clearly on the back foot, as Palaniswami, who once said that state BJP chief K. Annamalai would have no role in deciding on the alliance, had to seek Annamalai's help to meet Shah.
"There is no rift," said Palaniswami, coming out of the meeting. The reconciliation happened as the BJP realised that defeating the DMK alliance, which polled 52 per cent of the votes in 2021, was not an easy task. BJP strategists believe that the only viable way forward for the party is to split the pro-DMK votes or to consolidate the anti-DMK votes. With the DMK alliance staying strong and minority voters siding with it, splitting the vote bank may not be possible in the upcoming Lok Sabha elections. So the BJP has chosen to repair its frayed ties with the AIADMK and consolidate the joint vote bank.
Sealing the deal was not easy for both parties. Senior AIADMK leaders were rattled when Annamalai threatened that he would release details about their assets. Palaniswami flew to Delhi along with his trusted lieutenants S.P. Velumani, P. Thangamani, C.Ve. Shanmugam and K.P. Munusamy for an hour-long meeting with Shah. The Union home minister reportedly helped them smoothen relations with Annamalai. But by seating Annamalai opposite to Palaniswami, he sent a clear message that the state chief would henceforth be a key partner in all negotiations. "Palaniswami surrendered before the BJP that day. The BJP forced the AIADMK to publicly acknowledge that it needed the BJP and that it was not the other way round," said political analyst Ravindran Thuraisamy.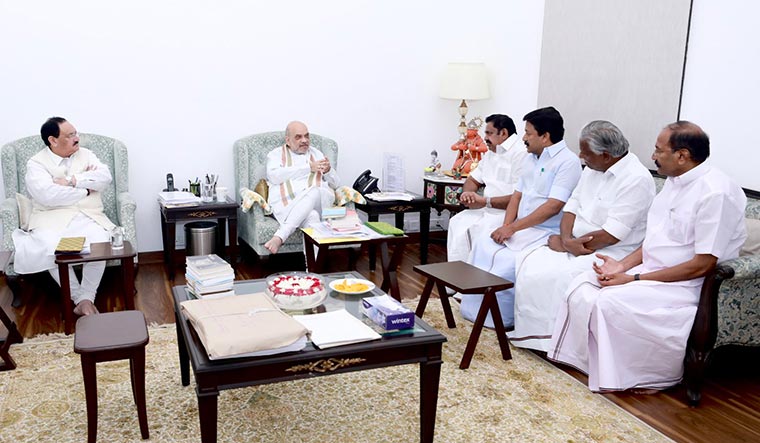 Sources privy to the details of the meeting said that while there was no talk about a truce between Palaniswami and ousted AIADMK leader O. Panneerselvam, Shah discussed seat sharing for the 2024 Parliament elections. He invited the AIADMK to be formally a part of the National Democratic Alliance and asked for 25 Lok Sabha seats in Tamil Nadu and Puducherry, leaving just 15 for the AIADMK. There is speculation that the BJP would accommodate the Panneerselvam faction, the Pattali Makkal Katchi and Vijayakanth's Desiya Murpokku Dravida Kazhagam in its quota. The BJP is already working to contest from Coimbatore, Pollachi, Sivaganga, Ramanathapuram, Pudukottai, Kanniyakumari and Thoothukudi.
Palaniswami reportedly requested Shah to make the state government transfer the investigation in the Kodanad heist and murder case to the CBI. The Kodanad estate of late chief minister J. Jayalaithaa was robbed six years ago and a security guard was found murdered. The case is being investigated by the Tamil Nadu CB-CID, which recently questioned one of Palaniswami's former security officers.
The DMK and Chief Minister M.K. Stalin are already in the BJP's crosshairs. On April 14, Annamalai released 'DMK files', a long list of assets said to be owned by the ruling party, targeting many of its key leaders. Some of them, including T.R. Baalu, R.S. Bharathi, Kanimozhi and Udhayanidhi Stalin already sent legal notices to Annamalai, but the allegation that the DMK has unaccounted assets worth Rs1.34 lakh crore has hurt the party's image. "Annamalai's claims are not backed by facts. It shows his inefficiency," said DMK MP Kalanidhi Veeraswamy. He, too, has sent Annamalai a legal notice and has also shot off a letter to Union Finance Minister Nirmala Sitharaman, seeking a detailed investigation into the money spent on Annamalai by his friends. Annamalai had earlier said that his monthly expenses came to Rs7 lakh to Rs8 lakh, which was paid by his friends. He also produced a receipt for his Rafale watch worth Rs3 lakh. "Making cash transactions above Rs 2 lakh is an offence. It has to be investigated," said Kalanidhi. He also referred to an instance when Annamalai said Kalanidhi's father, Arcot Veeraswamy, a veteran DMK leader, was dead, although he was alive. "Such is his efficiency. Annamalai does not check the facts before talking," said Kalanidhi.
Adding to the DMK's woes are the two audio clips, said to contain conversation by Finance Minister Palanivel Thiaga Rajan (PTR), alleging major corruption by the DMK's first family. The first clip was released by a blogger and the second by Annamalai himself on his Twitter handle. While PTR said the clips were fake, highly placed sources in the DMK said it was recorded by one of the former employees of election strategist Prashant Kishor's I-PAC team. She gave it to Annamalai after she fell out with PTR. Sources said it was recorded during a private conversation and the full tape ran an hour. "There are two more audio clips that we are planning to release," said a senior BJP functionary.
Another major embarrassment for the DMK came after the Stalin government was forced to reverse two key policy decisions―to implement 12-hour working days and to allow liquor in marriage halls―because of strong opposition from the public.
The DMK is also said to be worried about income tax raids at G Square Realtors Private Limited, a leading real estate firm. Annamalai alleged that the company had links with the DMK's first family. Stalin's son Udhayanidhi strongly refuted the charges. "We will not be cowed down by these IT raids. We even witnessed MISA (Maintenance of Internal Security Act) [during Emergency] and came out of it," he said. The DMK said Stalin's family was in no way connected with G Square. DMK spokesperson Rajiv Gandhi said the BJP was targeting Stalin. "He is the the fulcrum of opposition unity. He is bringing opposition parties together to fight the BJP," said Gandhi.
After the raids and the release of the audio clips, Stalin went to Delhi to invite President Droupadi Murmu to inaugurate a multi-speciality hospital in Chennai and to attend the birth centenary celebrations of former chief minister M. Karunanidhi. But that was overshadowed by his meeting with Sitharaman at an airport lounge in Delhi. DMK insiders said Stalin had sent across a message to the top BJP leadership through her. Interestingly, a month ago, Udhayanidhi had visited Prime Minister Narendra Modi in Delhi, just a day after a YouTube channel, said to be linked to his Red Giant movies, came under the GST scanner.
The BJP hopes to make use of the ongoing wave of corruption charges against the DMK and also the alliance talks with the AIADMK. But it remains to be seen whether it will convert into votes and help the party win at least one Lok Sabha seat from Tamil Nadu next year.