One hundred years of insight into sports. Insights of an Olympian father and an Olympian son born to an Olympian mother. Tennis legend Leander Paes won 18 Grand Slams and an Olympic bronze. And now, he says, it is time to give back to the country. He yearns to create champions. "My new Wimbledon," he says, "is to have a much healthier (Indian) race. Mental fitness, emotional fitness, physical fitness." He has been codifying his father's and his own notes on training children and empowering the youth through sports. In this inspirational interview, Leander narrates untold stories and lessons of life he gleaned from his encounters with greats such as Nelson Mandela, Muhammad Ali, Martina Navratilova, Martina Hingis, Serena Williams, Boris Becker and Andre Agassi. Edited excerpts from the interview recorded on July 14.
Q/Do you miss being on tour?
A/Not really. I guess when you have a career of five [or] fifteen years, you probably feel like [you have not done enough]. But having had a 31-year career, I feel really blessed to have squeezed out every single bit of passion―emotional, physical and mental―to give to this profession.
I think that playing an individual sport takes a mammoth amount of mental and emotional courage because you don't have four other mates, or 10 other mates, travelling with you. Also, [in] India, you didn't have many tennis players who travelled the world 48-49 weeks a year.
Growing up in the 1980s in India, playing tennis, you had Vijay Amritraj, Ramesh Krishnan, or even Ramanathan [Krishnan] Sir and Naresh Kumar to look up to. In those gentlemen's era, maybe one or two Indians were on tour. When I left Calcutta to join the Amritraj Academy or, in 1990, when I won Wimbledon (junior title) for the first time, there were no Indians on tour.
So it was such a lonely profession, especially for a shy, young boy from Calcutta who loved playing [team sports like] football and hockey. I gave up all my passion for those team sports to emulate my father
(hockey Olympic bronze-medallist Vece Paes).
Today I sit in front of a showcase of trophies, but when I was seven-eight-nine years old, I didn't have any idea of what these trophies were for me. I would be polishing my dad's Olympic medal. I would be polishing my mom's (Olympian basketball player Jennifer Dutton) trophies and [I would ask] them about the goddess Athena at the Olympics. And why the Olympic rings had different colours. They explained to me how the Olympics stands for community. It stands for help. It stands for competition.

It stands for all these good things that today in society might be at a premium.
I don't think I have been a very talented tennis player. I just think I got other attributes, like athleticism and being a student of my craft. My threshold of pain is very, very high.

I can train for much longer than most others can. I think that is why I was successful. I don't miss the travel at all.
Q/[When you were playing,] there was [Mahesh] Bhupathi, [Rohan] Bopanna, who is still playing, and Sania Mirza. You had a plethora of Indians playing tennis. Now, not so much. Why is that?
A/It has come full circle. When I started out, Ramesh was in the last couple of years of his career. Vijay had already retired. Ramanathan Sir had left a legacy of getting to the semifinals of Wimbledon twice. Naresh Kumar was my captain at that time in Davis Cup. But these were people that one read about. One saw pictures of them, one heard about their stories. But I was too young to have grown up watching them. Plus, I wasn't into tennis at that time, I was going to football. [While I was] growing up with a Bengali mother and a Portuguese Goan dad, football was always my passion. So the likes of Pelé, Maradona, Sócrates, Romário, [Franz] Beckenbauer, my favourite philosopher of life Johan Cruyff… [their] stories enlightened me.
I've always tried to be a student of life. I've always tried to learn from great achievers. I could pick from Mother Teresa―who was in the same city that I was born and brought up in―a sense of empathy and compassion and humanity; from Nelson Mandela―I played for his children's fund for many, many years in South Africa―his sense of freedom of mind, of bringing community together, an equality. Playing a sport like tennis, which was one of the only sports in the world that had equal rights, equal opportunity, equal prize money for both male and female athletes, I believe in a lot of that.
So, [I was] growing up reading and learning and educating myself of Johan Cruyff's Total Football style. To me that was an analogy for life―of how you not only master your craft and where you are playing, but also [master] one position in the defence and one position in the offence. So that you know what the defence is going to pass to you. And when you get the ball, what you are going to do to pass to the offence. So I think that is almost a metaphor for life.
Today, we miss a lot of individual character in tennis in India. I have so much respect for all the youngsters who are out there trying to make a living and travelling with the expense of tennis, with the equipment of tennis―99 per cent of our tournaments are outside India. Very different from cricket, football [and] badminton, where most of the tournaments are in India. In tennis, you go from Auckland, New Zealand, to Machu Picchu, and you have competition from everywhere. Look at the competition that comes at you globally in tennis. It is insane.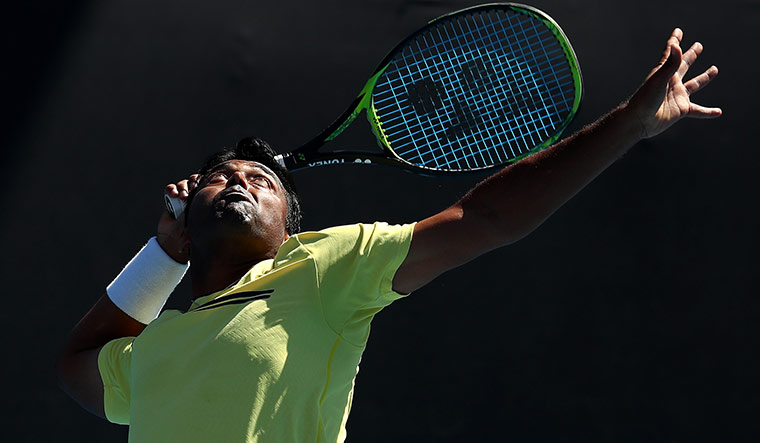 You got Elina Svitolina from Ukraine, whose country is involved with war at the moment with Russia. Her grandparents are still there. Her siblings are still there. But yet, she not only became a mother in October, with Gael Monfils; she started practising tennis in January, got to the French Open and did really well there. But in the semi-finals of Wimbledon [she lost]. These are character stories. This is what sport is about. It is about character.
Let us learn from the BCCI, the people who are doing it right
Q/Is there something that is lacking in us socioculturally? Are we doing enough now? You came from a privileged family background. But a lot of people don't. Another [question] is from an administrative point of view, from the structural point of view, from federation, from coaches, coaches in the grassroots level. Is there something seriously missing there, which is limiting us in India from producing the number of champions, say, that East Europe produces, or even a very fractured Russia [produces]?
A/The keyword there is grassroots. When we look at our Indian community, we are a cerebral community. We have some of the best doctors, some of the best businessmen, [but] we are number one in the world in diabetes. Mental health issues are still taboo. A tennis ball or a cricket bat or a football or a badminton shuttle does not understand religion, caste, dialect, language, which region you are from. Sport unites people. I would say 85 per cent of our talent in any walk of life in India is untapped, because it is in rural areas.
When you look at Bombay, Delhi, Calcutta, Bangalore, Hyderabad, Chennai, in the schools of all these cities, what playgrounds do we have? Back in the day when we were doing PT (physical training), what were we doing? 1-2-3-4-5-6-7-8. (Shows simple arm movements, spreading and raising them.) How can you win Olympic medals with this? Where is the eye-hand coordination? Where is the eye-feet coordination? Where is the mental game that we are talking about? Mental toughness? Where is the ability to teach our young children―through sport as a vehicle―equality of life, leadership, camaraderie, fellowship, how to listen before we speak?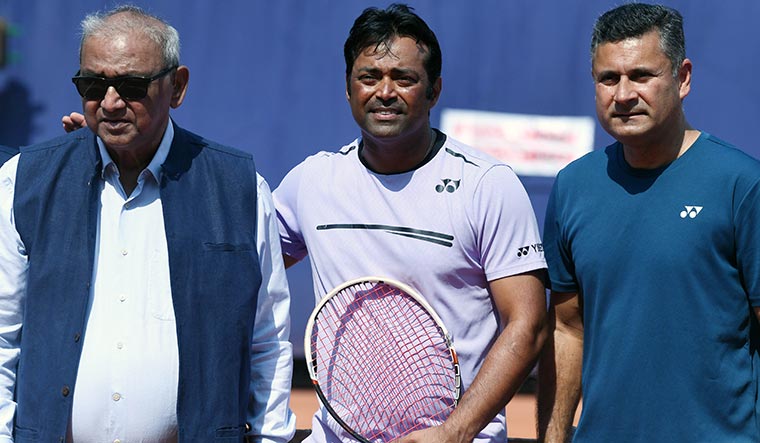 Today everyone just wants to talk, give advice. But, [everyone is] only talking about the cream of the crop. About the Sachin Tendulkars, M.S. Dhonis, Virat Kohlis, Saina Nehwals and P.V. Sindhus. We only talk about Leander-Mahesh-Sania, about Neeraj Chopra. Where is the grassroots level in our education system in India?
Where are we talking about diet? About fluid intake? About mental health issues? About cultural issues? Where are we giving opportunity? Yes, the associations can do a lot, the governing bodies can do a lot. But it also comes with generations of incorporating into the daily lifestyle of children good health through sport.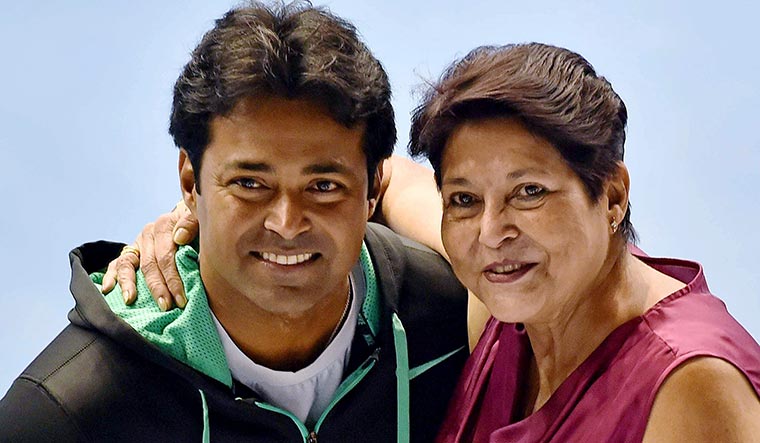 Most non-cricket athletes always say, cricket takes everything; it takes sponsorship, it takes TV time. [I've always believed that we should] learn from the BCCI. Let us learn from cricket. Let us learn from the people who are doing it right.
The BCCI is ploughing in approximately Rs200 crore into non-cricketing sports. When you look at the IPL, when you look at cricket, when you look at the governing body of cricket, they do such a wonderful job to bring past athletes back, into not just commentary, not just writing, but also into umpiring. Also into governance. Also into designing different forms of leagues.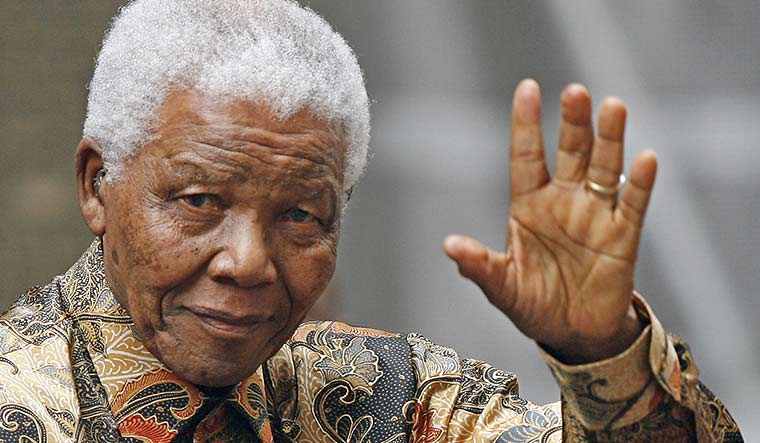 When they look at the youth, the number of cricket clubs that you have in Bombay alone, in Matunga alone, will be more than [the number of] tennis academies you have in the whole country. Correct?
Q/Yes, absolutely.
A/I'm talking from the Olympic perspective, having played in seven Olympics in a row, which is the world record. I studied the Olympic movement around the world. I studied the Australian Institute of Sport. I studied the US Olympic Training Center in Colorado. At the NCAA level―the National Collegiate Athletic Association level―their blueprints are: In every college in North America, there are equal scholarships to girls and boys. That means, if one college, say, UCLA, has a great American football team, that is 133 scholarships to the boys. Free education to all the kids. That means, in that same university, we have to have women's sport that also gives 133 scholarships to the girls. Hence the tennis team becomes strong. They win the NCAA championships. Their soccer team is strong. Their lacrosse team is strong. Their swimming team is strong. Their track team is strong. It's no wonder that majority of their Olympic champions come out of UCLA or Stanford or University of Southern California, three universities in California.
Why? Because they are pumping it into the grassroots level. Not just when you win an Olympic medal―chalo, I will give you a sponsorship or a scholarship or money.
At the grassroots level, you are touching numbers. Now let's get into numbers, guys. We are the youngest country in the world. Approximately, we have 745 million kids under the age of 26. We have 500 million kids under the age of 18. Which means 500 million kids are all in school and college, doing PT, 1-2-3-4-5-6-7-8 three times a week, for 45 minutes each period…. Are we giving them the opportunity to get away from their smart gadgets and just run in the fresh air in the open, under the sun, so that they get their vitamin D, their dopamine, their endorphins?
Baba (father) has spent 60 years in sports science and sports education. He has got 25 million kids under his training in Southeast Asia. With 40 years of my knowledge, my dream in the next four years is to touch 250 million kids through sports education, to get out and scout talent, nurture talent, help them all become champions in different walks of life.
Q/How would you go about that? We would love to hear about it.

A/That is a conversation for another time. But I'm very private, very understated. I like to do things under the radar peacefully. I like to do it with a lot of inclusion, because I think the cake is big enough for everybody to eat. But my new Wimbledon, after winning my six titles, is to have a much healthier community of Indians around the world. To have a much healthier race. Mental fitness, emotional fitness, physical fitness. These are the three topics.
I'm not just talking tennis, which is niche. I'm not just talking badminton or cricket or hockey or football, which are the base sports in our country. I'm talking [of having] physical fitness, mental fitness, emotional fitness over two generations. Now, if each generation is eight years, in the next 16 years, having these 250 million, starting with those numbers, and then building out, I would love to eradicate diabetes in the country, using sport and knowledge. I would love to take away obesity in our community through awareness of the kinds of foods that you are eating and the timings of your eating those foods.
I wasn't even built for tennis.... I was 5'10
Q/This is something you have been talking about. You could bring out a white paper on how to revolutionise, not just sport in India, but also the health of our people. The mother idea is so strong and so powerful, but so large.
A/As you know, I have never been one to take up small challenges. If you are trying to do something small, please don't call on me. But [I am there] if there are big challenges where you can really make a difference to India, because I am so passionate about the tiranga, I am so passionate about our people. And that is why I gave up football, and why I took up tennis, a sport that I wasn't even talented at. I wasn't even built for tennis. The average height of a tennis player in the 1980s was 6'1. Today, [it is] 6'4. I was 5'10. I was swimming against the tide. But I feel that with the 60 years of knowledge that my Baba has and the 40 years of knowledge that I have, I have been capsuling all his knowledge through all the data that he has, whether it is books, files, reports, and the report cards of the 25 million students that he has helped through sports science, sports medicine and sports fitness.
I have got a group of people that do it with me. Obviously, I cannot do it alone. So I put a team together 20 years ago, and I basically capsule all of Dad's knowledge along with my diaries and my knowledge that I have, being the guinea pig for his philosophy. And in that, I have taken this hundred years of knowledge, and put it together.
Now I'm going state by state, getting into the grassroots, getting into rural areas, scouting talent, nurturing talent, also making mistakes in that science, but then rectifying it and making the system so wonderful that through sport as a vehicle, we can empower a whole nation. America, Australia, Sweden, Germany, Russia―China tried to do it in the last two decades―these major powerhouse countries have all used sport as a vehicle to unite people.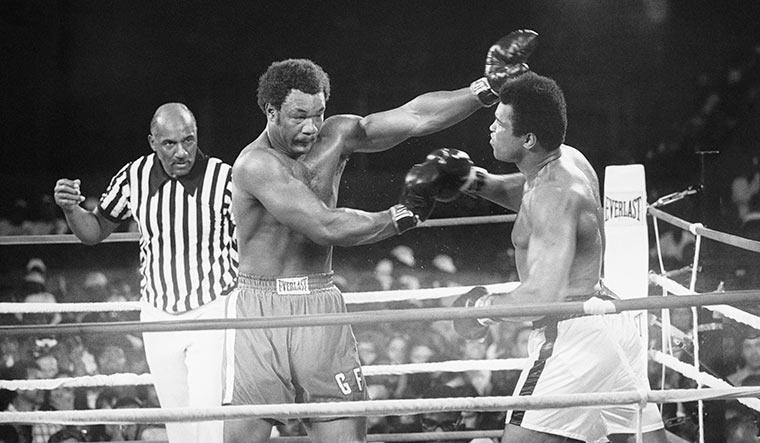 It's about empowering the youth to become champions. And for me, since we are the youngest country in the world, even the business behind sport is humongous. Look at the Olympic movement. Look at the IPL. What a phenomenal job they have done with it. My dream is eventually to see my kids win Wimbledon Championships. Our kids win Olympic medals.
A lot of our great teachers, a lot of our great doctors, have left the country. [They] are now slowly trickling back. A lot of the world's knowledge lies with the Indian community. [It is] my strong belief that the next decade is India's…. We should be the frontrunners and be leading by example. So, as much as I could go and live in Hawaii, New York, Australia, Dubai or anywhere in the world I choose to live because I've got a huge fan following anywhere in the world, I think one has to lead by example, come home and make a difference here.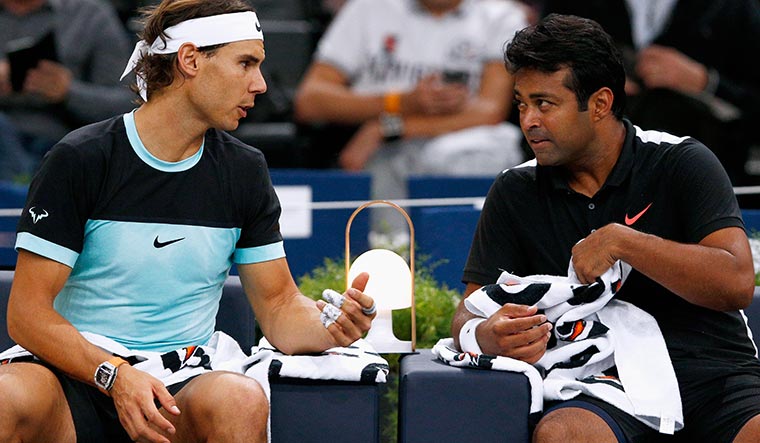 That is where my passion lies, not just in spending quality time, looking after my parents, who are now older, who have health issues. I spend quality time with them because I gave up my youth to be focused. And what's that word we all use in sport? Sacrifice. That's not been a sacrifice, [but] dedication or passion.
If you want to do something, you have to sacrifice to do it. So I look at sacrifice as a wonderful word, not a negative word.
Not only am I back home spending great quality time at the dining table with my dad and mom and discussing how champions are built with their knowledge, but [I am] also actually doing something about it, to get onto the grassroots and take it and shake it up and say, this is how champions are built.
Just look at my own career. I'm a product of Indian genetics and an environment that Ma and Baba set for me at home to become a champion. Yes, I had to live in locker rooms. Yes, I didn't have foreign currency to pay for coaches in a sport like tennis. Yeah, I didn't have an international credit card to pay for a fancy hotel. That's why I had to live in locker rooms, and hitchhike and take trains, and got a big scar on the left side of my chest when I got mugged at Grand Central in New York. But that's what builds character.
That's why, when you get into a semifinal match at Wimbledon and someone is giving me a tough task and fighting in that fifth set, I look him in the eye and say, "Let's go, buddy. Yes, I come from the streets of Calcutta, but let's go."
Mandela, the prison tennis champ, and a cheeky line for Ali
Q/What's the biggest kick-ass advice your dad or your mom, or both of them, gave you when you started your career?
A/My dad has given me some amazing, as you call it, kick-ass advice. He is not only my father, not only my best friend, not only my guiding light. He has been my hero, and he has been someone I have always tried to live up to. I am very emotional about him (tears up) and his Parkinson's is not doing good at the moment, but he has always led by example. Apart from being the first man at the end of a tennis court when I lose a match, or the last man to come to me when I win a match, my father always taught me about empathy, about compassion, about respecting every human being, right from an auto driver to a doorman to the guy who puts on the lights at the stadium for you, right up to the king and the queen. Dad's famous line was, "If you can sit with a pauper or a king and eat with them all the same, you would have done something in life." That was something that I've always kind of cherished.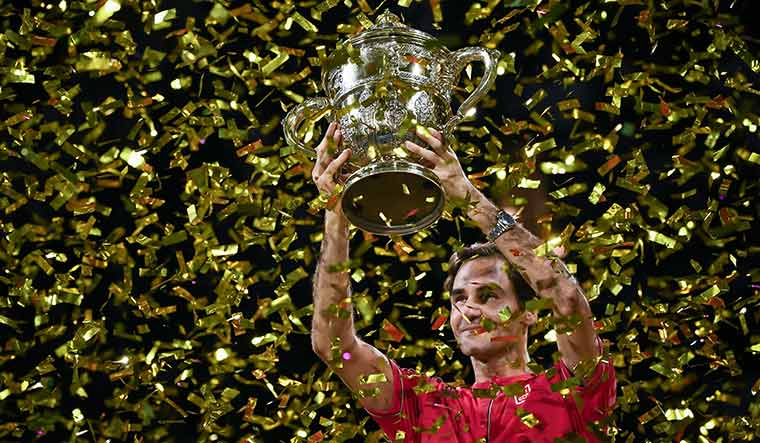 Mr Mandela said (something) to me at Robben Island when I was playing for Mandela Children's Fund and trying to raise money for the kids in South Africa. Andre Agassi was there, Steffi Graf was there, Arantxa Sanchez, Wayne Ferreira, the South African champion; we were all playing for the Mandela fund. And I was standing in Cell Number 5 where Mr Mandela was imprisoned and I was looking out the window. There was a concrete slab outside, in the prison courtyard. He was staring at that.
I looked at him and said, "Sir." He used to call me Maharaja. He said: "Maharaja, that was our tennis court, [made] with strings in our uniforms. We would tie the strings together and make the net. We would put one sock into another sock into another sock and make a ball. And we used to play tennis across that string." He was the prison tennis champion.
He said to me: "You come from a country with a very large population. If you can, by example, inspire even one kid to become a champion, that is greater than winning Wimbledon." That was one thing that never left my mind.
Muhammad Ali [was] in Atlanta in 1996 when I won my Olympic medal. He had Parkinson's, so his whole body was trembling while he lit the torch. After I won the medal, the president of the International Olympic Committee Mr [Juan Antonio] Samaranch brought Muhammad Ali to meet me in the locker room because it was India's first individual Olympic medal post-independence.
Mr Ali made it all the way to the locker room and came to say hello, and I shook his hand. His one hand was so big it engulfed my whole hand. And I was thinking to myself, "Thank God, I didn't take up boxing as a profession."
The Rumble in the Jungle [match against George Foreman in 1974] in Zaire was one of the greatest brand marketing and community building philosophies of a champion like Ali.
It was more than a boxing match. And not for the rope-a-dope, where he loosened out the screws on the four corners, so the ropes could swing more and more, and he could lean back, so Foreman couldn't reach him. Nor for the fact that Foreman got a cut in a sparring session before the bout. Nor for the fact that Foreman brought a German Shepherd to Africa, which was actually disrespectful.
Not only all those great stories were at the Rumble in the Jungle, but Muhammad Ali united the world in his brand of boxing; he believed in what he did. He was imprisoned [because] he didn't want to go to war. He threw his Olympic medal in the Ohio river....
[In the locker room,] I recited, "Float like a butterfly, Sting like a bee, My name is Mr Lee." He had a great laugh out of that. Then he looked at me, deep down into me, and said: "You know, there are champions, and then there are legends. Always be true to yourself, to your dreams and to your character, because people can see through all the fake-ness."
He said that because I had asked him a question that he had the whole world in his glove [and yet] Cassius Clay converted to Muhammad Ali. You know he had met Malcolm X back in the day. The whole philosophy of Islam that he had undertaken, his whole belief system in the world he wanted to live in, was so [powerful].
You asked where is character in Indian tennis. It comes back to what your dreams are; to the environment; to the philosophy of your family that you are brought up in. I think that I would really enjoy over the next decade creating more champions in India, creating quality health―quality mental health, quality physical health―for the youth in the country. So that we can recognise talent, nurture talent, and then set them on their way in any walk of life.
GOAT? Class, Federer; passion and grit, Nadal; tenacity and mental prowess, Djokovic
Q/That's what India needs, and what the world needs. I hate to move to a topic which is as good as this, but sounds so frivolous after all this. But who do you think is the GOAT of tennis?
A/I will give you an answer, a little quirky [one]. Everyone talked about Pete Sampras being the GOAT. And the first time Roger Federer played Pete Sampras, I was like, "This guy's gonna whoop all his records." He not only levelled, but beat his record at Wimbledon, and at the others.
But if we had to talk in the modern times, in the women's game, Serena Williams will always be the GOAT. Martina Navratilova, one of my favourite friends and one of my most favourite doubles partners, will always be the GOAT. These women have achieved some amazing things in Grand Slams, in Olympics. But the reason that Serena Williams is the GOAT to me is because she grew up in Compton in the suburbs of Los Angeles. There were bullet shells and syringes around the tennis court that she grew up in.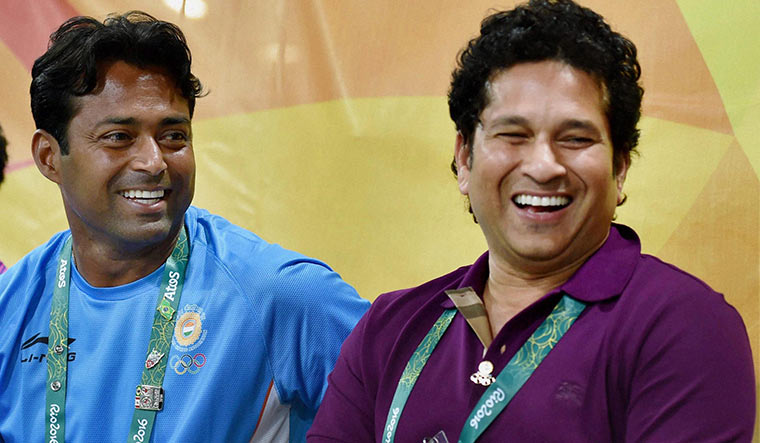 Her father read out of a book and taught his two girls tennis. Actually, her elder sister, Venus, who shares her birthday with me on June 17, first came out of the blocks and won their first Grand Slams. But, yet, the father believed that Serena was going to be the girl.
I love human canvases. I love human storyboards, to follow a life from birth all the way through. You get to see the ups and downs of a human being. The story we paint gets to be redefined by decisions that we make. The Serena Williams story is not just about an African-American girl making it great in a sport like tennis. It's not just about the millions of dollars she won; or how many Grand Slams she won―23, if I'm not mistaken. Or the Olympics that she had won. Nor the fact that I played with her at Washington Kastles (a team in World TeamTennis). We won the world championship six out of eight years.
They were two of my favourite partners. But they redefined the world using tennis as the vehicle. They taught young girls―not just African-American girls―that as a woman, you, too, can be a champion in the world. It's not just about the men.
Today, Serena Williams and Venus Williams are a walking, talking brand on their own. They own equity share in Tropicana juice company; in the Miami Dolphins, the American football team. They own equity shares in so many other businesses, along with Nike and EleVen, the clothes that Venus promotes.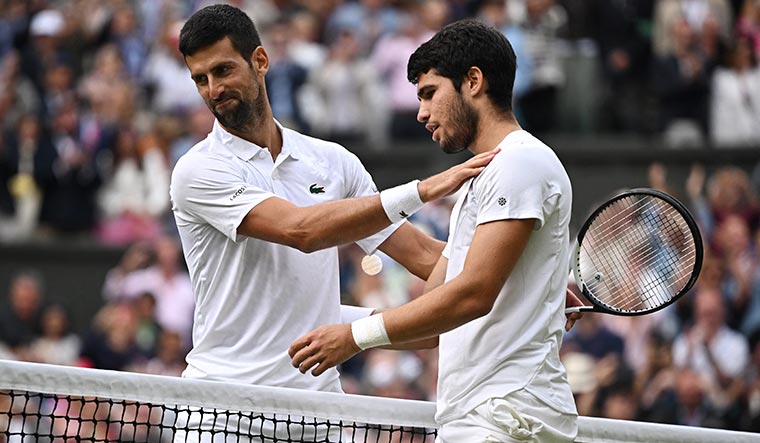 In the men's game, in class, Ayaz's favourite, I believe, is Roger Federer. Passion and grit―Rafael Nadal, the Spanish bull. Tenacity and the ability to use mental prowess―Novak Djokovic. To use mental prowess not only to win matches, but also as a brand.
Twenty years ago, I said Federer would beat Sampras's record. When Rafael Nadal first came on to the tour, in his first year on the tour, I played him in doubles in Dubai. And I said, "This boy is going to be the best of all time. He's going to beat Roger Federer's record." And he did.
When Djokovic came out, I said Federer is probably going to retire first―just the evolution of a human's body. Nadal next. Today, Djokovic has 23 Grand Slams. He is in the semifinals of Wimbledon today (July 14). And he is playing to better his own world record. One month ago, he was trying to better Rafael Nadal's record at the French Open. And he did it against a 20-year-old who, I believe, barring injury, is going to beat all these three GOATs.
Q/You are referring to Carlos Alcaraz.
A/Yeah, I think you know his name (laughs).
Q/But then, there is this argument: Federer started [declining] after a certain time. That's when Nadal was peaking. And then, he, too, started coming down. Many people say Djokovic has got easy opponents, compared with Federer and Nadal. Do you think Djokovic has the same kind of competition, like Federer did, or Nadal did?
A/Humbly, I feel that is a silly argument. If we take cricket, are we going to say Sunny Gavaskar―who I love to death; I think he's magic―is the greatest of all time because he faced the West Indian bowling attack without a helmet? Are we going to say that [about] Virat Kohli, but even before Virat [about] Sourav Ganguly, who, in my humble opinion, was susceptible to the high ball? That's why they came and bumped it up straight at him all the time. [If] you bowled full at him, he had one of the best cover drives.
The left wrist is 0.4 millimetres longer than the right wrist of most human beings on average. So lefties are a lot more artistic. Hence, if your [child is] left-handed, try and get him into racket sports, or sports with apparatuses, because you have a lot more variation and range of movement.
Sachin Tendulkar, who was originally left-handed, was actually switched to right-handed because he was left-eye dominant. That is why Sachin was always so artistic and so beautiful and so smooth, because he could pick up the ball off the bowler's wrist that much faster. And because his front-eye dominance as a right-hander was so much more, it gave him a fraction of a second longer to play shots.
If you break down the signs and the knowledge of sports like this, you can actually see who the GOATs are gonna be, even when they are 10 or 11 years old. You do a simple test of the femur bone. It can give you the age of a human being, give or take three months. You take one piece of hair, you take a little blood work, and you genetically test it, and you can tell the height, the muscle density of a human being. So hence, when you go into rural areas, you can pick your champions when they are seven-eight-nine-ten years old.
That's what Germany is doing. That's what Sweden is doing. That's what America is doing. That's what Australia is doing. We need to catch up.
Most Indians are known to be submissive.... That was not my brand of tennis
Q/You once told me Boris Becker was one of your favourites. He had this Becker dive. I think at Wimbledon you made these kind of dives and he told you something across the net. I think you lost a little bit of respect for him. Is that correct? Or am I wrong?
A/My respect for Boris Becker has always been tremendous. Not just because he was a 17-year-old Wimbledon champion. Look at what he has been through recently. Yes, some people can debate that it was all caused by [himself]. But you look at that same human storyboard―just what an amazing story! A young boy from Germany coming out, winning Wimbledon as a 17-year-old. Then the pressure is to come back and replicate it. He did it as an 18-year-old again. Yes, I've played against him many times. And a couple of those battles were quite heated. In cricket, you'll call it sledging. In Muhammed Ali's terms, you would punch his lights out. In tennis, we have a lot of it, as it's not a physical contact sport. It is about mental prowess.
Most of us Indians are known to be submissive; are known to roll over and go quiet. That was not my brand of tennis. I felt that there was tremendous pride in being Indian―even if you were the only one out there for decades playing in the singles and doubles and Olympic arena. There was a certain sense of pride to showcase what the Indians are made of. So when Boris Becker brought that aggression to the field, I reciprocated it. And I lost one match and I beat him once. So it's a 1-1 record.
But today we are such close friends. We basically had that tremendous sense of respect for each other. Obviously, he's achieved such greatness in the singles game. And he came back to coach Novak Djokovic and got him to number one in the world.
Q/Have you spoken after he came out of jail? Or sent a message?
A/Yes, I am in contact with all my friends. And basically, you're always there for them in tough times. And I think that human equity is more valuable than winning these amazing trophies.
Why is Navratilova the GOAT for me? Because she was my 9pm phone call when I was at the MD Anderson Cancer Research Centre (Texas). Every single day. And when she went through cancer, I was her 9pm phone call every day. And I think that's what champions are made of. We're not champions because we win. We win because we have certain value systems and certain ways of looking at life. And the way we live our lives.
Q/Absolutely. But you just spoke about sledging in cricket. In one tennis match, you win the first set 6-3, and are 4-0 up in second, and there are grunts from your side, regular grunts. On the opposite side is Andre Agassi. He calls the match referee in. And he comes in for the first time. The game is still unaffected. You go on to break him. Then he calls the match referee again. And he wins that set 6-4 and the next two 6-1, 6-0. I read that he later comes out and refers to you as a "flying, jumping bean, a bundle of hyperkinetic energy". Soon after, in an LA Times article, he said it was impossible for anyone to play much better than you that day. He didn't admit to his "lack of sportsmanship", but he did say that you grunted extra even after you hit the ball. But then that unsettled you. Can you talk about that thing which happened in the US Open?
A/I think that's where the mental training comes in as well. I won that first set 6-3 and I was up 4-1 in the second. We're talking about the US Open in 1996, if I'm not mistaken. I was playing Andre Agassi, on the Louis Armstrong court. I was playing pretty decent tennis. I had him on the ropes at 6-3, 4-1. I had developed a strategy to take him away from his side-to-side baseline running. Laterally, he was just phenomenal on the court. I couldn't keep up with his power, his shot-making. I couldn't keep up with his backhand because his backhand is much more technically sound than mine was. But I felt with athleticism and with mental jugaad―my favourite Indian word―I could unsettle him and bring him forward and back. So instead of running him laterally, I was bringing him forward and back. So I hit a drop shot, and as he got to it, clipped a lob over his head. When he got to that, I did another drop shot. So I got him out of his comfort zone.
Jugaad. I used my strength against his weakness, because I was a serve-and-volleyer, he was a baseliner. If I was going to try and beat him on baseline, not really smart. Whereas if I had to take him on on serve-and-volley or touch tennis, yes, I would hack at balls. Yes, I would dive at shots. Yes, I would play a brand of tennis that wasn't technically sound. But I was using my attributes, my athleticism, my ability to think fast and adapt to situations. My student-of-the-game kind of approach to the game of tennis.
And at 6-3, 4-1 he had to do something to change the tide, change the rhythm. And this is where the brilliance of the man comes in. This is where the brilliance of an individual sport comes in. It wasn't about technique. It wasn't about grunting. It wasn't about tennis. It was only a mental game that my shoes were squeaking too much; that my grunt was after I hit the shot. All he was trying to do was, just get into my head to change the tide of the game. And it worked for him.
This is where [I learned] the life lessons. Even when you lose, especially when you lose, you learn greater skills…. So, in that US Open third round or fourth round match―I can't remember which one―I had him on the ropes. The brilliance that he had mentally to turn the tide through a simple complaint to the referee; that is how he is the champion that he is today. He had tremendous amount of mental repertoire, not just the repertoire of the kick-serve or the forehand inside out, that [Nick] Bollettieri taught him. But more about that mental repertoire. That is the thing I'm talking about. It is not just about getting over mental health issues. It's also about how champions think.
Q/There is this funny story about Becker and Agassi. They had a on-court rivalry. Agassi told this story before Becker went to jail. He went to Berlin or Munich, for Oktoberfest. He was sitting there having a beer with Becker. He said, "Boris, do you know that I could read your serve?" Becker said, "Huh?" Agassi said that when Becker served, he had his tongue out, and it was going either left or right. And that was the side he was going to serve. Agassi picked that out. And each time he would watch the tongue and move. Once in a while, to see that Becker doesn't realise it, he would go the other way. And Becker told Agassi, "Man, I have been telling my wife that this is one guy who knows how to read my mind."
The man and the Martinas
Martina Navratilova said you were her greatest partner to play with in mixed doubles. You chose another Martina, Martina Hingis. You said she was the best because she allowed you to play your way. Navratilova wanted you to play according to the way she wanted to. But you still respect her the most in women's tennis.
A/You just said Martina Navratilova said that I was her greatest partner. We are going to take the full stop out of that. I'm going to put an exclamation mark on it and stop right there. For a young boy from Calcutta, that's a big statement.
I think I've been asked to compare the Martinas. I've always felt that it's unfair to compare generations. Why? Because the times are different. Equipment is different. The game is played different. The environment is different. The training methodology is different. So whenever I was asked to compare Martina Navratilova and Martina Hingis, I would always give the factual feeling that when you play with Navratilova, she is a born leader. Navratilova walked into the men's locker room at the US Open two minutes before the sign in, tapped me on my shoulder and said, "You are playing with me." The rest is history.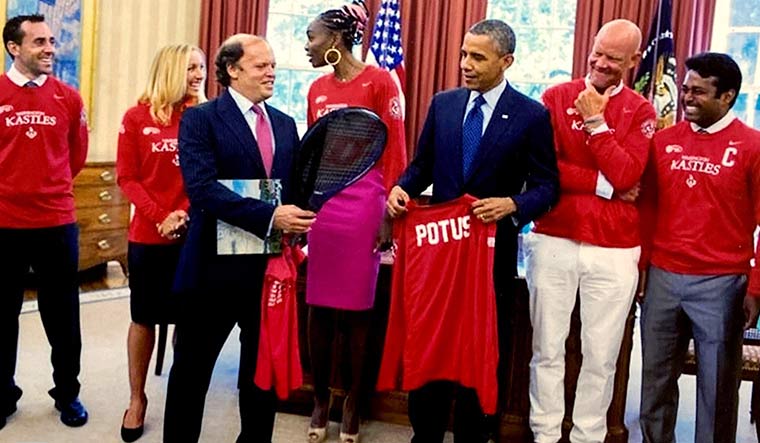 The brand of tennis that I had to play with Navratilova was that she was the volleyer. She was the serve-and-volleyer. She was the net person. She was the one who would choose whether we serve or return on a given day, once the coin toss was done, because she was a born leader.
As a young boy who played gully cricket and gully football barefoot, I realised who the best hands were. He would be my goalkeeper. If someone else was really fast, even though I'm really quick, [I would] put them in the wing. If someone else had great skill, even though I had great skill, [I would] put them in centre forward. I find the beauty in life is to adapt ourselves to the environment to achieve success today. The reason I've been to 36 Grand Slam finals and played seven Olympics was that I have the humility, or the coaching and the advice from parents and coaches that I need to adapt as a student of my craft, as a student of life, every single day. Isn't that what Indian living teaches us?
The ability to adapt made me realise that, let Martina lead. It didn't matter whether we served first or returned first, whether we won or lost the toss. It didn't matter that I would give up my volley and serve-and-volley position to basically be the solid one. Make your first serves, make your returns, set her up at net. Let her lead because sometimes winning is about empowering your partner. Winning is about empowering your team. Even when it comes to your family. Winning in terms of having a great family life is about empowering everybody in your house to do their job, and also keeping them in line.
Martina Hingis, on the other side, was very gentle, very, very soft-spoken, introverted, shy. In fact, to convince her to come out of retirement after we won the world championships three times together, it took me one full year. [I said] since we are undefeated in world championships, we'll be undefeated on the tour in Grand Slams. "But what if we lose?" she asked. Can you imagine the humility of these champions? Can you imagine also some of the insecurities of these great champions? So, when you are dealing with human beings, you [need the] ability to recognise the human being, not only put yourself in their shoes, but also understand the human being on what their fears are, on what their thoughts are, what their ways are.
Martina Hingis played a very, very, very solid technical game. Her backhand was so beautiful, and she played the back end court. Most men in mixed doubles play the back end court. Why? Because the ball goes above the shoulders where you can't generate power. A man can generate more power there. Martina Hingis on her double-fisted backhand could generate more power than I could. Because I had a single-handed backhand and I didn't have technique on my backhand.
Hence that astuteness to realise yin and yang, whose strengths and weaknesses are what, and adjust to that. So with Martina Hingis, I had to set up practice. I had to book the courts. I would be the serve-and-volleyer. She would be the one who just hit every return in play, every first serve in play. Her serve was not the hardest, but I knew that as long as I covered my line and didn't get past up my line with my quick hands, no one could beat her on a baseline rally because her tenacity for a baseline rally, her ability to create angles more than others, was why she was so great.
The Martinas were so different in their playing styles and in their personalities, and I adapted to each of them. I think Martina Hingis and myself won four Grand Slams in 16 months. Yes, we won the Australian Open in January 2015. We won Wimbledon in June/July 2015, right? Won the US Open in August/September 2015. And then the French Open in 2016.
Q/So within two years, you had 2015 US Open; 2015 Wimbledon; 2016 French Open; and 2015 Australian Open. And with Martina Navratilova, you had 2003 Australian Open and 2003 Wimbledon.
A/Please don't run the stats by my father, because he always reminds me of the 19 Grand Slam finals I lost.
Q/Ten out of 18 you won in mixed doubles. And eight out of 16 in men's doubles. That's fantastic.
A/It's just been a very blessed career, guys. I mean, talking about legacy and talking about the ability for a young Indian boy to create human equity around the world in a sport like tennis. And also with people from other walks of life, to be able to have visited the Oval Office in the White House and get the most valuable player [award] in World TeamTennis, playing for the Washington Kastles, from President Obama several times, is just a treat. And the stories for another day, all the amazing stories across the world, playing Davis Cup in Japan where royalty came in and did the draw ceremony in Osaka was just incredible.
Now, it's time to build champions. It's time to give, you know, share all this knowledge with the youth of our country. That's something that I'm very passionate about. I do it quite silently and because the numbers that one's trying to achieve are so mammoth.
Q/Leander does not forget his roots, his childhood friends. You know, Ayaz, our common friend Sunny [Uthup] has this medical setback. He was going through a bit of a rough time. He still is, sadly so. We were in Kochi. And guess who comes all the way to meet him? Leander. To just spend one night with him and be with him, and [to let him] know that he had not forgotten him. Which was so good to see. My brother and I were there with Leander that night, and when we came back, we said, Sunny has a true friend.
A/(Leander flicks a tear from his eye.) Thank you guys. It has been a pleasure, as always. I look forward to catching up with you somewhere down the track, but hopefully we can inspire one kid across a wonderful nation to become champion as well.