It rains pleas at Varsha, the official residence of the Maharashtra chief minister in Mumbai's Malabar Hill. The sprawling bungalow brims with people, some coming in with grievances and others with appeals from far-flung areas. Aided by a team of efficient bureaucrats, Chief Minister Eknath Shinde tries to resolve issues on the spot.
The day Shinde agreed to meet THE WEEK for an interview was a relatively lean day. The interview was supposed to happen a day earlier, late in the night after he had finished work. But Shinde had a meeting with Union Home Minister Amit Shah that day and hit the bed at only around 2am. So, he invited us for lunch the next day. We were more than happy―meeting the chief minister in a relaxed setting is always better than a hurried, late-night meeting.
Politicians rarely get to sleep in. And, on the day of the interview, Shinde is up by 6am, as he has events lined up since 7am. Talk about having a lean day!
When we reach Varsha, we are ushered into a big, but simply done waiting room. A platter of fruits is served and an aide informs us that the chief minister will see us shortly. Ten minutes later, we are taken to the dining room, where Shinde, 59, stands waiting for us. Dressed in his trademark white outfit and sporting rimless glasses, Shinde greets us with a namaste. "Sorry for the delay," he says, warmly, and we sit down for lunch.
"The doors of this house are open to everyone, 24x7," says Shinde. "I know I am here because of the people. I am here to serve them, so I will never close my doors on them. You know how the situation was earlier (when Uddhav Thackeray was chief minister). There was no access; people were not allowed, not even our party legislators."
The food is served―traditional Maharashtrian fare with phulkas, puris with shrikhand (sweet made from strained yoghurt) and aamras (made from mango pulp), steamed rice, dal, salad, side dishes made with okra and cabbage, and mango for dessert. There is more than these delicacies to chew on, as Shinde holds forth about his political journey since the age of 18, his rise in the Shiv Sena under the mentorship of Anand Dighe (then Thane district chief of the party) and how he had led a relief team to Kerala during the floods in 2018.
Despite his bitter parting with Uddhav, Shinde refers to him as Uddhav ji on a couple of occasions. He speaks in a matter-of-fact tone, emphasising on the development and infrastructure work being carried out by his government. "The projects that we are doing are going to be a game-changer," he says. Excerpts from an interview:
Q/ Are you tense about the Supreme Court's decision in cases concerning your rebellion?
A/ I am not at all tense. Majority is what matters in democracy, and we have the majority. We have 40 of the 55 party MLAs and 13 of 18 MPs. The Election Commission gave us the party name―Shiv Sena―and also the symbol―bow and arrow―because we are the majority in the legislative party. People are joining every day. Uddhav ji did not face a floor test. He resigned. So defection activity has not happened.
Q/ Your rebellion, which Uddhav Thackeray calls 'betrayal' and you an 'uprising', was the biggest political revolt the state has seen―even bigger than Sharad Pawar's in 1978. Were you confident of its success? Did you do it to become chief minister?
A/ Our ideologies were clashing; there were a lot of differences. The late Balasaheb Thackeray used to say that he would never ally with the Congress. But an alliance was made with the Congress and the NCP, despite voters choosing the BJP-Shiv Sena alliance in 2019. I told Uddhav ji, "We should not do it [ally with the Congress-NCP]. It is not proper. How will we face the people? We fought elections with photos of Balasaheb and Modi ji on one stage. So how can we form this alliance?" But he gave lame reasons. I told him even after the government was formed that this was not working and we should amend our mistake. But he was not ready.
Q/ Do you think the Maha Vikas Aghadi (MVA) was formed because Uddhav wanted to be chief minister?
A/ Yes, that is the reason. He would not have become chief minister had we gone with the BJP. So he ended a natural alliance and went ahead with the Congress and the NCP, [which] had no hope of coming to power.
Q/ You were a minister in the Devendra Fadnavis government. Now, Fadnavis is your deputy. The opposition says that he is the real chief minister and you are a puppet in the hands of the BJP.
A/ Our equation is very good. We have a clear-cut understanding between us. The opposition will keep making allegations. Who will acknowledge them if they praise our coordination? We are working together for the betterment of the state and people. He has given a very good budget and made provisions for all sections of the society. So let the opposition make allegations, we will keep working.
Q/ How do you see the speculation that the BJP is wooing Ajit Pawar? Are you worried?
A/ The BJP is not wooing him. It has given us a commitment. Our alliance has clear majority. This speculation is there because there are internal problems within the NCP (over leadership).
Q/ Your MLA Sanjay Shirsat said that even if the BJP wishes to have an alliance with Ajit or the NCP, your party will not agree to it. What is your stand as chief minister?
A/ Ifs and buts do not matter in politics, so there is no point in talking about it right now.
Q/ Coming back to your rebellion, did you do it because you wanted to be chief minister?
A/ Not at all. There was so much pressure from our MLAs. They foresaw the problems. They were worried [about facing] the next elections because their NCP-Congress opponents were getting stronger in their constituencies. They also talked about our differing ideologies. The MLAs told me, "We must do something." So, we swung into action, saying we will face whatever happens. Today, the MLAs are happy, the work is happening and is visible. I never had any personal agenda.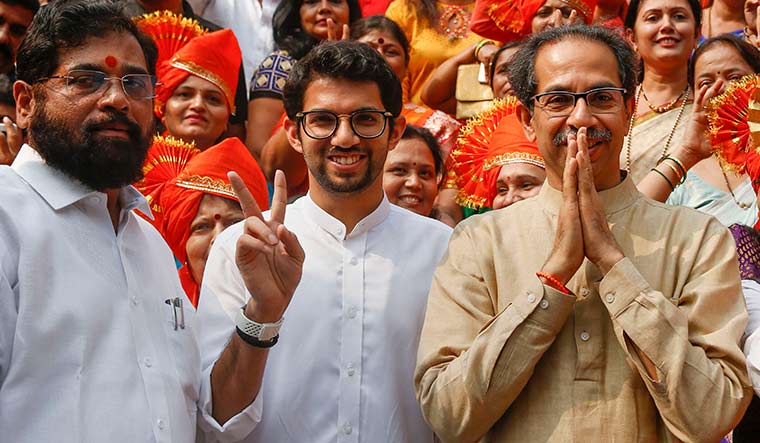 Q/ You worked under Bal and Uddhav Thackeray. How are they different from each other?
A/ Balasaheb was Balasaheb. He was a giant, a large-hearted leader. He always supported party workers in any situation and gave them full support. The party will grow only if workers on ground are strong. The party will not grow if just one leader at the top is strong. But Uddhav is very insecure. He is always insecure in the presence of mass leaders. That is why Narayan Rane left, Raj Thackeray left. Had all of them been with us today, the party would have been far ahead.
Q/ Aaditya Thackeray calls your government illegal and unconstitutional.
A/ What can I say? What is his experience in politics? The number of years I have in politics is more than his age. So let him talk. Our government has been formed as per the Constitution and rules. They resigned when they realised that their government was in minority. We formed the government after that. So, how can it be illegal or unconstitutional?
Q/ He has even challenged you to contest from Worli, his constituency.
A/ People decide who will win and who will lose. Nothing happens because we want it to happen. People keep talking and lose.
Q/ Do you want the assembly elections to be held along with the Lok Sabha polls? Or, would you rather complete your term?
A/ People have given us the [vote] to do their work and I feel that we must work wholeheartedly till the end of the term. No work happened in the two and half years [of the MVA government].
Q/ Karnataka has gone to the polls. Chief Minister Basavaraj Bommai took an aggressive stand on the border dispute. The opposition termed your stand weak.
A/ The matter is being heard in the Supreme Court. Our government has always strived to do justice to the affected people in border areas. But we also do not want to do anything that could weaken our case in the Supreme Court. Union Home Minister Amit Shah had called a meeting on this issue and I feel that we can arrive at an understanding that is agreeable to both sides. We have restarted some schemes for border areas. We are doing all the positive things that a government can do.
Q/ How do you look at Rahul Gandhi's disqualification as an MP? Congress president Mallikarjun Kharge told THE WEEK that it was the BJP's political surgical strike.
A/ How can it be a surgical strike? Similar cases have happened. This has happened because of a court order. Rahul Gandhi's government, under then prime minister Dr Manmohan Singh, had brought in an ordinance that gave political leaders a chance to approach the court against their conviction. But he tore it. Also, Rahul is not the only one who has been affected. Action has been taken against others, too.
Q/ How do you look at the Bharat Jodo Yatra? Are you anxious about a Congress revival in Maharashtra?
A/ No, I am not worried at all. The Bharat Jodo Yatra in Maharashtra became a platform to speak ill of Veer Savarkar. It was an insult not just to Savarkar but to all freedom fighters. Despite their Bharat Jodo Yatra, the BJP won the state elections [in Gujarat]. The people of Maharashtra will not like it if Savarkar is criticised. Also, Rahul Gandhi travels abroad and defames our country and prime minister. That is not acceptable. Why do you have to do it abroad? We understand that we have political differences. We can have arguments and fights here, you don't have to do it abroad.
Q/ How do you look at issues raised by former governor Satya Pal Malik about the 2019 Pulwama attack on security forces? Shouldn't the prime minister or home minister make a detailed statement?
A/ Why did Malik take so long to speak out? Why couldn't he do it at that time? It is not proper to raise the issue after four years.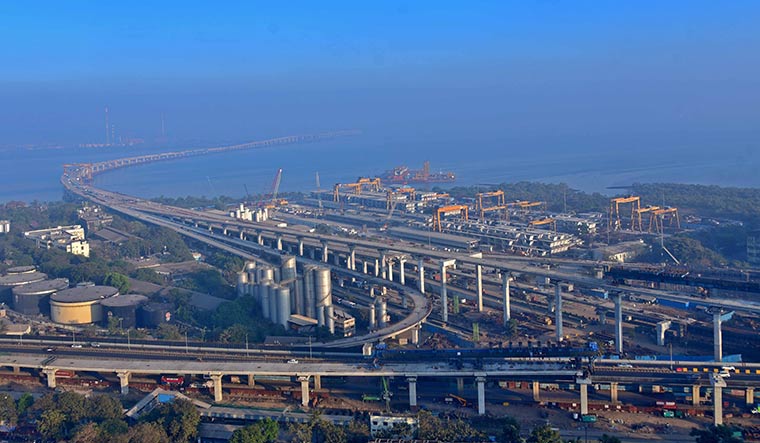 Q/ What were the challenges when you took charge as chief minister more than 10 months ago?
A/ There were only challenges; I was surrounded by them. But we have streamlined everything because we had no vested agenda. The only agenda I have is public service and development of the state. We took decisions to improve the lives of farmers, implemented infrastructure projects that were stuck during the previous government. We completed the Metro; the Sewri-Nhava Sheva trans-harbour link is getting completed soon. This trans-harbour link is the longest sea bridge (22km) in the country. The travel time between Sewri and Nhava Sheva right now is two hours; it will come down to 20-25 minutes because of the sea link. These projects are all game-changers.
Q/ What are the major infrastructure projects being planned?
A/ We have already opened the Nagpur-Shirdi route on the Samruddhi expressway. Prime Minister [Narendra] Modi inaugurated it recently. By December 2023, the entire expressway up to Mumbai will be complete.
The trans-harbour link will connect Mumbai, Thane, Navi Mumbai and Raigad. We are on our way to complete the 'missing link' project on the Mumbai-Pune expressway. The Mumbai-Goa greenfield road is being planned and a detailed project report is being prepared for the same. Then there will be the Nagpur-Goa highway.
Q/ But how are you raising funds for all this?
A/ Funds are being raised by the Maharashtra State Road Development Corporation through loans. [Also] there is strong support from the government of India.
Q/ What about the bullet train project?
A/ You know how the previous government had stopped work on the bullet train. When we came to power, we revived it immediately. Land acquisition is going on at a fast rate. You should understand that if there is no infrastructure, industries will not come to your state and it will affect employment generation.
We went to Davos recently and signed MoUs worth Rs1.37 lakh crore. Our government has already started implementing the MoUs that were signed. We hope that the bullet train project will be complete in the next two to three years. Land acquisition was the main hurdle and the project had been stopped because of political interference. They (the MVA government) made it an ego issue, and ego is not good for development of the state. If we keep pampering our egos, the state will suffer. Now land acquisition is on in full swing. So, all the projects that were stopped have been restarted. In fact, Maharashtra is number one among all states in terms of infrastructure development projects.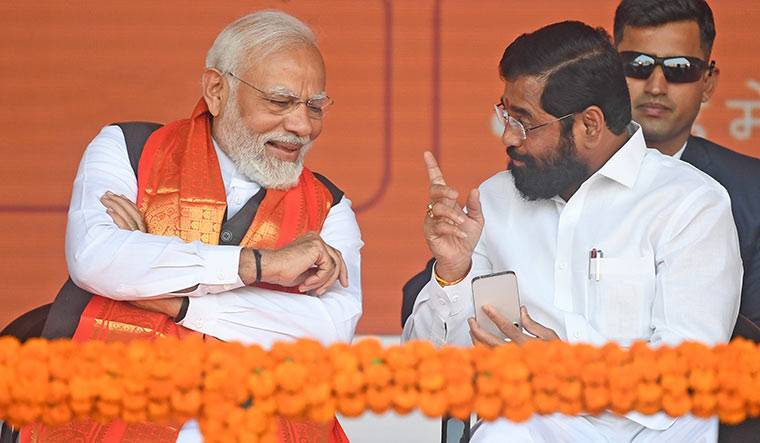 Q/ But Maharashtra has a huge debt. How do you set aside funds for development?
A/ We have made sure that we are below the RBI-set limits for borrowing loans. We are servicing debts regularly and making funds available for infrastructure development. The prime minister recently launched metro line 2A and metro line 7. Lakhs of people are travelling by metro. When the 350km-long metro network gets completed, the number of private vehicles will reduce drastically. There will be less pollution, time will be saved and lives will be eased.
Q/ Farmers continue to suffer despite promises by successive governments.
A/ We have a lot of schemes in place for farmers. Recently, crops were damaged across the state due to unseasonal rains. We are giving compensation that is double than the norms of the National Disaster Response Fund. There was a limit of two hectares; we have increased it to three hectares to cover many more farmers. We are treating this under natural calamity and providing immediate relief. Also, like the Central government scheme where a farmer gets Rs6,000 per year, we have made a provision to give farmers an additional Rs6,000. So, Rs12,000 is paid to farmers through direct benefit transfers.
Q/ The oil refinery project at Barsu in Ratnagiri district is facing opposition from local residents. Why?
A/ There is a political angle to this opposition. The previous government finalised the site of Barsu. They wrote to the Central government and now because they are out of power their leaders have changed their stand and are provoking people. The land that we have selected is not irrigated. It is barren land. But we will succeed in convincing people. There was opposition at the time of Samruddhi expressway, too, but I went on field and got people on board. I explained the benefits to people and gave a good compensation package. Farmers were happy.
Seventy per cent of people in Barsu favour the oil refinery project. The rest are being instigated. When they understand that the refinery will bring them a lot of benefits, they will change their opinion. I want to make one thing clear that we will not force it on people, and bring everyone on board by convincing them.
Q/ What is your vision for Maharashtra?
A/ All-round development. I want to see the farmers happy, people of the state happy. So, we are bringing schemes that cover health care, environment, education, infrastructure and green energy. Our government will always give priority to development of all sectors.
Q/ But is not a corruption-free government also important?
A/ Absolutely, all government should be corruption-free. When the government is corruption-free and all the facilities are provided, then only industries will come, there will be employment generation and people will get jobs. We should also empower small industrialists and entrepreneurs. Our aim is to give a corruption-free and inclusive government.