On April 30, when Union Home Minister Amit Shah came to Mumbai to attend the live broadcast of the 100th episode of Prime Minister Narendra Modi's 'Mann Ki Baat' radio programme, he was welcomed at the airport by Maharashtra Chief Minister Eknath Shinde and Deputy Chief Minister Devendra Fadnavis. After the event at the Keshavrao Ghaisas auditorium in Vile Parle, Shah and Fadnavis were scheduled to go to another place for a discussion. After the event though, Shah told Shinde to come along―a sign that Shinde enjoyed his confidence and that Shah wanted to have a political discussion. The trio chatted for about half an hour before heading to their respective programmes. It was during his journey back from the Shah meeting that Shinde told a confidant about how Modi and Shah had stood behind him like a rock and continue to support him.
The next day, after the Maharashtra Day function at Shivaji Park, Shinde decided impromptu to inspect the beautification work at Marine Drive, as he had some time to spare till his next event at Sahyadri state guesthouse. He took a team of officials along and sought details of the work and its progress. "He told officials that Marine Drive needs more toilets as countless people visit it every day," said an aide. "The chief minister even inspected a toilet to see if it was clean and properly maintained."
This, said his aides, is typical of Shinde, earning him the reputation of being a tireless worker, who clocks over 16 hours of work most days. At a recent meeting of some MLAs and MPs from Mumbai, Shinde directed secretaries of various departments to complete all development works in Mumbai before time.
At the meeting of legislators, Shiv Sena's Mahim MLA Sada Sarvankar, who had taken a delegation of residents from 56 buildings whose redevelopment has been stuck for some years, was promptly told by Shinde that an officer and an architect would be appointed to look into the problems of each building and to speed up the redevelopment. Sarvankar is one of the Sena rebels who broke away from the Uddhav Thackeray faction to join Shinde last year. Sarvankar had tried to bring the issue to Uddhav's notice as well when he was chief minister (November 2019-June 2022), but to no avail. "Almost 3,000 families are affected by this issue," said Sarvankar. "All of them are Shiv Sena voters. Uddhav ji gave me just one meeting and his approach was not positive at all. On the other hand, Shinde saheb assured us that he will give instructions to take action against developers who were not giving rent to the owners who had vacated the buildings and make sure that redevelopment happens and residents are back in their homes."
According to political analyst Ravikiran Deshmukh, Shinde's biggest strength has been his accessibility. "Unlike Uddhav Thackeray, who had almost locked himself and met very few and chosen people, Shinde has shown that he is available to the poorest and commonest among the people. That is his biggest USP," said Deshmukh, who was media adviser to Fadnavis when he was chief minister (2014-2019). Deshmukh also pointed out that Shinde, unlike Uddhav, has been making funds easily available to legislators for projects in their constituencies. That is a big help for legislators as they can develop their constituencies and also project an image that they have a good rapport with the chief minister and can get things done. This goes a long way in winning elections. But there is a flip side to this free flow of funds―the bureaucracy has had to flag it down a few months ago, stating that if funds were allotted to every project without deciding priority it could affect the state's financial health.
That has not deterred Shinde from taking on more infrastructure projects. Recently, during his meeting with Kim Hun, director general of Asian Infrastructure Investment Bank, and Praveen Pardeshi, CEO of Maharashtra Institution for Transformation (MITRA), Shinde shared his plans to provide green energy to the agriculture sector. The discussion reportedly left Kim considerably impressed and he even attended the Janata Darbar, held by the chief minister to hear people's grievances, for over an hour.
Shinde's aim is to make Maharashtra the growth engine of the country. He, along with Fadnavis, reviews work on major infrastructure projects at the war room in Mantralaya. "Top on his mind at the moment is the opening of the 80km-long stretch of Samruddhi expressway that has been recently completed," said an aide of Shinde.
THE WEEK visited the 80km-long stretch between Shirdi and Bharvir in Nashik. It usually takes more than two hours to cover the distance, but thanks to the expressway, it takes less than an hour. The 701km-long expressway, connecting Shirdi and Mumbai, is divided into 16 packages. Y.G. Patil, executive engineer of the Maharashtra State Road and Development Corporation (MSRDC) for the Shirdi package, said they could inaugurate the stretch at a mere day's notice. "Everything is ready," said Patil. "We also helped the village communities. A lake that provides water to Dauch and four other villages (near Shirdi) was coming in the way. We had instructions that amenities for villagers should not be affected at all. So, the MSRDC built a new lake, which has a storage capacity of 25mld, as opposed to the earlier 12mld. So, the villagers are happy."
Shinde was fully committed to the project right from the beginning, said Radheshyam Mopalwar, vice chairman and managing director of the MSRDC. "His personal involvement in resolving issues at the ground level, especially with farmers, helped to build trust and ensure that their concerns were addressed," he told THE WEEK. "He always inspired the team to work harder and faster and that ultimately led to the completion of project in record time."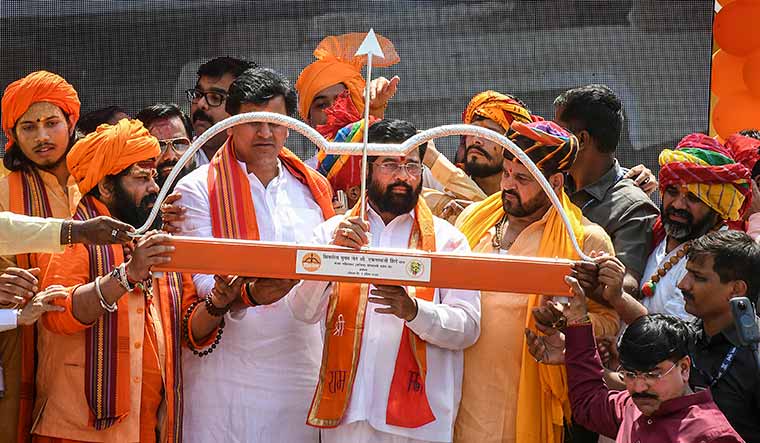 The Mumbai Trans Harbour Link (MTHL), a 22km sea bridge between Sewri in Mumbai and Chirle in Raigad district, is another infrastructure project that is dear to Shinde. He directed the officials at the Mumbai Metropolitan Region Development Authority to complete all work on the MTHL before November 2023. He also instructed them to ensure that the flamingo habitat near the project site is not disturbed. A few months ago, Shinde had visited the site to inspect the launch of an 180m-long steel girder. When he inquired about the flamingos, he was told that the drilling work was being carried out with modern technology for minimal environmental impact. "The number of flamingos has increased this year, despite the project work," Shinde told journalists after his visit.
It is not just infrastructure but agriculture, too, that has Shinde's attention. His government is wooing farmers to reap electoral benefits. In the recent budget, Fadnavis, who is also the finance minister, announced a financial benefit of Rs6,000 per annum to eligible farmers. "Like the Central government scheme where a farmer gets Rs6,000, we have made a provision to give farmers an additional Rs6,000. So, Rs12,000 is paid to farmers through direct benefit transfers," Shinde told THE WEEK in an exclusive interview. His government has already deposited Rs4,683 crore in the accounts of nearly 13 lakh eligible farmers as an incentive for regularly paying crop loans. The MVA government had promised an incentive of Rs50,000 per farmer during its two budgets but that remained on paper, said Shinde.
On the morning of April 11, the chief minister visited Nashik to take stock of the crops damaged owing to unseasonal rains. The night before, he had returned from his maiden visit to the Ram Temple in Ayodhya. Even while he was in Ayodhya, he had instructed all district collectors to visit the affected villages, said his aide. He also made sure that when he arrived in Nashik, the agriculture secretary and agriculture commissioner were with him.
Shinde seems to be stepping out of the state boundary, too, hoping to increase the Sena footprint beyond Maharashtra. During his visit to the Ram Temple, he was accompanied by thousands of sainiks. He also campaigned for the BJP in Karnataka. "I am here as chief minister of the Shiv Sena-BJP government in Maharashtra," he said in Udupi at the end of his three-day tour. "We are allies of the BJP and it is our alliance dharma to help them during election campaigns in other states where there is a significant presence of Marathi population." When he was asked about the Supreme Court's decision in cases regarding his rebellion, he said the matter was sub judice and that he would not like to comment on it. However, Shinde told THE WEEK that he was not tensed at all. "Majority is what matters in democracy, and we have the majority," he said.
But there is no denying that the Supreme Court verdict is being eagerly awaited, both by Shinde's Shiv Sena and the BJP combine and the MVA, comprising the Shiv Sena (Uddhav Balasaheb Thackeray). The next hearing is expected soon as Justice M.R. Shah, one of the judges on the bench led by Chief Justice of India D.Y. Chandrachud, is set to retire on May 15. If the verdict goes against Shinde, the 16 rebel MLAs, including Shinde, will be disqualified and Shinde will have to resign. Will this lead to the government's fall? The BJP is confident that it will not. "When our government faced the floor test in the (288-member) assembly last year, we got 164 votes in our support," said a BJP leader. "Even if 16 legislators were to be disqualified, we still have the support of 148 legislators, which is three more than the majority mark of 145. So the government will survive, but the chief minister could change."
If the Supreme Court does not disqualify the 16 MLAs and directs the speaker of the state assembly to take a decision on the issue, then Shinde can continue as chief minister till the term ends as the speaker is unlikely to decide in a hurry. Speaker Rahul Narvekar is learnt to have recently held a meeting with Union Law Minister Kiren Rijiju to discuss various scenarios that could emerge after the verdict. Narvekar reportedly told mediapersons that only the speaker could take action on the issue of disqualification of MLAs. "Until the speaker gives a decision on the issue, no court or other Constitutional body can interfere in the matter.... It is a Constitutional provision," he said. "The survival of the government is decided on the floor of the house and this government has established its majority…. I don't think the court's decision will have any impact on the existence of this government."
Irrespective of the verdict, Shinde has created history―he led the biggest political revolt in Maharashtra since the state's formation. Before him, Nationalist Congress Party chief Sharad Pawar, who was with the Congress then, had rebelled and replaced Vasantdada Patil to become chief minister in 1978.
Shinde denied that he had rebelled to become chief minister and instead blamed Uddhav for the revolt. "The late Balasaheb Thackeray used to say that he would never ally with the Congress," he told THE WEEK. "But an alliance was made with the Congress and the NCP, despite voters choosing the BJP-Shiv Sena alliance in 2019. I told Uddhav ji, 'We should not do it [ally with the Congress-NCP]. It is not proper. How will we face the people? We fought elections with photos of Balasaheb and Modi ji on one stage. So how can we form this alliance?' But he gave lame reasons."
Whatever his intentions be, Shinde is known for his political manoeuvres; his journey from driving a rickshaw in Thane to heading the state is proof. "Shinde is definitely a very shrewd politician," said a BJP leader. "Had that not been the case his rebellion would not have succeeded. But he is yet to show spark as chief minister." Shinde is still not comfortable while replying to debates in the state legislature, he said, and has had to refer to written speech, giving opportunity to the opposition to poke fun at him. "He has never been shy of efforts, is willing to work till the point of exhaustion, but the vision that a chief minister should have, that is something we have not seen so far," said the BJP leader. "This could be because he is busy completing the projects that had got stalled during the MVA rule. But he will have to show grand vision in the remainder of his term."
Political analyst Deshmukh said that Shinde is trying too hard to prove that he is better than Uddhav. "In a sense, he appears stuck in that contest with Uddhav," he said. "As a chief minister, he should have moved ahead to tackle the larger issues of politics and governance."
Another drawback, according to Deshmukh, was his penchant for populist announcements and schemes. "He has announced decisions like 50 per cent reduction in bus fares for women and students," he said. "He visits too many religious places and makes popular announcements after his visits. But he seems to have forgotten that the state has lost big-ticket investments like the Vedanta Foxconn deal, Tata-Airbus project and the bulk drug park project after he took over. He said that Prime Minister Modi has promised a very big project to Maharashtra, but nothing of that sort has happened. So that is an area where he will have to work on aggressively." His populist announcements may win him support among women and senior citizens, but not with the youth that would rather have investments to generate employment opportunities, he added.
Moreover, the grassroots cadre of the Shiv Sena (UBT) is yet to flock towards Shinde, said political observers. Shinde's presence is limited largely to the constituencies of legislators who support him―just 50-odd. He is yet to make a recognisable impact elsewhere in Maharashtra in terms of political strength and building his party organisation. If Shinde wants to prove himself to be the ideological heir to the late Bal Thackeray, he will have to be his own man, move out of the shadow of the BJP while keeping the saffron alliance intact, build his party organisation across the state or at least in the strongholds of the Shiv Sena (UBT).
It is one thing to inherit Bal Thackeray's legacy, and another to build on it. As Maharashtra Navnirman Sena chief Raj Thackeray said at his Gudi Padwa rally, it is like a 'Shiv Dhanushya (bow)'; Balasaheb Thackeray could wield it easily. Now it is for Shinde to prove that he too can.