The US has responded to Russia that it will continue to support Ukraine's right to become a member of NATO amid warnings from Russia that it will invade its neighbour.

The response was given in writing by the US ambassador in Moscow, John Sullivan, as the nation looks to ease tensions on the Russia-Ukraine border.

US Secretary of State Antony Blinken said that his country was giving Russia "a serious diplomatic path forward, should Russia choose it".

He added that the issue of eventual Ukrainian membership of the alliance was one of principle.

"Without going to the specifics of the document, I can tell you that it reiterates what we said publicly for many weeks, and in a sense for many, many years. That we will uphold the principle of NATO's open door," Blinken said, adding: "There is no change. There will be no change."

Blinken spoke hours after Russian counterpart Sergei Lavrov threatened retaliatory measures if the US did not meet its concerns. Russia had given a list of concerns about the expansion of NATO military alliance.

Among the demands was one to rule out Ukraine's right to join the alliance.

The United States is "ready either way" in handling the escalating Ukraine crisis.

"We prefer diplomacy and we are prepared to move forward where there is the possibility of communication and cooperation if Russia de-escalates its aggression toward Ukraine, stops the inflammatory rhetoric and approaches discussions about the future of security in Europe in a spirit of reciprocity," Blinken said.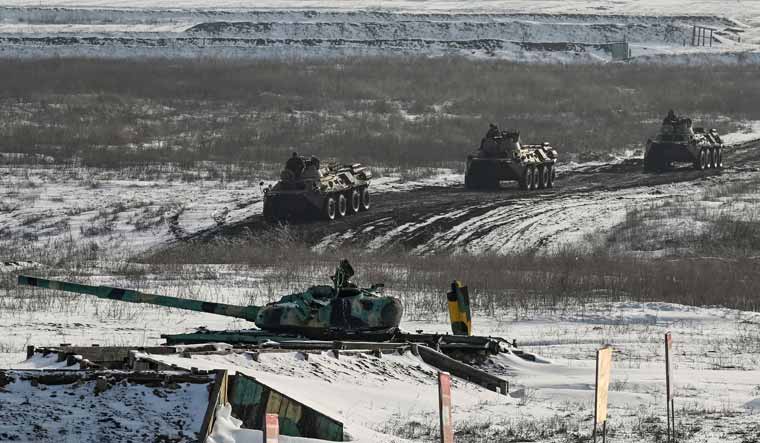 "We have laid out a diplomatic path. We have lined up steep consequences should Russia choose further aggression. We have stepped forward with more support for Ukraine's security and economy. And we and our allies and partners are united across the board," the US secretary of state said.

"Now we will continue to press forward and prepare. It remains up to Russia to decide how to respond. We are ready either way," he added.

While flatly refusing to consider any changes to NATO's open-door policy, its relationship with non-ally Ukraine, or allied troop and military deployments in Eastern Europe, Blinken said the US is open to other ideas to ease Russia's stated concerns.

The US proposals, echoed in the NATO document, include the potential for negotiations over offensive missile placements and military exercises in Eastern Europe as well as broad arms control agreements as long as Russia withdraws its troops from the Ukrainian border and agrees to halt inflammatory rhetoric designed to deepen divisions and discord among the allies and within Ukraine itself.

Moscow has demanded guarantees that NATO will never admit Ukraine and other ex-Soviet nations as members and that the alliance will roll back troop deployments in former Soviet bloc nations. Some of these, like the membership pledge, are nonstarters for the US and its allies, creating a seemingly intractable stalemate that many fear can only end in a war.

The Kremlin has repeatedly denied it has plans to attack Ukraine, but the US and NATO are worried about Russia massing its troops near Ukraine and conducting a series of sweeping military manoeuvres.
- With inputs from PTI