Expressive. One word that defines V.V.S. Laxman's batting. Those exquisitely timed boundaries and the elegantly crafted innings... Laxman's batting was all about the good times in Indian cricket. But that is not all that's expressive about the wristy magician from Hyderabad. For a guy who admits to being an introvert, he has been at his expressive best while at the crease. Happiness, satisfaction, pain, anguish, uncertainty, anger, frustration, shock... you name it. And he brings it all in his autobiography 281 and Beyond.
Co-authored by R. Kaushik—one of the finest and experienced cricket writers around and one who has witnessed Laxman's journey so far—the book talks about the good, bad and ugly of Laxman's 16-year career for Team India. From being in and out of the Indian team during the first five years, to his forced promotion from the middle-order to the opening slot (he tried to persuade Virender Sehwag against it!), the book traces his interesting journey.
He gives a marvellous account of playing under different captains like Mohammed Azharuddin, Sachin Tendulkar, Sourav Ganguly, Anil Kumble and M.S. Dhoni, and different coaches like Madan Lal and Anshuman Gaekwad. But what stands out are his times as a regular in Team India with John Wright and Sourav Ganguly at the helm—the seriously good times of putting team before self or dealing with the requirements of each player, change in work ethics, and the meticulous preparations to erase the label of poor travellers. He reveals in detail what went into the making of the number one Test team under Wright and Gary Kirsten and the tumultuous Greg Chappell era.
ALSO READ: We wanted Kumble to continue as India coach but he quit, says Laxman
His heartbreak over being left out of the 2003 World Cup squad and being forced to give up his ODI dreams, echoes loudly. But then there are some great insights into playing alongside the legends of Indian cricket like Sachin Tendulkar, Rahul Dravid, Anil Kumble, Sourav Ganguly and Virender Sehwag. He talks of the bond between them, which is still intact. But above all, what shines throughout is his sincerity and earnestness to be a gentleman, always.
Laxman, in his post retirement avatar, still remains closely associated with the game—be it as a commentator, member of the Cricket Advisory Committee of the BCCI, or consultant for the Bengal Ranji Trophy team or mentor to the Sunrisers Hyderabad in the IPL.
In an interaction with THE WEEK, he dwells on his biggest bunny—Australia. He also shares his thoughts on what goes into the making of a successful team and coach, and how important it is for players to feel secure inside the dressing room for the team to achieve the right results. Excerpts:
How would you sum up your career in a nutshell?
Contended. That's the feeling I had the day after I announced my retirement. Next day morning, when I got up, I told [my wife] Sailaja that I was satisfied and contended with the way my career has unfolded. Not even once I would say I regretted something. While some of my goals have not been fulfilled, the overall journey has been fulfilling because each day I just tried to get better and better. I gave it everything I had. Through my career, the one thing I had under my control was my effort; the results were not in my control.
How did you achieve so much success against Australia consistently?
You can say that in grounds where you perform well and teams you have done well against. The Australian sides I played against... you have to be at your best to perform against them as an individual or a team. I surprised myself with my performances and potential against them. My game always went a notch higher. You cannot be mediocre while playing against the best. It wasn't until the U-19 series against Australia in 1994, when I played against them, I realised I had that kind of potential.
ALSO READ: Laxman's 281 greatest innings played by an Indian, says Dravid
All Aussie teams you played against had the win-at-all-cost culture, but they are being rebuked for it now.
That's the character of the Australian team. That's something which I really enjoyed. The 1994 Australian youth team also had it. It didn't mean they crossed the line. There was a character... a positive approach. It began changing since 2007-08. The current Australian side doesn't have the character of the Aussie teams I played against. That comes from the leadership group.
What do you need to do to get results away from home?
One is have your technique right. When you are playing in overseas conditions, you necessarily don't have the technique but must have the ability to adapt. Second is to be strong mentally. At home you have support and know how to bounce back under pressure. When you travel, it's the same for home teams. We have to conquer that.
Having played under numerous coaches and being part of the CAC, what qualities make a good coach?
A good coach should never look to hog the limelight. It's a team game. Players are the most important figures in the team, not the coach. The responsibility of the coach is to create a relaxed atmosphere, where each one can be their own and each player is looked after. There is no favouritism, irrespective of the player's performance. It's the coach's job to see how he can get the best out of the player, and make sure no one is more important or less important. Also, technical expertise is important. Because, when you are playing at the international level, the players are equipped to handle the aspect. You should definitely have the knowledge. But the first criteria for me is man-management skill.
How crucial is it to have stability when you play in the Indian team?
I have seen players not able to handle the pressure which comes at the start of your career, till you establish yourself. And establishing comes through performances. You may not have impact performances right from the beginning. I learnt a lot in the first four years of international cricket—I was in and out of the side, branded as non-regular opener.
This is where I feel the support system is crucial. I had my parents, uncle and coaches. I was very passionate about the game and was fortunate to have been given the opportunity by my parents to play the game. But, it's not a good space to be in for a youngster if he is not established. That's something, which I have seen, that can make or break the career.
When a player is struggling, how important is support from within the team?
Very important. Here, the role of the selectors and the coach is very important. That's why I write in my book that John [Wright] was the first coach to come and give me that security. He saw me scoring consistently in domestic cricket and was surprised why I was in and out of the side. It was the first time a coach had come and sat with me and said 'don't worry about your place in the team, I give you the assurance!' I didn't know whether he had the assurance or not (laughs)! At that moment, I felt really comforted. The assurance will allow you to go out and score runs and not think about your position in the team.
You write in detail about the Greg Chappell era—he was an antithesis to Wright.
Even John [Wright] was very hard. It's a myth he wasn't. Greg [Chappell] was also tough. With Greg, for me, the only issue was man-management. I questioned those man-management skills. He had abundance of knowledge. I had two interactions before he took over as coach. I thought he is someone who understands the game. But while we achieved a lot of success under him, I feel a good coach is always someone who stays in the background.
How bad can the dressing room atmosphere get when there is instability within the team?
It's a bad atmosphere to be part of. I have been part of some good teams and some not-so-good ones. It boils down to the team. The best teams are the ones which feel for each other. I was lucky to be part of a team where each one of us felt for each other when things were not going our way. Or, we also enjoyed when someone was achieving success. The hallmark of a good team is where it becomes like an extended family. Individual aspirations have no meaning if it doesn't benefit the team.
Do you sometimes pinch yourself when you think about being part of a once-in-a-generation team?
I don't pinch myself but I feel privileged that I played with some of the best who have played this game. They were just not great players but also great human beings. I value that aspect of the person.
***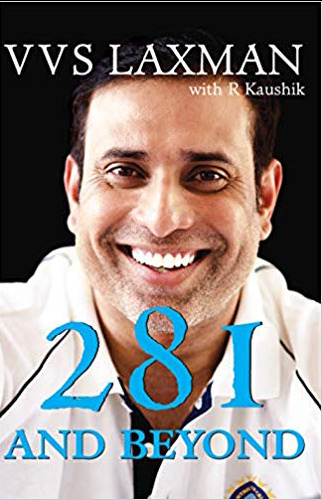 281 and Beyond
Publisher: Westland Sport
Pages: 297
Price: Rs 699