The current political undertones across the country doesn't paint a rosy picture; it's quite grim. And if you're curious to find out who qualifies as a "bad chief minister" and do a quick Google search, Kerala Chief Minister Pinarayi Vijayan's name with a brief description from his Wikipedia page immediately pops up.
The Kerala chief minister has been on thin ice since protests rocked the state over lifting the ban on women in the menstruating age to enter the Sabarimala temple. Right-wing groups and Hindu supporters have been calling for action against Pinarayi Vijayan for not giving weight to their demands to respect "tradition".
Pinarayi Vijayan had implemented the Supreme Court order lifting the ban immediately after it was passed and has been at the receiving end of the wrath of Hindu supporters who believe in the custom of not allowing women in the age group 10-50 to enter the celibate god's hill shrine.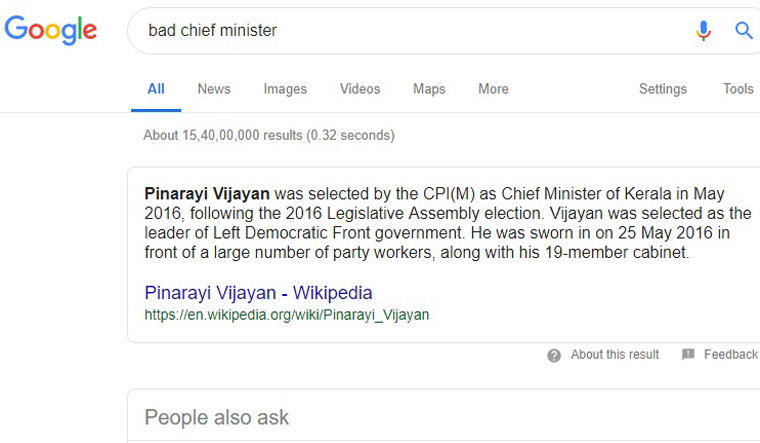 On January 2 this year, two women under the age of 50 entered the temple and offered prayers with the help of the police. This incident fueled the protests that had been simmering in the state for a while. This is believed to have led to a dip in Pinarayi Vijayan's popularity among a section of people adamant over retaining the custom.
Google searched are based on algorithms that match the query to web pages with similar results.
This is not the first time Google searches have thrown up such interesting results. A couple of year ago, Narendra Modi's images popped up in the search results for "Top 10 criminals". The prime minister's image was featured along with former Libyan leader Muammar Gaddafi, underworld don Dawood Ibrahim and even Delhi Chief Minister Arvind Kejriwal's pictures.
Similarly, the search results for the word 'idiot', at one point, showed images of US President Donald Trump. Google, however, denied that one person or a group of people are not able to manipulate the search results.