A team of National Disaster Response Force (NDRF) personnel rushes to Bettageri village in Kodagu, making their way on the roads blocked by landslides and uprooted trees, then they hop on to a pick-up truck offered by a villager. NDRF Assistant Commander Subheesh K.S., who heads the team, says, "Police have got a call, saying that a family is stranded in a house inside a workers' housing colony in a coffee estate and we are prepared to rescue them in any condition."
But the pick-up truck can reach only till the 'good' roads exist, beyond that the NDRF men carrying shovels, ropes and saws get on foot on the road, which has become a stream of rainwater flowing from the hills above.
The team, guided by a local police officer, walks in the pouring rains and asks at a house away from pathway for the residence of Sanjeevini Achari. The house owner says that the person the team is looking for is her relative and that Achari and her family are at her house. She also informs that Achari and her family have come here from their damaged house two days ago. The NDRF team realises that the information they have got was outdated, but they heave a sigh of relief at seeing the family members alive and safe.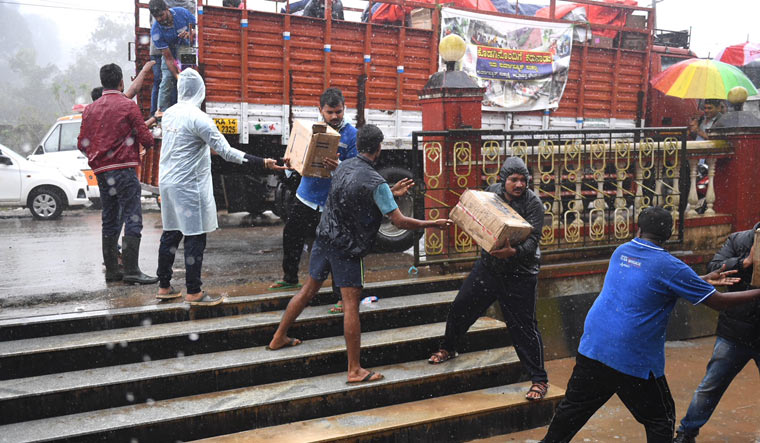 Similar calls are being received by other NDRF teams working in Kodagu rain disaster. Amid the fear of many missing in the recent floods, rescue teams are getting many fake messages and outdated information about incidents that have occurred many days ago.
The reopened road from Kushalanagar to Madikeri is seeing many vehicles from Bengaluru and Mysuru, carrying relief materials collected by various organisations. Many trucks are also parked outside the Mythri relief centre in Madikeri town. One of the in-charges of the relief centre says that they have received sufficient materials for now. Flood victims need only medicines and undergarments for females, she say to an unheeding member of a television organisation that has collected the used clothes, bread and other things from its viewers.
B.S. Tammaiah, a resident of Napoklu, complains that "Television channels are not just competing for breaking news; they are competing to collect the relief materials. Our situation in not even 10 per cent of what has happened in Kerala. I request all those who are sending relief materials to Kodagu to send it to Kerala; we do not require that much and we do not have space to keep them." He added, "We can manage food and other stuff locally, but what we need is an immediate package to improve our damaged infrastructure."
Kodagu, or Coorg as it is known, saw unprecedented landslides this monsoon season. People are spreading rumours about an earthquake being the reason for such an enormous disaster, which bulldozed houses and farm fields.
Rafeeq, a driver who owns a goods vehicle in Madikeri, says, "Heavy rains are not uncommon in Kodagu; what has shocked all of us are the mountains sliding and causing huge landslides. People are talking that there were earthquakes many days ago and that's why mountains' soil has become loose."
Rafeeq is also suffering huge financial losses due to rains in Kerala where he transports vegetables for the Onam festival. Many of the roads connecting villages and towns are blocked due to such landslides. A villager looking at part of a huge mountain, which has lost its shape due to the landslide, complains that illegal construction is the cause of the disaster.
As most of the affected people in Kodagu have reached to safety in houses of friends and relatives or relief centres, they are hoping that rain will stop, so that they can get back to their houses for rebuilding their lives again.