As the news of death of former prime minister Atal Bihari Vajpayee broke on Thursday evening, Congress leader Jyotiraditya Scindia stopped his speech midway and converted the political rally into a condolence meeting at Gairatganj, 90km away from Bhopal.
Cancelling his tour and state election committee meeting at Bhopal, he rushed to New Delhi and paid tributes by prostrating himself before the departed leader. Scindia is titular head of the erstwhile Gwalior royal family and Vajapyee was born in Gwalior.
Vajpayee had always enjoyed good relations with the Scindias since his childhood days. The last ruler of Gwalior, Jiwajirao Scindia, personally adored him. When Rajmata Vijayaraje Scindia quit Congress in 1967 to form the first non-Congress Samyukta Vidhayak Dal (SVD) government in Madhya Pradesh, it was Vajpayee who brought her to the BJP (then Jansangh) fold. Rajmata was one of the important pillars of the right wing party during the days when it had limited resources.
Though Vajpayee was a native of Madhya Pradesh, he chose to make Uttar Pradesh his political arena. He fought his first Lok Sabha election in 1957 from Balrampur. He had been member of Lok Sabha 10 times but he represented Gwalior Lok Sabha just once between 1971 to 1977. He again took a plunge from Vidisha Lok Sabha constituency in Madhya Pradesh in 1991 but quit in favour of Lucknow from where he had won simultaneously.
He handed over the reins of Vidisha to present Madhya Pradesh Chief Minister Shivraj Singh Chouhan, who happens to be the inheritor of 'Vajpayee style of politics' in the BJP. Rise of Chouhan in BJP politics is attributed to Vajpayee's decision of vacating Vidisha seat. Chouhan represented Vidisha for five times in a row before becoming chief minister of MP in 2005.
In 1984, when BJP was reduced to two seats in the Parliament after death of then prime minister Indira Gandhi, Vajpayee contested from Gwalior. At the eleventh hour Madhavrao Scindia switched his seat from Guna and became a candidate from Gwalior. Vajpayee was taken aback as he never wanted to contest against anyone from the Scindia family. In his book titled Na Dainyam, Na Palayanam (a Geeta shloka which means neither will I beg nor quit) Vajpayee wrote that he was cornered under a dual strategy of certain political people who wanted him to get busy in Gwalior so that he could not campaign for others in rest of India.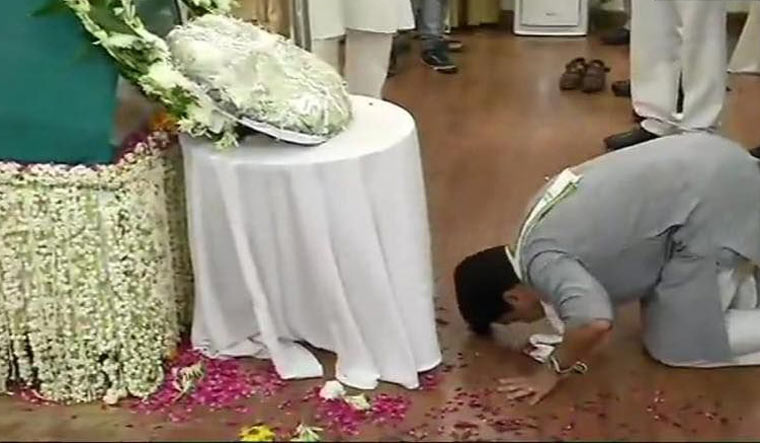 In that election, Vajpayee fought very gracefully against Madhavrao Scindia (father of Jyotiraditya) Maharaja of Gwalior and lost only to garner more respect among masses. Vajpayee did not utter a single word which was disrespectful to the Scindia family. When people asked why he did not fight the election in same acrimonious way like his predecessors, he did not reply.
Later in his book, he wrote that his higher education in 1945 would not have been possible had the Scindia family not come forward to support him. He wrote "Jiwajirao Scindia, the Maharaja of Gwalior knew me since my school days. When the question of my higher education was looming large on the family, which was already burdened under the marriage of my two sisters, and limited resources due to retirement of father, the royal family sanctioned me monthly scholarship of Rs 75."
With this scholarship support, Vajpyaee went to DAV college, Kanpur, for his law education. This turned into a big opportunity for Vajpayee where he came into contact with Arya Samaj and later joined the RSS. Vajpayee's visit to Kanpur brought him close to several right-wing leaders and he later became editor of Rashtradharm where he worked closely with the BJP (then Jansangh) ideologue Deendayal Upadhyaya. After Rashtradharm he was made editor of Panchajanya—the mouthpiece of RSS. In 1952 when Jansangh was established by Shaymaprasad Mukherji, Vajpayee was affiliated with Deendayal Upadhyaya who was party's general secretary.
Vajpayee always acknowledged the support of the Scindia family towards his personal life and party. When Rajmata Scindia and her son Madhavrao Scindia were embroiled in an ugly family feud, Vajpayee never meddled. The respect from Scindias to Vajpayee was unequivocal except for the 1984 elections when the two contested Lok Sabha polls against each other.
When Madhavrao Scindia died in a plane crash in September 2001, Vajpayee as prime minister wrote in the condolence book, "Lightning has fallen. Can fate be so cruel. My salute". He not only visited Gwalior for the cremation but deputed his senior most minister Arun Jaitley to accompany dead body of Scindia in an Air Force aircraft. He was given a state funeral.