As Kerala continues to reel under floods, there is a growing need to shift people and families stranded in several areas, bring medical attention to them and help many with rescue and relief materials.
Volunteers can check the location, situation, and contact numbers to offer their services.
Food is being prepared for tonight at Kakkanad, Ernakulam for around 1,000 people. Distributors are also ready. Contact: 9072893780 (Shivakumar)
All Kerala Caters Association has offered free food for relief camps. In case of any requirement, please contact 9388604278 (Jibi Peter)
Excess amount of food at Kadavantra Regional Sports Centre in Ernakulam. Food can be dispatched to relief camps within the city according to availability of vehicles. Contact: 96452211111, 9061110000
Childline Ernakulam requires heavy vehicles to travel to relief camps and flooded areas. Contact Vijay 8089181128; 8848702203 (Childline office contact). 
Request from Thiruvananthapuram district collector―Collecting ready to eat food packets, aval (poha, flattened rice), matchboxes at SMV High School, Thampanoor.
Rescue camps require torches, mats, blankets, clothes and dry food. You can contribute to Anpodu Kochi, Regional Sports Centre, Kadavantra, Ernakulam.
People stranded in Ernakulam can get in touch with the Control Room number, 8071966876, and leave a voice message with location and details of help required. Rescue team will contact you.
The Purple Turtles is gathering blankets, water purifier tablets, ORS, toiletries, dry food items, match box and candles, sanitary napkins, bottled water, notebooks and pens, waterproof bags etc, and will be transporting the same to a trusted source in Kozhikode. A truck on Saturday, 18 August evening will carry all the materials for free.
People can drop off their donations by 2pm on Saturday at The Purple Turtles store―128, 1st Main Rd, Stage 2, Domlur, Bengaluru, Karnataka 560008. Contact 8041528039, (info@thepurpleturtles.com)
Volunteers are required to come to ADLUX Convention Centre, Angamaly, Ernakulam with vehicles to transport food to over 10,000 people in relief camps in Angamaly, Chalakudy and Kalady. Navy's help has been requested for distribution of food. 
People displaced in Thrissur can head to Chittissery St Mary's church, Thaikkattussery Road. Water, toilet and other basic amenities for 250 people available. Contact Father Job Vadakkan: 9744670669 
Donation camp at Popular Motors showroom, Mamangalam, Ernakulam. They are collecting essentials such as bedsheets, packaged food items, candles, undergarments, sanitary napkins etc. Contact: Vivek - 9846425115; Jaijo - 8589992548; Akhil - 8589982381; Anish - 8086078728
Chillax restaurant near Infopark, Kochi needs volunteers who can collect and distribute food. Contact: 8606622277
Angamaly Navya Bakers (Karukutty) has arranged five vehicles with food packets. Contact: Baiju Navya - 9447577565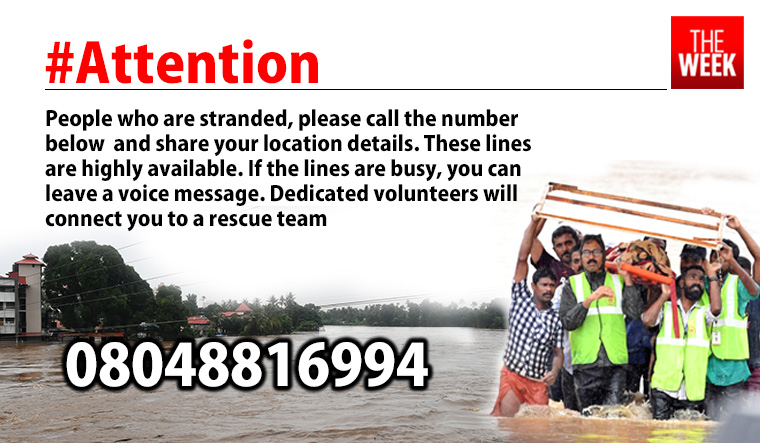 Ernakulam district collector has shared Rescue Control Room numbers - 8592933330; 9207703393; 0484-2423513; 7902200300; 7902200400; 0484-2540577
Female volunteers needed at Model Engineering College, Thrikkakara. Contact: Srijith - 9895891445
For food distribution in Thrissur relief camps, contact 8301825142, 7012176269
For food distribution in Ernakulam relief camps, contact 9846760130, 8921927337
In case you would like to speak to a volunteer, contact 8048816994. This helpline is always available. 
--------------------------------------------------------
Kerala Flood Relief Volunteer Help needed
Date & time: August 18, 11:00 am
Location: Vadakkekara (between the post office and Pattanam excavation office)
Situation: Stranded; surrounded by water 
Help needed: Food and water
Contact number: 8289858353, 8111886085, 9495766388
--------------------------------------------------------
(REQUESTS ON AUGUST 17)
Kerala Flood Relief Volunteer Help needed
Location: Karigamthiruthu, Koonammavu
Situation: Stranded; surrounded by high current water
Help needed: Rescue
Contact number: 9995858066
--------------------------------------------------------
Kerala Flood Relief Volunteer Help needed
Location: 'Srishti' 102B, Karthaparambu road, Kadangallur east (https://goo.gl/maps/fveszmVZL422)
Situation: Stranded
Help needed: Rescue
Contact number: 9895221893 (Rajeev Sunil)
--------------------------------------------------------
Kerala Flood Relief Volunteer Help needed
Location: #6/468, Mulakkatilly, Karumalloor, Aluva
Situation: Wife of Dr Abdul Shukoor at Ayurvedic Health Centre, is stranded
Help needed: Rescue
Contact number: 0484 2670587, 9447661001, 9747066001
-------------------------------------------------------- 
Kerala Flood Relief Volunteer Help needed
Location: East Kadungalloor, Maniyellipadi, Rajashree School Road, Aluva
Situation: A family of 13 members (of which two are under 18, five women and two senior citizens) are stuck on the first floor of their house.
Help needed: Rescue
Contact number: 9895288999, 9072099990 (Gireesh)
--------------------------------------------------------
Kerala Flood Relief Volunteer Help needed
Location: Aluva, Greenhouse Flat
Situation: 40 families stranded
Help needed: Rescue operation
Contact number: Shahana (7012230477)
--------------------------------------------------------
Kerala Flood Relief Volunteer Help needed
Location: Chengannur, Mudankavu
Situation: 2 Families stranded
Help needed: Rescue operation
Contact Number: 8547909683
--------------------------------------------------------
Kerala Flood Relief Volunteer Help needed
Location: Chambakkulam, Kuttanadu
Situation: People in camps need transport to shift to other camps
Help needed: Transportation
Contact Number: 7510881012
--------------------------------------------------------
Kerala Flood Relief Volunteer Help needed
Location: Jeejo residency, Athani, Angamaly
Situation: Families stranded. New-born & mother need urgent help
Help needed: Rescue & Medical help needed
Contact Number: 8330072031
--------------------------------------------------------
Kerala Flood Relief Volunteer Help needed
Location: Alangad Thiruvaloor, Aluva Taluk
Situation: Anita & family stranded on roof
Help needed: Rescue, food
Contact Number: 9754222356
--------------------------------------------------------
Kerala Flood Relief Volunteer Help needed
Location: Kadamakudi St Augustine Church
Situation: Over 50 people stranded
Help needed: Rescue
Contact Number: 9961664260
--------------------------------------------------------
Kerala Flood Relief Volunteer Help needed
Location: Thottakattukara, Aluva (near Narasimha temple)
Situation: Family stranded, first floor flooded 
Help needed: Rescue
Contact Number: 9846069800
--------------------------------------------------------
Kerala Flood Relief Volunteer Help needed
Location: Kuttampuzha church
Situation: 13 families stranded
Help needed: Rescue
Contact Number: 954421860 (Sonia)
--------------------------------------------------------
Kerala Flood Relief Volunteer Help needed
Location: Paravoor town, Neeleshwaram temple
Situation: 300 people stranded
Help needed: Rescue
Contact Number: 9446425145 (Anish)
--------------------------------------------------------
Kerala Flood Relief Volunteer Help needed
Location: Sri Ayyappa College, Chengannur
Situation: 30 stranded in ladies hostel 
Help needed: Rescue
Contact Number: 9061082174
--------------------------------------------------------
Kerala Flood Relief Volunteer Help needed
Location: St Xavier church camp, Nedumbassery
Situation: Wall collapse, people stranded
Help needed: Rescue
Contact Number: 9846185769
--------------------------------------------------------
Kerala Flood Relief Volunteer Help needed
Location: Vazhar Mangalam, Chengannur
Situation: Pregnant lady and 80+ old lady along with 2 other adults stranded in their home since Aug 15
Help needed: Rescue
Contact Number: 9846600181, 9605059337, 9744865181
--------------------------------------------------------
Kerala Flood Relief Volunteer Help needed
Location: Enjakkal Kavala, Kalady, behind university
Situation: 500 people stranded
Help needed: Rescue
Contact Number: 9562610000 (Ajo)
--------------------------------------------------------
Kerala Flood Relief Volunteer Help needed
Location: Enjakkal Kavala, Kalady, behind university
Situation: Nearly 2,000 people isolated/stranded
Help needed: Rescue
Contact Number: 9562610000 (Ajo)
--------------------------------------------------------
Kerala Flood Relief Volunteer Help needed
Location: Sri Krishnan temple, Chelamattam, Perumbavoor
Situation: 300 people stranded
Help needed: Rescue
Contact Number: 9847273359
--------------------------------------------------------
Kerala Flood Relief Volunteer Help needed
Location: Aluva Thuruth, Government LP School (https://goo.gl/maps/7saGFGtMBG82)
Situation: Family stranded, first floor flooded 
Help needed: Rescue
Contact Number: 9961139360 (Shamsudeen) 
--------------------------------------------------------
Kerala Flood Relief Volunteer Help needed
Location: Homestay in Old Desam Road, Parur, Kaval, Aluva (https://goo.gl/maps/63Broz9LnWu) 
Situation: TJ Abraham, anti-corruption activist, and other senior citizens stranded for three days
Help needed: Rescue
Contact Number: Nil
--------------------------------------------------------
Kerala Flood Relief Volunteer Help needed
Location: Kongorpilly, Koonammavu (https://goo.gl/maps/bmAca9xzvuR2)
Situation: Two families stranded
Help needed: Rescue
Contact Number: 9895062901
--------------------------------------------------------
Kerala Flood Relief Volunteer Help needed
Location: Kalady Sri Sankara University, Utility Centre third floor
Situation: 400 people stranded; No food
Help needed: Rescue
Contact Number: Nil
--------------------------------------------------------
Kerala Flood Relief Volunteer Help needed
Location: Angamaly
Situation: Pregnant woman requires immediate help
Help needed: Rescue
Contact Number: 8330072031
--------------------------------------------------------
Kerala Flood Relief Volunteer Help needed
Location: Karingamthuruth-Kongorpilly High School Road, Varapuzha
Situation: Nearly 1,000 people stranded in camp + family of 12 near the camp
Help needed: Rescue
Contact Number: 8078119651
--------------------------------------------------------
Kerala Flood Relief Volunteer Help needed
Location: Pedikkat house, Opposite Ambalanada Durga temple, Meladoor Road, Poovathussery
Situation: Family stuck on first floor
Help needed: Rescue
Contact Number: 7025232061
--------------------------------------------------------
Kerala Flood Relief Volunteer Help needed
Location: Aluva East, Kadungallore, Maniyelippadi (near Soumya Bakery, before Rajasree school)
Situation: Family stuck on first floor
Help needed: Rescue
Contact Number: 9809375922, 7034552662 (Anup)
--------------------------------------------------------
Kerala Flood Relief Volunteer Help needed
Location: Kalady, Kaipattoor Government UP School
Situation: 150 people stranded
Help needed: Rescue
Contact Number: 9847727831
--------------------------------------------------------
Kerala Flood Relief Volunteer Help needed
Location: Chenganoor (near Varattar - https://goo.gl/maps/KQVuDcS5M4D2)
Situation: 15 people, including two pregnant women, stranded in 3 houses for one and a half days
Help needed: Rescue, food and water
Contact Number: 9744865181, 8593086151, 8848672269, 8078445181
--------------------------------------------------------
Kerala Flood Relief Volunteer Help needed
Location: Bright Plywood, Mekalady, Kalady
Situation: Around 60 people, including workers, trapped
Help needed: Rescue
Contact Number: 9387020002 (Riyas)