Kerala State Electricity Board has issued a red alert as water level in Idukki dam continued to rise despite keeping one of the five shutters open for several hours on Thursday. The water level has touched 2,399.56 feet on Thursday evening.
It is the first time in 26 years that the shutter of the Cheruthoni dam of the Idukki reservoir, considered the biggest arch dam in Asia, has been opened. 
The decision to lift the shutter by 50 cm was taken at a meeting chaired by Chief Minister Pinarayi Vijayan in the morning after the water level in the reservoir touched 2,398.80 feet. The full reservoir level of the dam is 2,403 feet. 
Approximately 50 cubic metres of water is being released per second during the trial run. The initial plan was to keep the No 3 shutter open for four hours since 12.30pm. However, the shutter was kept open as the water level refuses to come down.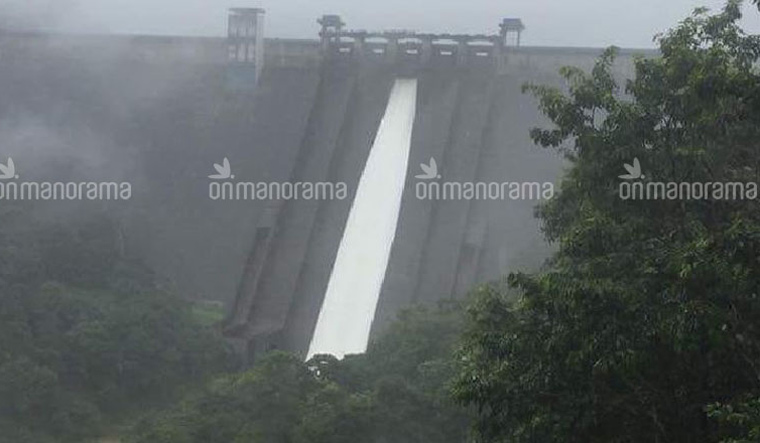 Officials in Idukki have issued alerts to residents living in the vicinity of the dam and within 100 metres of the Cheruthoni and Periyar rivers. People living along Periyar River have been asked to stay cautious. 
After the shutters of the Idamalayar dam were released early on Thursday morning, localised flooding was reported in Aluva, around 10 km from Cochin International Airport. Earlier in the day, flight arrivals were halted temporarily at the airport following rising water level in nearby regions. The operations, however, resumed later.
As per State Emergency Operations Centre, 22 people have been killed in floods and landslides triggered by torrential rains in several districts. (Idukki – 11, Malappuram – 5, Kozhikode – 1, Wayanad – 3, Kannur – 2). 
Four teams of the National Disaster Response Force, comprising 45 personnel each, have left Chennai for Kerala to assist the rescue and relief operations. An Inter-Ministerial Central Team of the central government is also visiting flood-affected areas in Kerala, while Army troops are being mobilised from Bengaluru for deployment in the rain-battered southern state.