Accusing Congress president Rahul Gandhi of 'politicising' the Kathua rape case, Rajya Sabha MP Rajeev Chandrasekhar on Monday invited the Congress chief for a debate on child safety.
Chandrasekhar, a BJP MP, alleged that the Congress government of Siddaramaiah had failed to curb rising sexual abuse cases against children in Karnataka.
In a statement in Bengaluru, Chandrasekhar said, "Next time, Gandhi takes time off from his pre-election temple run in Karnataka, I would invite him to a civilised debate on child safety in Karnataka and discuss what Siddaramaiah has really done to protect children in Karnataka."
Chandrasekhar alleged Gandhi had woken up 'belatedly' over the issues of crime against children and was trying to score political points using the Kathua case, which involved the gang-rape and murder of an eight-year-old Muslim nomad girl by a group of Hindu men.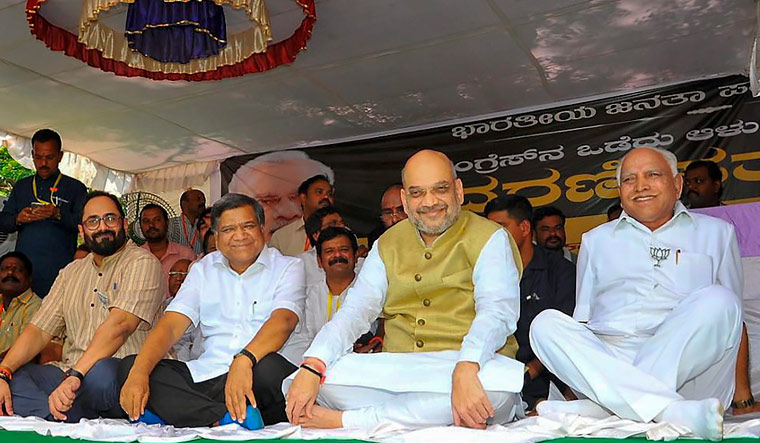 Chandrasekhar claimed cases of child sexual abuse in Karnataka had increased by 10 times in the five years of the Siddaramaiah government. Citing statistics from the Karnataka State Integrated Child Protection Society, Chandrasekhar said 138 cases were registered under the Protection of Children from Sexual Offences Act (POCSO) Act in 2012-13; he said 1,420 such cases were registered this year.
Chandrasekhar, a businessman-turned politician, formally joined the BJP shortly before the Rajya Sabha elections in March. However, he has previously been close to the BJP and has been a vocal critic of Siddaramaiah and the Congress, particularly over the governance of Bengaluru.
Chandrasekhar has previously targeted Gandhi before, often writing 'open letters' to him on contentious issues.
(With PTI inputs)