Mamata Banerjee plunged herself into national politics by launching a scathing attack on the Union government for privatising Air India.
The West Bengal chief minister, who is in Delhi, tweeted her displeasure with the move and added that "this government must not be allowed to sell our country".
I am sorry to read in the media about the Govt inviting expression of interest for selling Air India, the jewel of our nation. We strongly oppose this and want this order to be withdrawn immediately. This Govt must not be allowed to sell our country

— Mamata Banerjee (@MamataOfficial) March 28, 2018
The Union government has invited bids for sale of 76 per cent stake in the national carrier, which owns 100 per cent stake in low-cost international subsidiary Air India Express. The companies or consortium bidding for Air India will have to have a net worth of Rs 5,000 crore.
However, Twitter users trolled her for opposing the privatisation of loss-making Air India. They questioned her silence on the influx of Rohingyas in the Sunderbans region in West Bengal and the riots in Raigunj and Asansol.
Banerjee's tweet came hours before she was to meet Sonia Gandhi in the evening. She is also scheduled to meet former disinvestment minister and one of the strongest proponents of Air India disinvestment, Arun Shourie, former union minister Yaswant Sinha, who had once initiated the process of diluting the stake of government in Air India, and former union health minister Shatrughan Sinha—all disgruntled BJP leaders.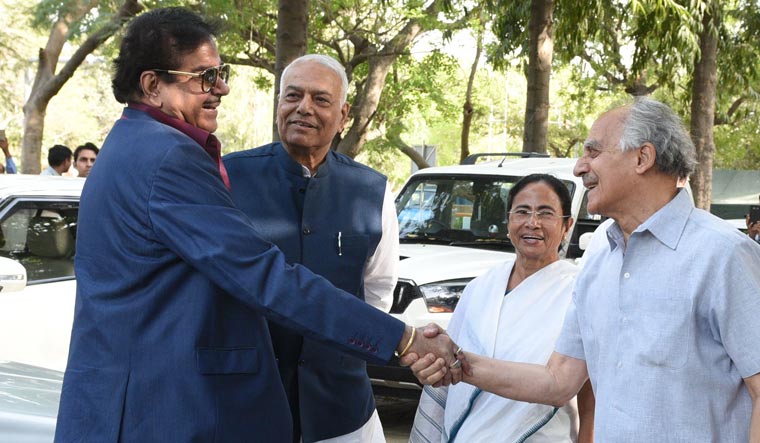 Modi government's decision to offload the government's stake in Air India was taken months ago. There were no protests then in Parliament. Interestingly, the issues are being raised now when Banerjee is meeting senior disgruntled BJP leaders along with UPA chairman Sonia Gandhi.
It is yet unclear whether Congress President Rahul Gandhi would be there for the meeting. But several Congress leaders said that meeting Sonia Gandhi without Rahul is meaningless as now Sonia would not hamper Rahul's gameplan for 2019 Lok Sabha elections.
Adhir Chowdhury, Congress MP, told a private TV channel, "I don't know how could she (Banerjee) take a final step on grand alliance without talking to the Congress president. She would have to talk to Rahul Ji."