At the 2018 Academy Awards, black dresses were given the boot. As if with a vengeance, they were replaced by quite the opposite: over the top, brilliant, metallic, shimmery ones, in all silhouettes and hues. From Gal Gadot's sexy silver gown to Lupita Nyong'o's sparkling gold one, the stars literally shone. The 90th anniversary of the Academy Awards was all about glitz and celebration. And, fittingly, the movies shone the brightest.
Acknowledging Hollywood's glamorous history, scenic designer Derek McLane created a jaw-dropping stage that set the mood for the evening. It dazzled with glittering chandeliers suspended from ornate arches; the shimmery, abstract set, made up of large faceted shapes, glistened with 45 million Swarovski crystals; mirrored panels, which had LED screens on the reverse showing the images of nominees, spun across the stage.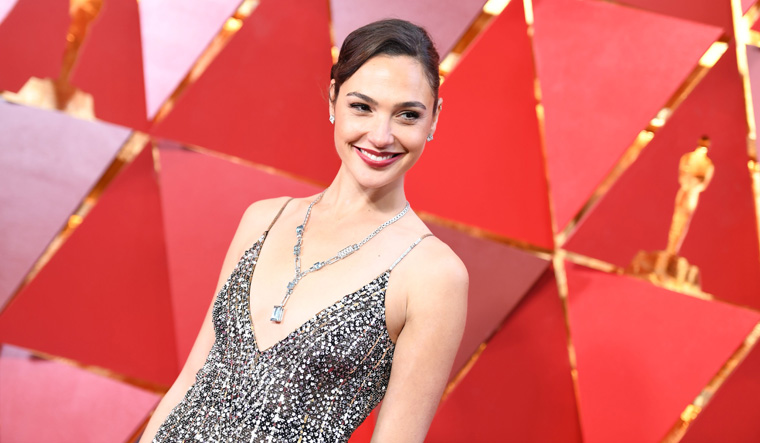 The stupendous set was made to look larger than life with projections on a giant screen. At hand to help with the digital elements, was young Indian-American screen producer, Raj Kapoor (no, he's not related to his namesake, the greatest showman of Indian cinema).
The organisers got what they wanted. Well, almost. They had wanted the Oscars to focus on films, not movements like #MeToo (which supports survivors of sexual violence) and TimesUp (which highlights sexual harassment, especially at the workplace) born from the worldwide wave of people who came forward to accuse famous men of sexual abuse, following the numerous allegations of sexual harassment against powerful film producer Harvey Weinstein.
From the beginning of this year, the focus at award shows has been about activism. At the Golden Globes, everyone wore black in support of the TimesUp movement. At the Screen Actors Guild Awards, there were female-only presenters, putting the spotlight on gender equality. At the Grammy Awards, artists wore white roses as a symbol of solidarity with victims of sexual harassment, and, in an emotionally charged performance, singer Kesha sang Praying, a song inspired by the sexual abuse she has suffered. At the British Academy Film Awards, domestic violence protestors invaded the red carpet.
In this era of charged up activism, the Academy Awards organisers expressed their desire to keep the focus on films: "We want to make it as entertaining as possible, reverential and respectful, but also fun and emotional," said Jennifer Todd, a lead producer of the Academy Awards. "It should also be a giant commercial for the movie business, which we all need to keep going."
Channing Dungey, president of entertainment at ABC, said: "We certainly want to honour and respect TimesUp and allow that message to be heard, but we're trying to make it more planned than spur of the moment; it has its moment and then doesn't feel like it overshadows the artists and films being honoured."
There is a very valid, and monetary, reason for keeping the focus on where it is meant to be. There is an inverse relationship between increasing activism and viewership of award shows. Clearly, there is decreasing public interest in shows that are increasingly becoming a platform for various causes. At the Grammy Awards—which, besides focusing on the #Metoo and TimesUp movements, had a long skit mocking US President Donald Trump—there was a 24 per cent decline in viewership from the previous year.
So, by the time the Oscars arrived, there was much chatter that audiences were tiring of activism taking centre stage at award shows, and the industry would do well to focus on the movies, the actors, and audiences instead.
In these emotionally and politically charged times, however, that was not entirely going to happen. In his opening address, host Jimmy Kimmel spoke about the #MeToo and TimesUp movements, as well as #NeverAgain, the name given to the gun control movement started by students and survivors of the recent mass shooting at Majory Stoneman Douglas High School in Parkland, Florida.
While Kimmel said that he hoped audiences would listen to many of the brave and outspoken survivors of these movements, he also said: "Things are changing for the better." That is exactly what the Oscars seemed to reflect this year. There are causes that need a voice, but they are now being heard, and changes are taking place. There is hope, so let's celebrate that.
Weinstein accusers, actors Salma Hayek, Ashley Judd and Annabella Sciora, spoke on the TimeUp movement. They acknowledged that while the journey ahead was long, a new path had emerged. Said Judd: "We work together to make sure that the next 90 years empower these limitless possibilities of equality, diversity, inclusion, intersectionality. That's what this year has promised us."
In a visible change, perhaps as a result of the 2015 #OscarsSoWhite movement, where there were hardly any black nominees, this year, there was a plethora of black faces: presenters, singers, nominees and a couple of winners. This time, the focus was not so much on black rights as on an acknowledgment of black inclusion. To begin with, on the red carpet, the cast of the latest blockbuster Black Panther, with its almost all-black cast, had fans in a frenzy.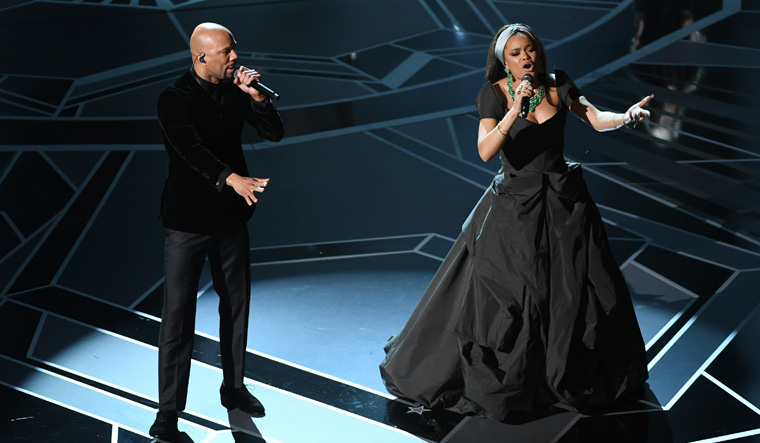 During the show, rapper Common and singer Andra Day performed Stand Up for Something—nominated for best original song—from the movie Marshall, a film about the first US black supreme court justice, Thurgood Marshall. Common said: "On Oscar night, this is the dream we tell. A land where dreamers live and freedom dwells. Immigrants get the benefits, we put up monuments for the feminists." He referenced the current political debate on the Deferred Action for Childhood Arrivals programme, whose recipients are also called Dreamers, urging people to stand up for immigrants. It was telling, that the performance was by black American artists, fighting for a cause that was not their own, showing, in some way, that their cause had been heard, and it was time for someone else's to be in the spotlight.
The most powerful performance of the evening was by singer and actor Keala Settle, who moved audiences with her mind-blowing rendition of This is Me—also nominated for best original song—from the movie The Greatest Showman. Her performance was high-octane, emotional, and full of positive energy. It celebrated diversity. As she sang, she was joined on stage by a diverse group of people that included a boy with pink hair, a Muslim woman in a hijab, many curvy women, an Indian man, and many black Americans.
Songwriter Kristen Anderson-Lopez, who, along with her husband Robert Lopez, won the Oscar for best original song, acknowledged how diverse their fellow nominees were, representing many cultures and having an almost 50-50 gender representation.
At this year's Oscars, there was less anger, and more hope. There was positivity, inclusion and celebration. One of the best moments came towards the very end, when Oscar winner for best actress Frances McDormand set her statue on the floor of the stage and urged fellow female nominees, in all categories, to stand up. They were all winners. They needed to celebrate.
And, on a more poignant note, Indians watching across the globe had a melancholy moment when actors Sridevi and Shashi Kapoor were fittingly remembered in a moving tribute.