The Union cabinet on Wednesday approved the new telecom policy, the National Digital Communications Policy, 2018, drafted to provide 'broadband to all'. The new policy, formulated to replace the National Telecom Policy, 2012, aims to offer 50Mbps connectivity, attract investments worth $100 billion into the telecom industry and create four million jobs by 2022. The policy was approved by the Telecom Commission in July this year after the government came out with a draft in May.
Union Communications Minister Manoj Sinha, at the cabinet briefing, said that given the evolution in telecom sector, especially in areas like 5G, Internet of Things (IoT) and Machine-to-Machine communication, the government felt the need to come up with a consumer centric and application driven policy.
Why a new policy?
India's telecom sector has come a long way since the inception of the last telecom policy six years ago. At present, the country is home to the world's highest mobile data consumers and second largest internet subscribers. Owing to the technological progress, India needed to revise its policy so as to ease the transition to being a digital economy and to improve telecom services for its citizens.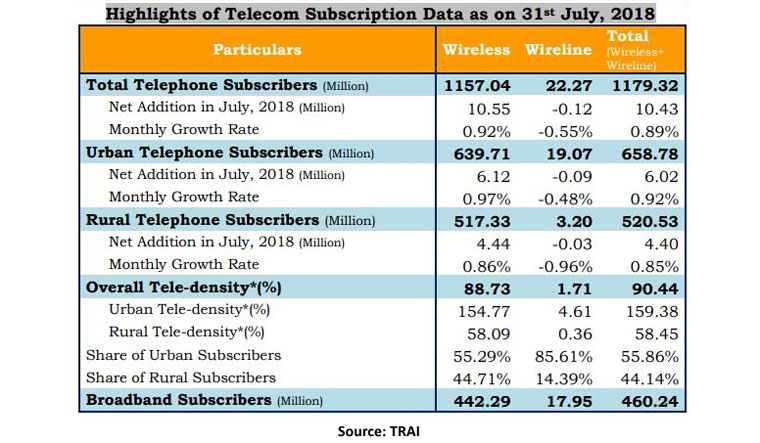 What has changed?
The National Telecom Policy 2012 was aimed at increasing the minimum download speed from 256Kbps to 512Kbps and to 2Mbps by 2015. The target set was to achieve 100 per cent rural connectivity by 2020. Another goal of NTP 2012 was to lay optical fibre in all 2.5 lakh gram panchayats. One of the objectives of NTP 2012 was to deliver high quality seamless voice data, since frequent call drops was a major concern for consumers and TRAI.
The new telecom policy lists six goals with a deadline of 2022, which include 50Mbps broadband connectivity to every citizen, 1Gbps connectivity to all gram panchayats by 2020 and 10Gbps by 2022 and a fixed line broadband access to 50 per cent of households.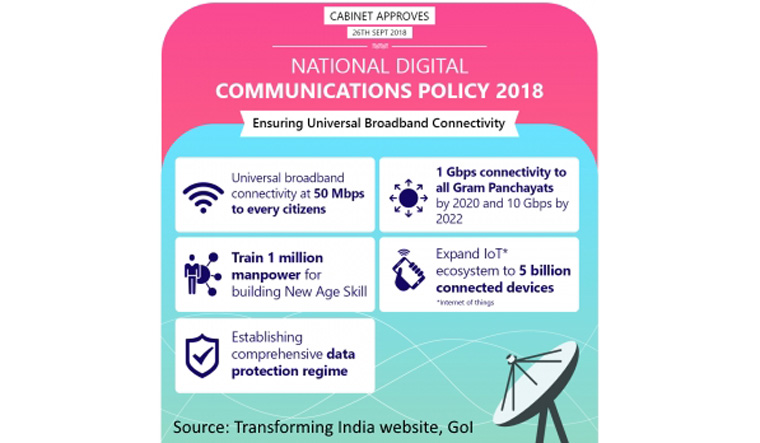 The key features of the policy are:
Provide universal broadband connectivity at 50Mbps to every citizen

Provide 1Gbps connectivity to all gram panchayats by 2020 and 10Gbps by 2022

Ensure connectivity to all uncovered areas

Attract investments of USD 100 billion in the Digital Communications Sector

Train one million manpower for building new age skills

Expand IoT ecosystem to five billion connected devices

Establish a comprehensive data protection regime for digital communications that safeguards the privacy, autonomy and choice of individuals

Facilitate India's effective participation in the global digital economy

Enforce accountability through appropriate institutional mechanisms to assure citizens of safe and secure digital communications infrastructure and services
One of the objectives of NDCP 2018 is to expand the IoT ecosystem. The IoT is a network of physical devices, vehicles, home appliances, and other items embedded with electronics, software, sensors, actuators, and connectivity which enables them to connect, collect and exchange data, creating opportunities for more direct integration of the physical world into computer-based systems.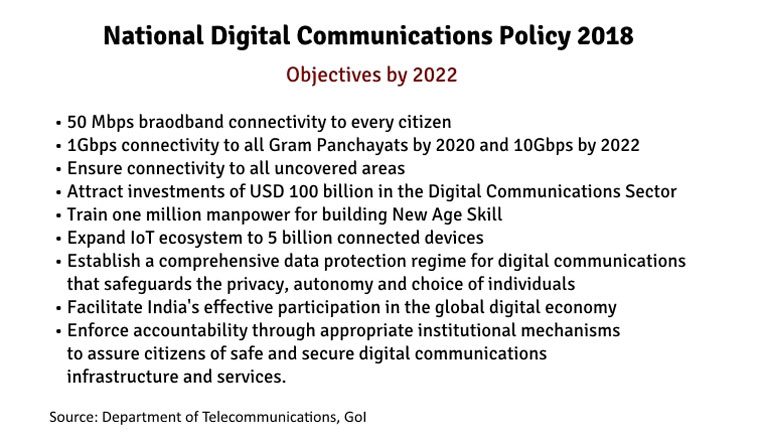 The roadmap
To achieve its objectives, the government aims to establish a National Digital Grid by creating a National Fibre Authority, common service ducts and utility corridors. The government also aims to create a collaborative institutional mechanism between the Centre, states and local bodies, so as to remove barriers and facilitate development of open access next-generation networks.
However, the policy document fails to give focus on consumer services. Issues faced by consumers like dropping signals, spotty internet connections and poor implementation of government policies, failed to make it to the government's policy document.