The picturesque Cantons de L'Est or the eastern townships in Canada's Quebec province were an open air theatre for us, offering autumn thrills of another kind. The region packs in old-world charm thanks to architecture influenced by American, Loyalist, Scottish, and Irish founders of yore. A petite region famed for gourmet cuisine, culture, and the stunning outdoors characterise this salubrious corner of Quebec bordering New England in the US.
Little fairytale villages dot the countryside with their own idyllic and quaint appeal, drawing nature lovers around the year. Outdoor adventure and thrilling activities beckon visitors to stunning locales like Mississquoi and Brome with walking, trekking and cycling trails, chocolate tastings, glorious vineyards and where Alpaca roam in abandon.
Memphremagog is surrounded by misty blue mountains a fabulous mirrored lake and the quaint Abbey which lend colonial charm to the region—it's a favorite spot for vacationers. The scenic Coaticook River valley region enscons the historic Pioneer Trail and sprawling farmlands.
We cruised through the Valley of Saint Francois with its interesting woolen mill at Ulverton. But the icing on the cake was the Megantic region that has the unique International Dark Sky Reserve and its astronomy gallery offering fascinating insights into the heavens beyond.
Strolling through tiny and tree-lined Sutton village with its quaint local boutiques, knick knack outlets, chatty cafes with beer and wine quaffing revelers, we made our way into the cheery local patisserie-boulangerie-charcuterie-fromagerie where the magnetic aromas of fresh bakes, cakes and choicest country cheese stopped us relishing one fermented nugget after another. Our weakness for local cheese prompted us into an extended cheese tasting thrill as we relished Alfred Le Fermier, Benedictus, Brise de Vigneron, Cheddar Tigouidu, Frechette, Frere Jacques and Mont Saint Benoit. Espresso and croissants finished our lazy afternoon sojourn as we stepped out, welcomed by some spirited street side music.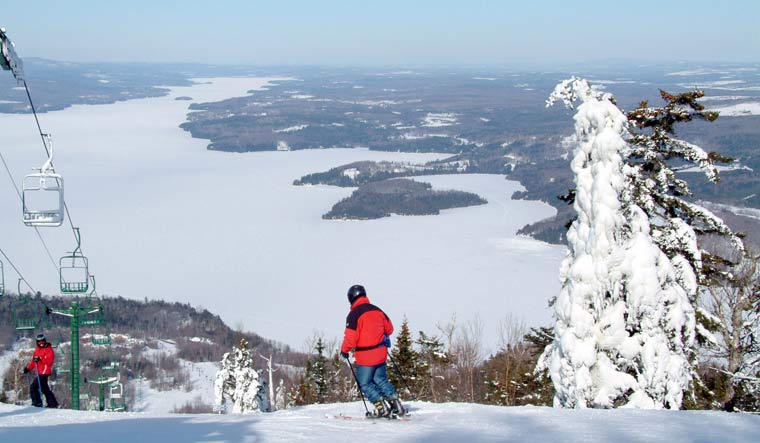 Little Sutton is neat and colourful, open and easy. It is packed with so many little thrills you will discover at every nook and bend. Like the many little towns and villages in this salubrious region this village attracts backpackers, ski enthusiasts, gourmands and cross country freaks like bees to a hive. We checked out what this was all about. It has a Jazz festival, several music events on its streets, open art and culture exhibitions, wine events and weekend markets. The cheese shop and Boulangerie cooks up delectable numbers, the restaurants have their own French-Quebecois delights.
Exhilarating altitudes
Bracing and enchanting. Two words rolled out in a whisper as we climbed into the gondola (sky lift) to Mount Sutton high up on the hills. From atop the vantage point we scanned the magnificence of lakes, lush pine forests, ski runs and winter thrills, tiny hamlets and endless expanse of virgin woodlands that make this the 'piece de resistance' of the Cantons de L"Est in the French speaking Quebec Province.
Autumn and winter are special times for this environmental paradise. Scores of adventurer seekers line up the village streets driving into boutique and B&B accommodation for a fortnight's power and snow-packed time over the ski slopes and snow-blanketed valleys.
It's also fine gourmet time here as local chefs stir up amazing signature dishes at quaint fine wining and dining landmarks paired with excellent local wines, -capped up with the leit motif Ice Wine. By summer the scenario welcomes open skies, bikers, trekkers, strollers, mountain climbers, kayakers, canoeists, naturalists and bird lovers by the dozens.
Several villages in the eastern townships, some lodged in a green valley or located on rolling green hills attract the outdoor freak like no place on earth. Five panoramic little villages score over the region's many such settlements for their unique USPs. Dudswell at the foot of Appalachians and nestled around a beautiful lake in a green, lush valley has two delightful hamlets of Bishopton and Marbleton, and offers a myriad of activities and attractions. Picturesque Frelighsburg on the the Brochets River is home to the world's finest, award winning apple wines cidery –Domaine Pinnacle .
In quiet little Hunter Mills we discovered Victorian-styled homes with gable walls and endearing comfort. We drove over to Knowlton on Brome Lake. This little leafy village is cushioned into the beauty of its landscapes and the quaint streets lined with small shops, antique boutiques and lively cafes. Nestled in the bed of Lake Massawippi Valley, North Hatley is heavenly tranquil, a hotspot for gastronomy and the local arts scene where French and English charms blend with amazement.
One more little village crossed our colorful route—Stanbridge East—where strollers take in truly breathtaking views crisscrossed with old English American-styled 19th century ancestral homes.
And not far are the luscious vineyards of Domain de Cote D'Ardoise and Vignoble D"Orpailleur at Dunham. Boutique wineries in this small region have made a significant mark with their indigenous grape varietals, especially Canada's pride—the ice wine—a hugely successful export to international shores.
The winery excitement continued further into the sprawling 'Vignoble D'Orpailleur', a prominent name in select wines at Dunham overlooking rolling meadows and gentle hills. That evening we ingested fine dining country specialties like 'Pork Tenderloin with apple sauce and white wine' and 'Leg of Duck, cranberry and red wine' with exceptional wine varietals at the 'Restaurant Le Tire Bouchon D'Orpailleur'.
As we watched a lingering sunset sweeping the vast horizon with swathes of deep ultramarine inked with intense mauve and blazing crimson, we smiled. Taking the day with it, the sunshine would return the next day to colour and bathe the Cantons de L'Est with newer, more fascinating tones of originality, blessing the well nurtured and passionately tended landscapes and highlands of plenty. Sante, we exclaimed.