We stand around a small street cart, grabbing spoonfuls of a wine-coloured dessert made of purple corn and fruit and thickened with sweet potato flour, spiced with cinnamon and cloves and served with rice pudding. With every spoonful of this thick jelly, I am lost in thoughts of Spanish conquistadors, Incan warriors and terraced fields of corn—I am in Lima, the oldest city of the Americas.. The multi-cultural, frenetic capital city of Peru, situated on the arid Pacific Ocean coast, was the royal capital of the Spanish in the past. Founded in 1535 by the Spanish conquistador Francisco Pizarro, today, Lima's colonial buildings with carved wooden balconies and Spanish Baroque architecture are juxtaposed against Pre-Columbian sites and modern high rise buildings. Lima is a city of contrasts—from golf courses to swish seaside neighbourhoods, to gritty shanty towns on hill sides.
As we start exploring the city on our first day, we notice that the sky looks feather grey, shrouded in mist, what the locals call the 'colour of the donkey's belly'. "In the 70s and until the 90s, Lima suffered a bad rap due to terrorism, crime and the city centre used to be notoriously crime ridden. But today Lima is riding a wave , with tourists from all over the world, and several Mayors have been successful in cleaning up the city and sprucing it up," explains Magali Chariarse (Maggie for short), my effervescent guide. The city, laid out in grids with green plazas, statues and fountains has come out of its turbulent history and has emerged as a gastronomic capital of South America with many world renowned chefs and restaurants on the list of 50 best restaurants of the world, besides a food festival called Mistura.
I am in the historical centre of the city which is a UNESCO World Heritage site with banana yellow-coloured colonial buildings, Catholic churches and plazas with statues, palm trees and manicured gardens. Locals sit on benches, as Quechua women in colourful skirts sell coca leaves and jewellery. Plaza Mayor is surrounded by a host of stunning buildings- the Lima Cathedral, Archbishops' palace and the Government Palace which is the official office of Peru's president with the ceremonial changing of the guard around noon every day. I love the Peruvian House of Literature — this was Lima's old train station with a stained glass ceiling, which was restored in 2009 and turned into a library. The ticket houses, the polished Nicaraguan wood, and the wrought iron staircases.
All around the square are colonial houses with intricately carved wooden balconies. These box-like balconies provided shade and fresh air, and also allowed Lima's high society ladies to observe the street life without going outdoors, much like Indian Jharokas.
A short stroll away is the bright yellow Church and Convent of San Francisco. I am awed by its interiors—a library with ancient tomes, Seville tiles and frescoes adorn the walls; but the piece de resistance are the catacombs which are macabrely fascinating, with thousands of neatly stacked bones and skulls in different patterns. To take a respite from this scene we stand in a queue outside for some delicious churros made in assembly line fashion.
My hotel, the luxurious Country Club Lima, is in the upmarket district of San Isidro with even a golf course. I visit the nearby Bosque El Olivar, an olive grove first planted in 1560 from olive trees brought from Seville, Spain. Today there are more than 1,600 olive trees in this little oasis where people walk their dogs and newly married couples come to be photographed. It has developed its own ecosystem and is home to over 30 different species of birds including flycatchers and hummingbirds.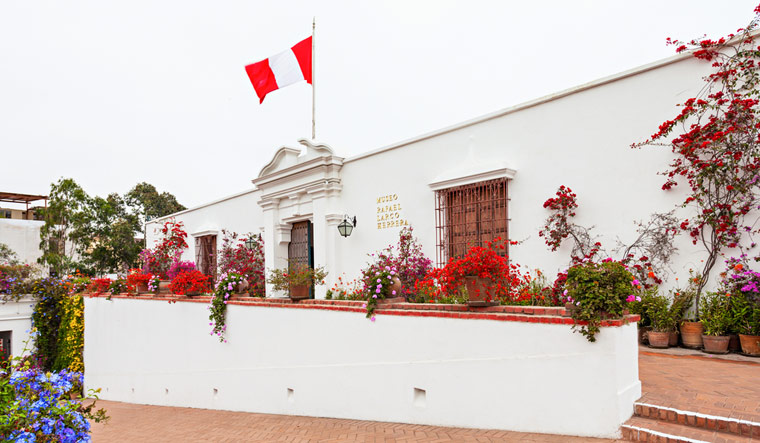 Maggie introduces us to some of Lima's districts, each with its own character. Grassy parks and a bike path separate a coastal bluff from the "Malecon" stretch in San Isidro and Miraflores, the wealthiest districts. We watch the paragliders soar above the cliffs and gaze at the statue of lovers at "Parque Del Amor." What I enjoy is the history peppered around the city—Maggie takes us to the Huaca Pucllana, in the city's upscale Miraflores district—a adobe pyramid of bricks where many ancient artefacts and even a mummy was excavated. "When we were young, these were just dump yards and children used to cycle and climb these hills. Much later it was discovered and restored. At night it is lit up and even has an onsite restaurant where you can dine, looking at the ruins!" she explains.
In a city of many museums I definitely make the right choice: the Larco Museum is an archaeological museum housed in a beautiful 18th-century mansion, surrounded by a garden overflowing with cacti and bougainvillea. The museum has more than 45,000 archaeological objects and Pre Columbian art from gold and silver jewellery, pottery, exquisite Moche vessels to even erotic sculptures! Most of all I love the storehouse of the museum with endless rows of archaeological artifacts lined up in shelves till the ceiling.
My favourite Lima neighbourhood is the bohemian Barranco district, studded with cafes, bars and art galleries, has more modest parks on its bluff. Its cobbled walk down to the beach from the "Puente de Suspiros," or bridge of sighs, is a nice stroll. I spend a day at the boutique hotel B owned by Relais and Chateaux , to soak in the charms of this district. I walk along the Pacific, visit craft stores and speciality coffee
On my last day in the city I take a tour with a guide from Haku Tours to the seaside area of Chorillos to get a different perspective of Lima. My guide, a young architect, talks about life in the shanty towns in the distance perched on sand dunes of the city where people live cooped up facing poverty, drug abuse. I visit the port, where bright coloured boats bring in the catch, pelicans and cormorants wheel at hand to grab a fish or two and fishermen sit on the sands mending their nets. Nathaly tells me about the sea lions on the nearby islands that ruin the fishing nets. We end the afternoon at a small fruit stall, feasting on indigenous fruits like lucuma, camu camu (a berry,) chirimoya (custard apple) and small, sweet pepinos— a cross between cucumbers and melons. It's a fitting end to my Peruvian sojourn- many flavours in one city.