At 10 in the morning you'd expect any tourist place to have people around. You would also expect to get basic nourishment, and directions to the touristy 'spots' the town is famous for. But then Bishnupur is hardly a tourist place. A tiny town that appears to be more of a hamlet, Bishnupur sits right in the centre of rural Bengal. Surrounded by thick paddy fields and tiny settlements, devoid of any trappings of a modern town and showing no signs of being an important place of the historical and cultural map of Bengal.
We arrived in Bishnupur after a scenic three-hour drive and drove around in circles for almost 30 minutes, trying to locate the terracotta temples the town is famous for. We were directed and redirected in the same lanes by the same people but weren't able to locate anything. Until a man took matters into his hands and led us to the first 'spot'.
Rasmancha stands tall and proud right in the middle of the town, encircled by old houses, an empty park, and some autos. There are people, too, all locals going about their work, paying no heed to the temple. "These temples are a part of our lives, they are not special for us. Yes, we are proud of them but that's all." We managed to find a guide—perhaps the only one at the temple—and he shows us around the temple.
To call rasmancha a temple may not be completely correct through. It is more of a stage, with a deep sanctum and long arched corridors. While the sanctum did have idols of Radha and Krishna, the galleries were used only during the famous 'ras' festiva to display idols from all other temples. The subjects would assemble where the lawns are, and the king had a special place to sit. The main sanctum has a pyramidal roof, the corridors seem to be inspired by the Mughal architecture with arches and domes, and reminds one of the galleries of the Bhul Bhulaiyya in Lucknow. The pillars that hold these together are shaped like a lotus and are lightly decorated. All in all, it cuts an impressive figure even though the trademark Bishnupur terracotta is missing here.
Most temples in Bishnupur were constructed between the 17th and 18th century by the wealthy kings of the Malla dynasty. They patronised art, craft, music and textile. Under them, Bishnupur became a shining metropolis. Something that is hard to see in today's small town with dilapidated buildings, crumbling facades, broken roads, and cattle infested streets. But dig a little deeper and you will find the gems hidden under the thick layer of red earth.
The example of this is the central and southern group of temples. Located a little off the main town, they stand testimony to the glory of Bishnupur under the Malla dynasty. Constructed in various styles—Oriya, Mughal, Islamic and Hindu—the temples reflect various contemporary influences. Some have octagonal spires, some have multiple towers, some are dome-shaped, some look like multiple Hindu temple towers have been fused together, while some don't look like temples at all. They are different in colour, shapes, and sizes too. The more recent ones are painted in white with multicoloured floral patterns, the older ones are bare bricked, covered in moss and broken in parts.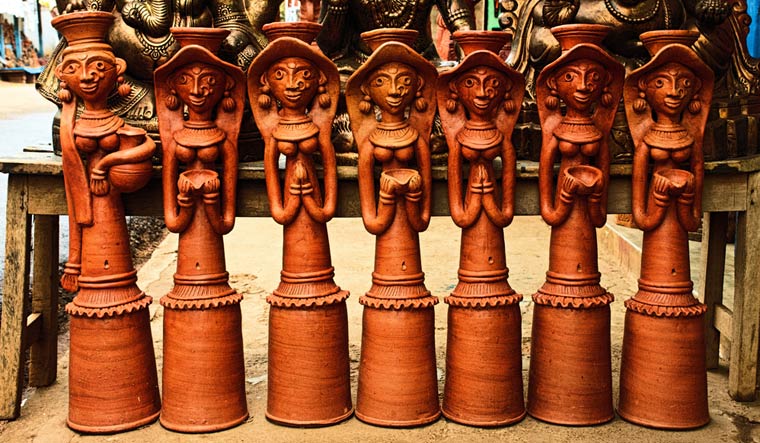 My favourite is the Shyam Rai temple, adorned with terracotta tiles featuring stories from the Ramayana, Mahabharata, Krishna Leela, and scenes from everyday life.
The temple is surrounded by jasmine tress and lush lawns. A blue Archaeological Survey of India board marks its entrance; a uniformed man sits guard. The tiles on the temple have many stories to tell. Like that of Dasaratha killing Shravan Kumar's parents, and being cursed by him, or that of Krishna's battle with the demons sent by Kansa. There is Mahabharata too, and Rasleela; then there are local influences of flora and fauna, birds and animals, traders and invaders. In just a few panels, you can learn both history and geography of the town.
There are hardly any people though: a Bengali family, with elderly parents and a not so young daughter, a group of four adults from some nearby village and the guard. It is strange to see no takers for such beauty.
"People come here, but only in winter. Also most tourists are Bengalis only, outsiders like you hardly come to Bishnupur. Maybe if you tell your friends they will come to see our town," Madhusudan Mukherjee, our guide who is taking us around the town, says wistfully.
The crowd that you'd expect around the terracotta temples is concentrated in one narrow lane in the heart of the town. Typical terracotta horses of all sizes line the street. Some have detachable parts, which make them easy to transport, some are one-piece. The tallest one is as high as me, the smallest one fits in my fist. There are other artifacts too—faces of Durga, idols of Ganesha, Nataraja, tribal women with babies, Santhal men with sickle, wind chimes, tea cups, jewellery and what not. True to its roots, Bishnupur is still a town of craftsmen— men and women who uphold the tradition of their ancestors' brilliance.
Unlike most tourist places, the shopkeepers do not pester you here. They don't mind if you pick, look, ask the price and move on. Sometimes though they gently insist that you buy something. "Didi ekta kare nin na, eta nishcita apani bishnupr ke smarana karabe!" A young man in one of the shops urges me to pick a pair of horses in Bengali. It will help me remember my trip to Bishnupur forever, he says. Even though I had not planned on buying anything, I agree. Not because I will ever forget Bishnupur, but because I want to remember these simple people forever.