A short walk from the Pathadipalam metro station in Kochi leads you to a rather quiet place, the blossoming artist that lies inside though is not as inconspicuous. The Museum of Kerala History is hosting Deepa Madan, an English literature professor, a homemaker, and a brilliant self-taught artist. It is the maiden solo exhibit of the Kerala-born Singapore-based professor cum artist who has won quite a few hearts with her acrylic on canvas exhibits in the lion city.
The exhibition titled (un)focused: Then Now Beyond is a collection of Madan's works ranging from nature stills – in her signature impressionistic style, and cultural paintings – a result of her very intimate travel experiences and childhood to abstract artworks that play with the concept of malleable emotions. Each section of the surrounding walls is segmented to classify the artworks in the aforementioned categories. The experience a space is able to compose lies very much in the way it is curated and Madan's exhibition surely does a great job at that.
As soon as one enters the room one is given a green card to a feast of colours. Every painting either plays with the binary, has an overarching shade, or is an alluring but complex mix of everything. When asked about it Madan had a very simple answer. She talked about how sometimes after a long exhausting day at work she would be brimming with a restless energy of sorts. She might have seen a colour that got suck in her head the whole day or a rather interesting shade or object. Till the creative juices are let free she would have no peace of mind. Hence, most feelings of hers get translated into tangible scapes as colours on canvas.
Madan is also known for making 'happy' paintings. In a press meeting on Thursday, the artist talked about how no matter what unpleasant mood she was in before painting, the end result would be positive. The process of dipping her fingers (or on the rare occasion, a brush) in paint and communicating with the canvas is 'cathartic' and 'therapeutic', she said.
Madan's stylistic approach is rather interesting. Her fingers to her are her guide, just as a tether is to a kite. She prefers dipping her fingers in paint and letting them do the talking for her. She has not completely forsaken the brush of course but she finds the freedom that the brush gives her is nothing compared to what her five fingers give.
There is something absolutely enthralling about a piece of work that bleeds. It is not simply the morbid obsession with the blood but the idea that something as irreplaceably replaceable as that is capable of being proof of life. Two paintings namely 'Transience', an acrylic on canvas artwork depicting the beautiful sakura flowers, and 'Pop into Town', an acrylic on canvas painting with a monochrome background save for a bright red double-decker bus, are intriguing. There is something unique that the colour red is capable of triggering; it is the automatic response to stare and to watch. As the blossoms of the sakura tree progressively grow darker and darker towards the bottom of the rectangular vertical canvas and the scarlet bus breathes life into that painting, it becomes a testament to the vermilion's brilliance.
Just like that, every painting of hers seems interwoven with the next. Madan says she finds it impossible to pick a favourite of all her works as they are all equally painstakingly crafted brainchildren of hers. But out of all of Madan's work there is one that has been a crowd favourite which the artist herself has acknowledged. It is a green and red painted face that displays half of a Kathakali performer's face and a Beijing opera performer. While the Kathakali player's section was dominated by the colour green, the opera performer was drenched in red. Green in Kerala signifies good while red was used for positive characters as it signifies courage and loyalty in China. The contrasting colours from two cultures that had so much in common was used by Madan as a device to comment on the language of colours, as it was reflected by the cultures that use them.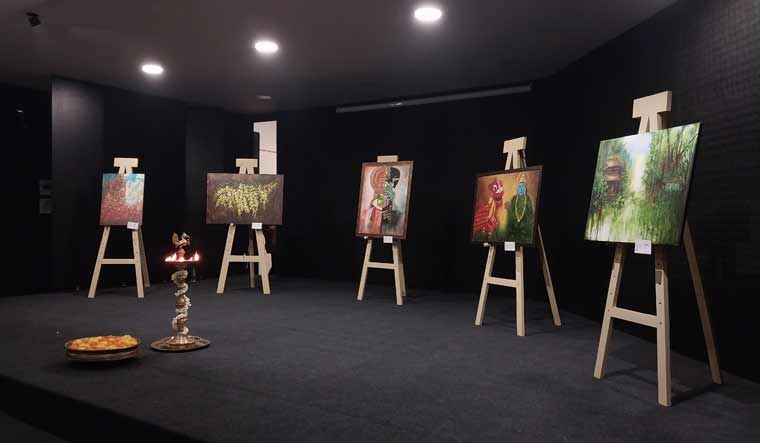 Madan is known to experiment with mediums too. The door to the gallery even features a tiny canvas art made with textured fabric. Taking centre stage in one of the walls is a mixed media artwork titled 'Motif Mystery'—it highlights a varied array of textiles cut out to form the body of Lord Ganesh. The green acrylic backdrop is majestic; it seems like a field or a land sectioned to act like a functional town. After all, it is the huge room of interpretation that art offers which makes it more appealing. And Madan's artworks surely encourage room for thought.
The cheerful artist, when asked about what her future plans were, slowly and steadily explained how she wanted to explore the areas of Art Therapy. She recalled an incident back in her school where an artist was invited to lead a class and help the teachers break free by assisting them in challenging the limits of the canvas. That particular event had left quite an impression that she wishes to recreate the same but with a more purpose-oriented approach by treating art as a form of therapy. She wants children to get into this as well as their parents. But for now Madan is satisfied with the pace she has built for herself. With steady improvements and learning curves it seems like the sky is the limit to Madan's untapped potential.