A 10-year-old girl dished out 30 plus scrumptious food items including corn fritters, 'uttapam,' fried rice and chicken roast in less than one hour, earning her a place in record books.
The amazing feat by Saanvi M. Prajith, daughter of Wing Commander of Indian Air Force Prajith Babu and Manjma hailing from Ernakulam, has been recognised by the Asia Book of Records and the India Book of Records, her family said here.
The Asia Book of Records authorities watched online the cookery event organised at her Visakhapatnam residence.
Saanvi M. Prajith, daughter of Wing Commander of Indian Air Force Prajit Babu and Manjma hailing from Ernakulam, who has been recognised by the Asia Book of Records and the India Book of Records.
The girl said she was inspired by her mother, a star chef and a Reality cookery show finalist.
Manjma said as a child, Saanvi has always been fascinated by the kitchen and took to cooking at a very early age alongside her mother and grandparents.
"Even when I was little I would observe how my mom and grandma cooked in the kitchen and try to copy them with vessels placed on the living room carpet," Saanvi told THE WEEK. The 10-year-old who is also trained in Bharatanatyam and horse riding wants to be a fighter pilot like her father when she grows up. The first dish she made was paal ada payasam (a sweet made from milk), at a cooking competition at Forum Mall in Bengaluru. The 10-year old, whose favourite subjects in school are English, mathematics and science, has also taken part in a cooking competition at the Navy Children School, Vishakhapatnam.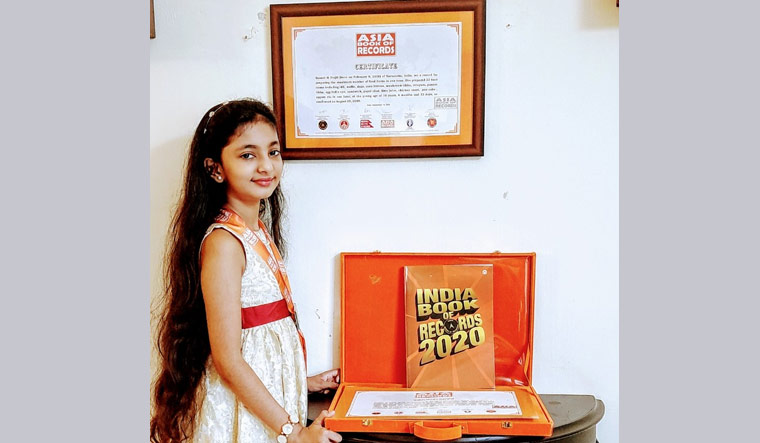 Saanvi's mother Manjma told THE WEEK, "I think it is a mix of both— love for cooking and kaipunyam (innate talent or gift in cooking flavoursome food). I am from Kannur, where hospitality is part of the culture— the kitchen table will always be laden with food— especially non-vegetarian food. I was raised in a place where food is savoured and when I got married to someone from the Armed forces, it became part of our lifestyle, as we would host or go to parties— sometimes, people would turn up unannounced— so having food ready to be served to any guest became a norm in our house. I think my daughter observed that and it added to her interest in cooking." 
Saanvi who likes cooking pancakes, waffles and puttu, loves the chicken curry and appam her mother makes. "It all started during the lockdown," says Manjma. "Kids couldn't step out and she wanted to try something— I want to make Youtube videos, Saanvi said. So we decided to start putting up videos of her with easy-to-make recipes. Slowly her interest piqued and we moved from simpler dishes like cheesecake to chicken roast." Saanvi's Youtube channel is called Saawan Saanvi
When the parents approached the Asian Book of Records, they were told that for a minor, making more than 18 dishes would be a record where 10 dishes would be non-fire preparations and eight would be prepared on a fire stove. "We were a little apprehensive—especially my mom-in-law because Saanvi hadn't cooked on a fire stove yet. But with time and practice, she became adept in using a four-burner stove-top. Every day after her online classes ended at 1 pm, we would practice cooking. We tried different combinations of dishes that could be made within an hour. Over a period of time, we could zero-in the dishes she would prepare on August 29." 
Manjma says that she would not really like her daughter to enter reality television as it will be very taxing, but hopefully enter the Guinness Book of Records. 
With PTI inputs