It seems that we have come to a full circle - from cave paintings in prehistoric times to peach emojis in 2019. Emojis have become a massive cultural phenomenon over the past decade, so much so that they even made a movie about it. Emojis are ubiquitous. They appear everywhere, in conversations, court documents and even the Oxford dictionary, quite literally blending into our lexicon.
In the wake of World Emoji Day yesterday, the internet teemed with the all-too-familiar pictographs. 'Smiling face with hearts' was the most popular new emoji of 2019 according to the World Emoji Awards. Adobe released their study of emoji trends, which rated the laughing with tears emoji and the kissing face emoji as the most used emojis this year. A study done by Bobble AI concurs with these findings among Indian smartphone users, as well.
Emojis are immensely popular in current digital culture. They have morphed across cultures and platforms. For example, the emoji which originally indicated 'thank you' gesture in Japan has become 'namaste' in India and 'high-five' in the US. Whatever the case may be, it is indisputable that the thumbs-up emoji and the all-too-relatable facepalm emoji have wormed their way into our digital lives.
Here are some of the major emojis that will release in 2019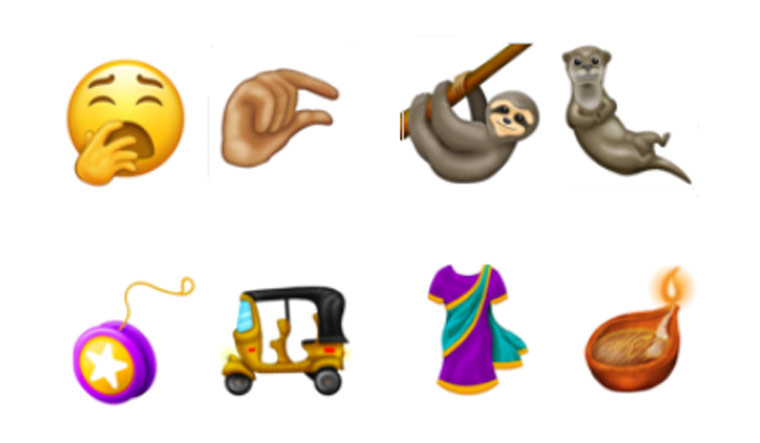 The yawning emoji
This is for all those who revel in sarcasm. Do not be miffed if Twitterati, bored by almost everything on the planet, drop this emoji at the end of every sentence from now on.
Pinching Emoji
We are not entirely sure about the relevance of this emoji. However, jokes have already spread about what it could possibly mean and most of them revolve around measurements.
Sloth emoji

After the face-palm emoji, here is the most relatable emoji in history.
Otter emoji
Nothing is cuter than pictures of these mammals sleeping while holding hands. We are otterly glad that our keyboard will have that this cute lil' addition this year.
Yo-yo emoji

This emoji will bring back a wave of nostalgia among all the 90s kids out there. Or it can indicate players who toy with people's emotions. Whichever suits you.
Auto-rickshaw emoji

There is finally an emoji that appeals to all Indians on the internet.
Sari emoji

Unicode is stepping up the game with more diversity, representing more cultures around the globe. This one will definitely appease the Indian sanskaar.
Diya lamp

Here's an emoji that will fill your WhatsApp family chat this Diwali season.
In addition, it was revealed that Emoji 13.0, which will release in 2020, is expected to include mammoth, dodo, military helmet and the screwdriver tool.

Emoji 12.0 will be more inclusive
One in seven people around the world has some kind of disability, ranging from physical disabilities to hidden disabilities. The Unicode Consortium has approved a batch of emojis for 2019 to encourage more inclusion and diversity in user experience. Unicode approved the latest batch of emojis, coined Emoji 12.0 earlier this year. The Consortium has codified 65 new emojis, along with with gender and colour variations in Unicode 12.0 list. Apple and Google previewed final drafts of the emoji to the public, in honour of World Emoji Day.
From this fall, users will have the option to use emojis such as prosthetic leg, a person with a white cane, a person in a mechanical or manual wheelchair, hearing aid and guide dog. Since emojis have become a universal form of communication, the addition is expected to encourage people with disabilities better express themselves and make digital culture more disability-inclusive. There are also reportedly more than 75 permutations of customisations available for hand-holding couple emoji, taking into account various races and genders. Further, with Android Q, non-binary gender emojis will also be available later this year.
Some of the disability-related emojis include guidance dog emoji, person with probing cane, person on wheelchair, ear with hearing-aid.