Tucked behind a mountain, a majestic gompa looks down at a grey, green and blue Indus flowing into the sunset, framed against the barren grandeur of the Himalayas swathed in shades of brown. Even with a sky of the clearest possible blue streaked with columns of palaces hanging off steep cliffs, life in Hemis village 40km southeast of Leh town in Ladakh can be pitilessly difficult for an outsider. 
At an elevation of over 3,500m, there is altitude sickness to start with. It will probably be snowed out at least five months of the year. Distances are huge and travel is expensive. There are limited telephone operators. High up in Hemis monastery, internet connectivity is patchy. And water supply, heavily reliant on meltwater or springs, is erratic in this cold, arid desert. Nevertheless, classes are in full swing at the monastery for Naropa Fellowship, a one-year residential programme at Hemis for post-graduate candidates who will train to become leaders and entrepreneurs for the development of Himalayas. 
The inaugural class of 50 fellows—drawn from around the country across age categories—started the academic year on September 1. "With one year of teaching, knowledge and experience about love, compassion, peace and also living in a place like Ladakh, I am sure people will learn to survive mentally and physically amidst challenges, like no internet or shower. It will make them more aware of the region's specific difficulties," said Drukpa Thuksey Rinpoche, the chief spokesperson for the 12th Gyalwang Drukpa, Jigme Pema Wangchen who is the current head of the Drukpa lineage in Tibetan Buddhism. Thuksey Rinpoche was speaking on the sidelines of the Naropa festival, known as the 'Kumbh Mela of the Himalayas' that concluded on 20 September. The festival, celebrated once every 12 years of the Tibetan calendar at the Hemis monastery, will now be an annual fixture. 
The fellowship, founded by the 12th Gyalwang Drukpa, hopes to generate leaders in policy and entrepreneurship with a socially conscious curriculum. Although candidates from all fields and professions can apply, preference will be for people from Himalayan regions of Jammu and Kashmir, Uttarakhand, Sikkim, and Himachal Pradesh in India, and Nepal and Bhutan. The scholarship model will remain in place for the next five years and a seat is estimated to cost around Rs 10,00,000, including boarding and lodging. The campus for the fellowship is being built for $2 million and is expected to be up in a month at Hemis. The curriculum is being devised by experts from Indian School of Business and the founders of Young India Fellowship, the stakeholders say. The first batch of the fellowship had received 1,700 applicants. Avoiding the format of a degree program, the fellowship model has also allowed to overcome layers of permissions and restrictions to expand the range of curriculum and faculty. "In one year, you get 45 faculty members from ISB, UPenn, Cape Town University, Harvard, Oxford and other universities" says Lynne Deepam, a volunteer-donor from Malaysia associated with the fellowship.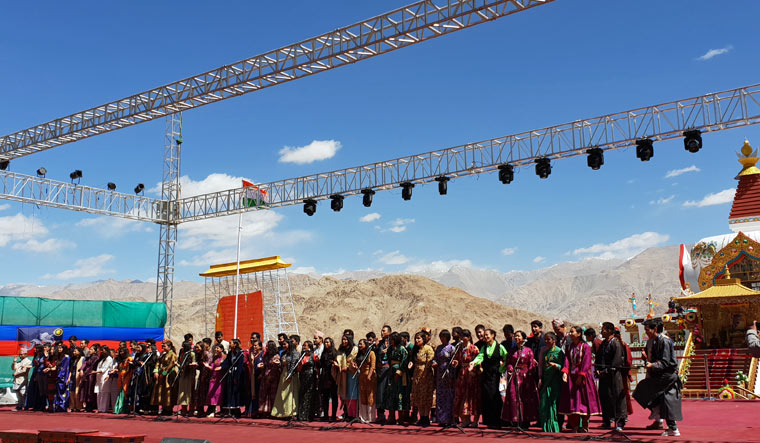 To be sure, the high desert region of Ladakh does not have a post-graduate university yet, even though it covers more than half of the state of Jammu and Kashmir. Student movements, educational reformers and civil society figures have long demanded a central university which can accelerate regional economic development and reverse a persistent strain of brain drain. Thousands of young Ladakhis leave their homes every year to pursue degrees in business and information technology, medicine, science, engineering and social sciences at considerable expense in cities like Delhi, Chandīgarh, Jammu and Bengaluru. But this migration for education and work hasn't quite translated into tangible socio-economic improvement in the region, as was expected to be facilitated by skilled Ladakhi university graduates. They are still job seekers and Ladakh continues to be a desolate, high-altitude tourist magnet with vertigo-inducing mountains and valleys evoking wide-eyed wonder from curious tourists. The industry-devoid region is indeed rich in numerous natural and mineral resources waiting to be employed sensitively and fruitfully. 
The Naropa Fellowship wants to produce job creators and successful entrepreneurs in Ladakh who can create employment opportunities for youngsters who come back after completing their studies. "You see a lot of young people in Ladakh hanging out, not doing anything and they are fighting for jobs. Recently there was a government offer for four assistant managerial positions, and there were 2,000 applicants in Ladakh. That is very worrying, considering we have a small population here," says Deepam. She points out how the tourism industry can't remain the sole revenue generator in Ladakh. "For the tourism industry to thrive, the people are very important besides the hotels. You won't get happy, smiling faces because everybody would be doing things they don't want to. We need to keep Ladakh for everyone," says Deepam. She also adds how the increasing incidence of suicide and depression is exacerbating social tensions in the region and that the fellowship is just one of the ways in which a strong network of alumni over the next 10 years will be ready to help each other. 
The founders of Naropa Fellowship also manage the famous, award-winning 'Rancho School' or the Druk Padma School near Shey Palace in Leh district. The school was featured in the Bollywood film 3 Idiots. Interestingly, in the absence of government-funded central universities for higher studies, post-graduate education in Ladakh is taking the alternative route of experiential learning. The Himalayan Institute of Alternatives (HIAL), Ladakh, led by noted engineer Sonam Wangchuk, is another such example.