The opening scene of the much-anticipated Dhadak trailer, which was released on Monday, took my breath away. Like a punch to my gut. To everyone who has been living under a rock, the movie is Karan Johar's latest misadventure—a remake of the highly acclaimed Marathi film Sairat, directed by Nagraj Manjule, a scathing indictment of caste atrocities and honour killing in modern India set in a Maharashtra village. And Dhadak, directed by Shashank Khaitan of Badrinath ki Dulhaniya fame, seems to be Karan Johar trying to do a Karan Johar film on magic mushrooms—a smorgasbord of colours, a native advertisement portal for designer labels, and beautifully pointless frames.
Karan Johar once famously described his style of filmmaking as grand—that it was the only way he knew how to make films. And that is hardly the issue. Nobody can deny a certain commercial, escapist appeal to most of his films. But it becomes a joke taken too far when his production company tries to take something as realistic, remarkable and gut-wrenching as Sairat and "relocate the plot to a more upmarket milieu, and make it more Romeo and Juliet, than play on caste", as a source told Asian Age. It also becomes a question of respecting a downtrodden community's lived experiences—imagine something as grotesque as a cross between Call Me By Your Name and American Pie. In Sairat, the protagonists are two star-crossed lovers—a dalit boy Parshya and an 'upper' caste girl Archi—and a tragic love story that retains the scent of the soil. Sairat won the phenomenal Rinku Rajguru, who essayed Archi, a national award. Akash Thosar (Parshya) was no less fabulous. Quite literally, they lived and breathed their respective characters.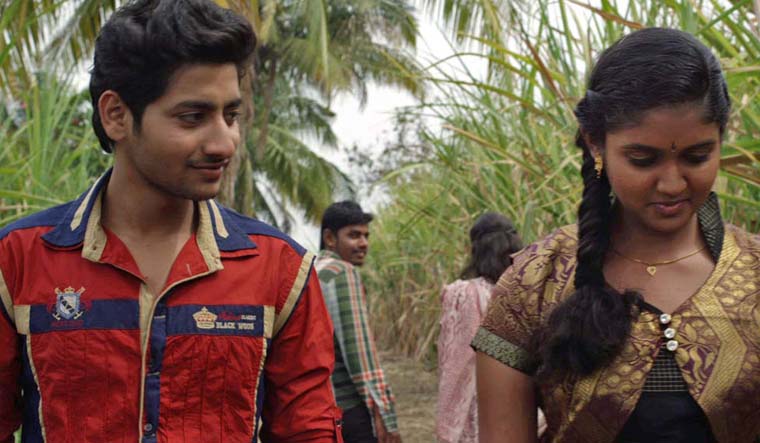 Counter-intuitively, Manjule told Parshya's story through the eyes of Archi, spanning the journey across rustic sugarcane fields and dusty gullies to far away hovels. Parshya is forever loyal—a man whose life experiences make it easier for him to be accustomed to the hardships of a life after eloping. Archi's character, and that is where the filmmaker's genius shines through, is the transitional one—from a cocky tomboy riding tractors and bikes to college, to a woman torn between her love for Parshya and consumed by doubt and longing for the material comforts of her home and family. Consider the scene where a forlorn Archi rants about her home, the open fields, the acres of land and so forth. 
Sairat is a tale of violence and prejudice, subtle in its narration; the devil is always in the shadows, half-hidden, that when it finally bares its fangs, the scene is as grotesque as it is familiar. 
As the popular lore has it, Akash came into the director's cross-hairs after he was discovered by the latter's brother at a bus stop. According to director Manjule, he made a conscious choice to not cast a tall, fair or conventionally beautiful heroine as Archi in Sairat. What about Janhvi in Dhadak? From a Bollywood A-lister party in Bandra where she was 'accidentally' captured by the ubiquitous paparazzi in a chic outfit? Ishaan Khatter serenades and woos in the Dhadak trailer, sounding like an untalented Weird Al Yankovic (you will know when you hear it), and does little else, but how much of the original Sairat magic can he actually conjure?
Furthermore, will the Bollywood formula of erasing caste work in a movie that is predicated on it? Sairat was that strange beast—a commercial production that drew record numbers to the theatres, while at the same time, the cinematic equivalent of getting sandbagged. After a screening in Mumbai, I could see the conflict in a woke friend's eyes—a blend of horror and disorientation at being dragged out of a comfortable cocoon. Dear KJo, we love your movies, but find something better to adapt next time. Sairat just might be too wild for you to tame.
DISCLAIMER: The opinions expressed in this article are those of the author. They do not purport to reflect the opinions or views of THE WEEK