As the countdown for Prince Harry and Meghan Markle's big day begins, all eyes are on the royal wedding and final preparations. Closer home, dabbawalas or the famous tiffin carriers of Mumbai, are set to join the celebration in a special way of their own.
As Harry and Markle tie the knot on May 19 at the St George's Chapel at Windsor castle, dabbawalas will distribute sweets to relatives of patients at the government-run Tata Memorial Hospital, KEM Hospital and Wadia Hospital in Mumbai. The dabbawalas who deliver home-made lunches to thousands of office-goers in the city, usually provide free food at these hospitals to relatives of patients who come from distant places as a noble gesture. The sweets will be an add-on to pay respect to the royal family and share their joy.
It doesn't end there—they will also be sending the newly-weds traditional Maharashtrian gifts. While they plan to gift a kurta-pyjama and headgear to Harry, Meghan will be gifted a traditional nine-yard Paithani sari, mangalsutra and green glass bangles, considered auspicious for new brides.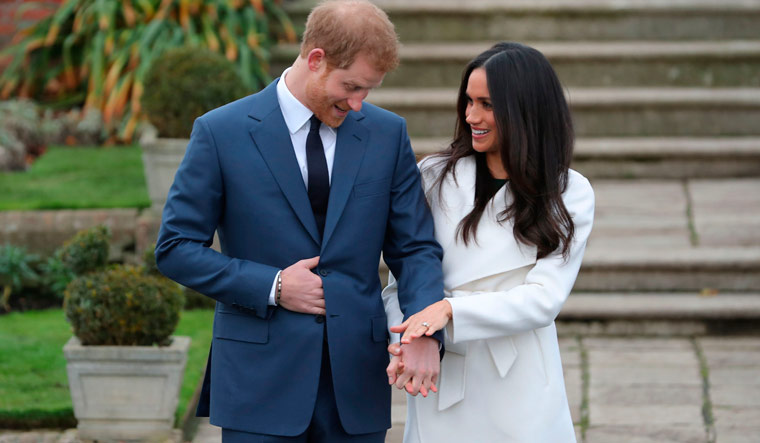 The dabbawalas' association with the British royal family goes back to 2003 when Prince Charles visited them in Mumbai. Impressed by their legendary six-sigma efficiency and clockwork precision, Prince Charles had expressed interest in interacting with the group during his visit to India. In no mean feat, these tiffin carriers have earned a rating of 99.99 per cent for precision and accuracy from Forbes magazine. The efficiency of these men that wowed Prince Charles, has also found a place as case studies in top management institutions across the world.
Though their historic services are well-known, the world really sat up and took notice after Prince Charles' interaction with them.
Two years later, when Prince Charles announced his wedding to Camilla Parker, the Bombay Tiffin Box Supply Charity Trust, which represents the dabbawallahs sent them gifts—similar to the ones they plan to gift Prince Harry and Markle. In a dream-come-true moment for the dabbawalas, Prince Charles sent them an all expenses-paid invitation to his wedding. He took care of them during their six-day visit to London. The wedding was attended by Raghunath Medge, president of the Bombay Tiffin Box Supply Charity Trust, and another dabbawala Sopan More.
Though the dabbawalas could not make it into the guest list for Prince William and Kate Middleton's wedding, they were happy watching the live coverage on television and even decided to send the couple a special handmade card to congratulate them on the occasion.
Now that another royal wedding is just around the corner, Dubbawala Association spokesperson Subash Talekar said they have an emotional connect with the British royal family.
"Prince Charles is a friend. If there's wedding at his home, it's wedding at our home. If we are invited, two of us will go there. When we met Prince Charles he turned us into management gurus," said Talekar.