In the middle of a cellar with giant steel tanks filled with fermenting liquid, sits a large table with an assortment of grappa glasses, cheeseboards and crackers. But a group of eager, young visitors at the Moonshine Meadery in Pirangut, near Pune city, can't stop staring at dappled watercolour palettes aligning the table. The palettes are filled with raw honey which would later be fermented to make meads—that ancient drink predating wine or whiskey. While the purpose of this visit on a sultry March afternoon is to taste the many meads made by Moonshine, it is the honey tasting session which lingers long after patrons have left the factory-laboratory with their stash of bottled meads.
In the West, there are honey sommeliers, who learn the tough science of tasting honey just like wines. According a report in Popular Science, a honey connoisseur colour guide is often used to measure the lightness or darkness of amber in the liquid gold, usually in millimeters. Water white is 8mm, extra light amber 50mm, and dark amber 140mm, according to a chart created by the founder of the American Honey Tasting Society, which has also devised an aroma and tasting wheel with notes like woody, vegetal and animal.
Devashish Sutavani, who calls himself a "mead druid" at Moonshine is taking guests on a similar journey to understand the "mouthfeel" of six varietals of raw honey sitting pretty on the colour palettes. "Use your fingers to really feel the textures," instructs Sutavani, as guests jostle around for sanitizers and washbasins. 'Multifloral' is slightly more acidic and sour than commercial honey, explains our honey taster. Orange Blossom is a single-varietal, derived from honeybees that feed on the nectar of one type of flower. It is citrusy like marmalade on toast. Sidr honey is from the lote tree which only flowers for 20 days in a year; it is intense and exquisite like butterscotch and vanilla. Rosewood honey from sheesham tree is fragrant; ajwain is fatty and oily in a good way, and the showstopper mustard is like crystalized ghee but doesn't even taste like the plant. As part of a tasting trail in Nashik, organised by Delhi-based Indulge India, the wine enthusiasts are used to swirling their glass and spitting their drink. But this tasting is different. Licking their fingers and glowing in an amber haze, the visitors ask if they can buy the filtered raw honey from the meadery. To their dismay, the limited batch honey jars had flown off the shelves.
"We always knew we would be doing something specially with honey," says Rohan Rehani, co-founder of Moonshine Meadery, which has been selling the world's oldest alcoholic beverage, made with fermented honey and water, since 2017. Many reports say they are Asia's first meadery.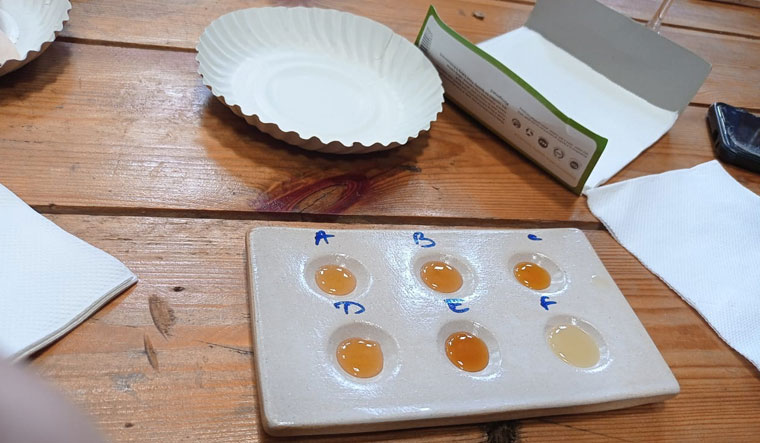 The founders left their lucrative jobs in MNCs to start afresh in the alcohol industry. It took Rehani two years to convince the excise department in his state to consider mead as a whole new category of alcoholic beverage with its own license. With this first-mover advantage, Moonshine Meadery has grown in size and scale over the years—from 100 to 1,000 cases, a proper sales team, the watchman's cabin converted into a full-blown lab, producing 20,000 litres of mead at a time. All the action in "bee craft" segment makes his eyes glaze with excitement. "We are buying honey from beekeepers now. We have access to about 170 beehives, 150 of which are in Rajasthan. But we also want to get into the reverse supply chain. We will soon start talking to the government for something called pollination on wheels where we take beehives and go from one area to another for pollination," Rehani reveals his plans for the future, which also includes harvesting and sourcing honey on their own without middlemen. A "non-carbonated" honey, derived from tribal communities in Palghar, is in the offing, apart from insistent efforts to procure the sweet nectar from the intrepid honey-hunters of Mudumalai forests in the Nilgiris.
"As we all know the oft-quoted line, if bees die out, humanity will perish in four years," Rehani reminds a rapt audience rediscovering the joy of taste raw honey.