A few years ago, when fashion designer Lipsa Hembram heard her mother complain about the short length and coarseness of traditional Santali sarees, the idea of Galang Gabaan was born.
It was in 2014 that Hembram started her label for contemporizing Santali sarees, after she returned from Hyderabad where she earned her degree at NIFT. Galang Gabaan in Santal could be translated as 'creating something with utmost care and devotion'.
Just before the label was about to be launched, Hembram eschewed conventional models for promotional images on social media and got her mother and aunt to flaunt the chequered drapes in red and white. Today, the six-year-old label, based in Bhubaneswar, retails modern Santal sarees in cotton, linen and silk to patrons across the country.
In her latest project, Hembram has mounted a sumptuous installation of the traditional Santali costume at the 18th-century, Victorian-style Belgadia Palace in Mayurbhanj . The garment exhibit is part of a campaign called 'The Karkhana Chronicles', undertaken by three erstwhile royal families to engage with the history of textiles and karigari in their respective regions, namely Jaisalmer, Gwalior and Mayurbhanj. The exhibits, created in the last two months by local artists and craftspeople, are showcased at the historic properties of the royal families and will be open for three months for public viewing from 27 November.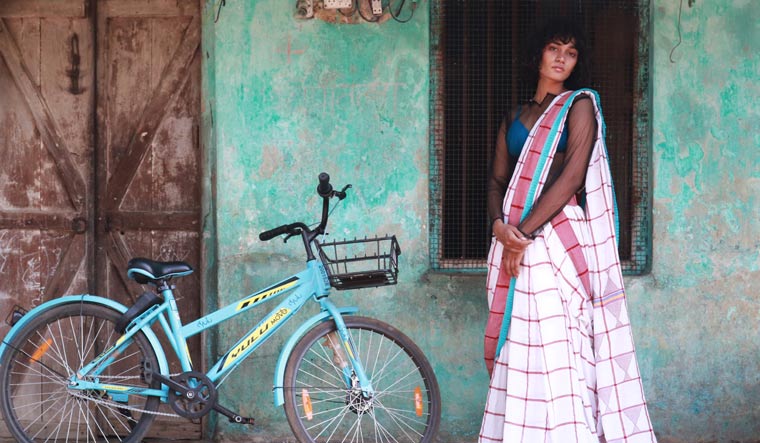 In a tastefully done backdrop of 150-year-old brass pots, or 'pitol ghagara' which were used in a Santal household to fetch water from ponds and wells, Hembram has a tall, upright mannequin wear the original phuta jhala or saree along with a kacha, a variation of a dhoti drape. The saree is again re-purposed into a long flowing cape in new linen and ghicha silk with cotton. "This is to show how a yardage of fabric can be converted into dhoti, saree and a cape at the same time. Sustainability is not just about recycling or up-cycling. It is also to show the quiet evolution of the Santal saree whose essence has remained the same even though the yarn has changed," says Hembram who sourced the original phutu jhala from her native place in Rairangpur in Mayurbhanj district. Sans blouse, indicative of the choice Adivasi women make in the way they adorn their sarees, the installation is strikingly bedecked with ancient Dokra neckpieces.
The last time Hembram sartorially dissected her Santali heritage was at the Lakme Fashion Week in 2017 when she remodeled her traditional saree into a skirt and top. But she now likes to play around with the yarn and design and let the saree be. Flowers, houses, birds, animals and leaves frolic in smooth and soft linen monochromes. Prices range anywhere from Rs 6,000 to 10,000.
Hembram's Instagram page is also flecked with odds and ends of Santal heritage and personal history like wood carvings done by her maternal grandfather on panelled doors or her ancestral home in Dandbose, the birthplace of Raghunath Murmu, the inventor of the Ol-chiki script which is the official Santali writing system. Who knows these alphabets might also feature in her beguiling sarees soon.