Author Bridget White was raised in the land of gold. Born to an Anglo-Indian family in Karnataka's Kolar Gold Fields—one of the earliest industrialised mining towns in erstwhile Mysore state, managed by the British in the 19th and 20th century—hers was a life of dance halls, charming bungalows, resplendent gardens, church services, balls and boisterous feasts with roasts, cutlets and croquettes. In her long-running blog, there is an entry which recalls Graveyard Feast on All Soul's Day when Catholics and Anglicans honour the souls of the dead every year on November 2. Her memories of the day conjure up a carnivalesque atmosphere with homemade wreathes made of silver oak leaves, balloons, candles, merry-go-rounds and sweets festooned around four cemeteries like a village fair.
Does White remember any particular delicacy or comfort food dedicated especially for the day? "We cooked stuff our dearly departed ancestors would have liked to eat. It is another way to memorialise them. There is no one dish everyone cooked" laughs a 66-year-old White who is now settled in Bengaluru, some 100km away from KGF.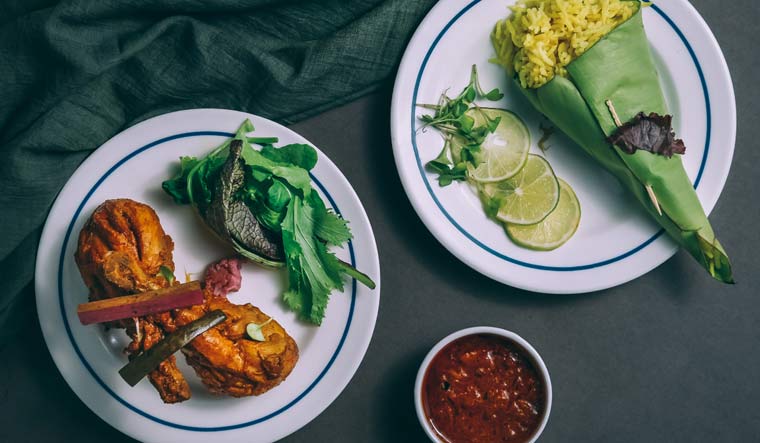 She could just as well rustle up a cookbook in veneration of the dead whose spirits haunt KGF. For, Bridget White has documented thousands of home-style, inter-generational Anglo-Indian recipes across seven books in the last eight years. Her first book, 'Anglo-Indian Cuisine: A Legacy of Flavours from the Past', won the best culinary history book from India at the Gourmand World Cookbook Awards in Spain in 2012. Other books authored by her are bottomless storehouses of forgotten recipes including tea-time treats, simple egg concoctions, festive food, vegetarian delights, "vintage and contemporary cuisine from colonial India", handed from her mother and grandma combined with her own fine-grained research. White might just be the most prolific documentarian of Anglo-Indian recipes living in the country today—a rapidly dwindling community whose elders bemoan the loss of their distinct heritage and culture.
So it is only befitting for her to curate the winter menu of Delhi's Khan Market outpost 'Anglow: Whiskey Bar and Anglo Indian Kitchen' which opened this year in February. At the media tasting spread on October 31, White went around tables regaling diners with anecdotes and trivia about Duck Ding-Ding and Frisky Chicken. She is not absolutely sure how the name Ding-Ding came into being, but it loosely refers to meat acquired from hunting sojourns of Anglo-Indian men living in tea gardens, and mining-railway colonies. The meat, marinated with spices and vinegar, would be hung out to dry on a string in the summer heat. Perhaps it swayed then to the rhythm of ding-ding. "As for Frisky Chicken, the servers back then found it hard to pronounce chicken fricassee, hence the name,"says White.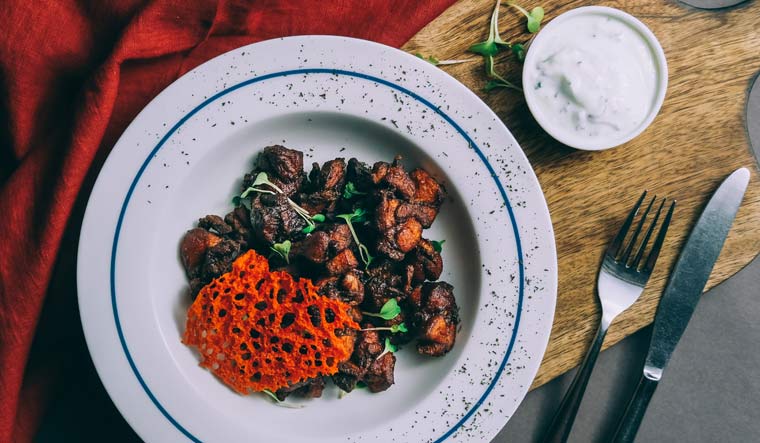 While Railway Mutton Curry and Dak Bungalow Curry are indispensable fixtures on the Anglow menu, this curated Winter menu, supervised by White, has featured her all time favourites like Bengal Lancers Shrimp Curry gifted to the Anglo-Indians by the Skinners Horse Regiment of the Indian Army and the delectable aubergine and potato vindaloo. Their Devilled Pork is marinated in lime, Worcestershire, mustard, coriander, chillies, vinegar and pepper and braised with tomatoes and onions. The deliciously crunchy and tender pork seekh kebabs are a must-try. Desserts include safe classics like chocolate pudding and apple crumble. One does miss the absence of Mulligatawny soup (an anglicized version of the Tamil Melligu (pepper) and thanni (water) for vegetarians looking for a wholesome broth to stay warm and cosy.
But to really get a taste of splendid, authentic Anglo-Indian fare in all its breathless variety, one would be well-advised to get copies of books by White. Think Grandma's Country Captain Chicken, Crumbed Lamb Chops, Duck Buffat, Almorth, Fish Padda and many more.